By Toppy Burke, 14-time traveler and 2-time Vacation Ambassador from Tucson, AZ
Since I can't travel at this time, I've been going through my photos and making small movies to send, focusing on just one city at a time. So this "movie" of Porto is from an Overseas Adventure Travel trip to Portugal and Spain in 2016. Porto sits in the north of Portugal in a rich agricultural area from which for centuries was exported great wines, especially Port.
Oporto, as it is known at home, originated as a Roman outpost and has been firmly rooted in ways of the sea for centuries. Situated on the Douro River, its shipbuilding contributed to the grand period of exploration in the 14th and 15th centuries, and was the home port for maritime expeditions. It gives its name to port wine, for which it is famous, and, perhaps, to Portugal itself. It should come as no surprise that Great Britain established a lucrative outpost here once they discovered port wine. They were quick to pounce on another delicious export to the gentlemen's clubs back home. So many of their colonies were food-based: spices, pepper, salt, tea, chocolate, coffee, and port wine.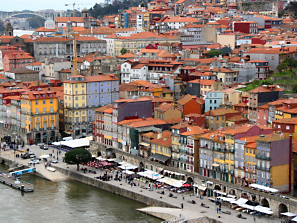 Portugal sets itself apart from the rest of the world by covering its narrow townhouses with tile—red, green, yellow and green, but mostly, blue, and white. Ceramic tiles are the legacy of a long-ago occupation by Moorish civilizations, bent to centuries of European tastes.
In the movie, a couple of the photos you'll see are of Livraria Lello, an elegant bookstore from times gone by—and apparently an inspiration for J.K. Rowling while she lived, taught English, and wrote some of Harry Potter here. Small wonder with its rich wood, gilt trim, sinuous staircase, and stained glass atrium ceiling. You actually had to purchase a ticket to enter (due to her celebrity, not to an overwhelming literary passion on the part of your run-of-the-mill tourist).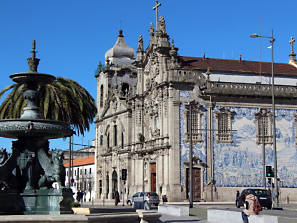 A few other photos are of the Church of St. Francis, Portugal's oldest Gothic structure. It's soaring 15th century architecture was almost alive with angels and garlands and animals, not to mention saints and their stories. The interior was a mastery of carved wood—every inch burnished with gold foil or dust. These were the work of Baroque masters in the seventeenth and eighteenth centuries, supported by wealthy noble families. It does remind one of where the seat of power lay at that time, and how they chose to display it.
The train station is a magnificent relic of the first stab at rapid transit, but now just serving the local rural villages. Its enormous interior reception hall was completely ornamented with painted tile frescos—blue and white, depicting significant local historical events.
And finally, near Porto in the village of Guimarães, a 9th century castle renovated as a palace for the Dukes of Braganza during the 15th century, abandoned during the 16th century and fallen into disrepair and a quarry for smaller local structures. It was rescued early in the 20th century and partially restored to illustrate the golden age of Portugal's aristocracy.
Explore the colorful city of Porto, Portugal during the pre-trip extension to your Back Roads of Iberia: Spanish Paradores & Portuguese Pousadas adventure.