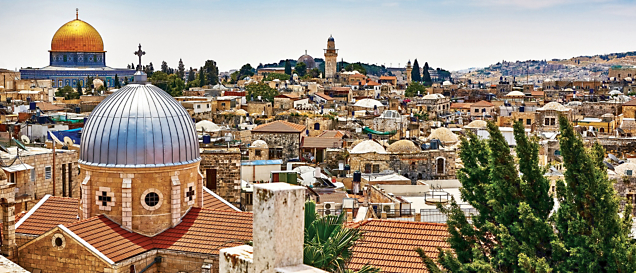 Beyond its immense spiritual significance to three major religions, Israel is also a flourishing artistic and cultural hub—as Ruth B. has discovered over her many visits.
By Ruth B., 3-time traveler from Beverly Hills, CA
In three short weeks, I will be leaving on my third O.A.T. trip and going to Sicily. From there, I continue on to Israel. I have been to Israel more times that I can count since my first trip at the age of 18.
It's a tiny country, smaller than Rhode Island, and yet each and every time I go, there is something new to see: the opening of a new archeological new dig, a new highway, a new shopping center, a new restaurant.
Roads there are in immaculate condition, no matter where in the country you travel. This vibrant and exciting country feels more like Manhattan than the Middle East with beautiful people enjoying the miles and miles of beach, outdoor cafés in every single city, and a vibe that makes me feel like I'm part of something bigger than me.
It's a cultural country with a philharmonic orchestra in almost every city, theater with subtitles, and museums everywhere. It's a country where the Bible can be your travel guide, no matter what religion you practice.
It always amazes me the peace that I find here and how the news never portrays the essence of this amazing country. They never show the Jews and Arabs working together in hotels and hospitals, getting along in great harmony. They don't show an Arab doctor taking care of his Jewish patients, or a Jewish nurse, taking care of her Arab patients—this I have seen firsthand.
Experience the true culture of Israel when you join O.A.T for Israel: The Holy Land & Timeless Cultures.