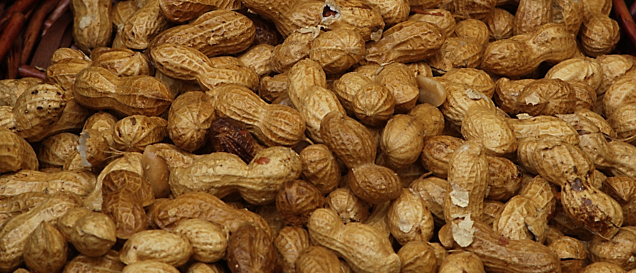 While Bob hasn't always been successful in feeding his peanut butter addiction during his travels, southern Africa was a pleasant surprise.
By Bob B., 14-time traveler from Braintree, MA
One of the many wonderful experiences of an O.A.T. trip involves the sampling of local cuisines. Dining experiences range from gourmet offerings to exotic menu items. In restaurants and in home settings, ample portions of palate-pleasing "typical" foods are served to hearty bands of adventure travelers. "À la carte" unique regional gastronomic fare might even include roasted guinea pig (Peru), skewered palm weevil larvae (Ecuador), or fried Mopane worms (southern Africa)!
Yielding to the temptation of overindulging in delicious international food selections can lead to the necessity of serious dieting upon returning home. However, for some travelers, a pang for "a taste of home" sometimes emerges during their trekking. Such an overseas travel craving (or "OTC") might lead to a surreptitious "free time" trip to an American fast food franchise that has expanded overseas. Two of the more notorious selections involve hamburger and fried chicken establishments. The most dominant U.S. burger chain abroad has been facetiously nicknamed the "American Embassy" by the locals. There's even a commemorative plaque in Madrid, Spain on its majestic Gran Vía that memorializes the "historic" establishment of that nation's first American fast food hamburger restaurant in 1981! Curiosity prompts some in a group to at least pay a quick visit to these U.S. based eateries to find out if any adaptations have been made to their familiar menus to accommodate differing taste buds of international customers.
My particular "OTC" while traveling outside of the States is for something pretty basic: peanut butter. On one of my initial trips with O.A.T. to South America, I felt the yearning coming on and frantically visited bodegas and "super mercados" in search of the product. I failed in my quest and vowed from that time on to pack my own supply. Fortunately, the producers of peanut butter must have anticipated my passion and now offer it in "to go" individual serving plastic tubs that conveniently fit into my rolling duffle bag and daypack. I once was shocked to learn that my Trip Leader on the Tuscany and Umbria trek, a delightful young Italian lady in her late 20s, had never tasted my favorite spread. Somewhat reluctantly, I gifted her one of my treasured containers of peanut butter to sample. Upon returning home, I received an email from her that read: "I LOVE peanut butter!!"
In preparing for a recent Ultimate Africa trip, I was faced with a conundrum. Given the need to travel to remote tented camps on the itinerary via small airplanes, a mandatory lower-than-usual weight limitation was issued for personal contents to be packed into the O.A.T.-supplied wheeled duffle bag. Also, given the significant time to be spent isolated in the bush, the opportunity to seek out peanut butter from a municipal market appeared remote at best. Therefore, I chose to sacrifice some of the usual trip essentials to make the weight requirement to ensure a robust supply of the nutty spread.
To my pleasant surprise, southern Africa proved to be most hospitable to a peanut butter aficionado. At each camp, the dining table hosted jars of locally manufactured peanut butter. The containers featured colorful labels. In Botswana, I encountered a jar of "Black Cat," a South African spread found throughout the region. Zambia has its own "It's Wild" brand with an attractive elephant logo. The latter is produced by a nonprofit Zambian entity focused on wildlife conservation and supporting small local farmers. And I learned that the residents didn't just use the contents to apply to bread. I received instructions as to how to "go native" by mixing a large dollop into a serving of hot breakfast porridge, a recipe that I now employ at home!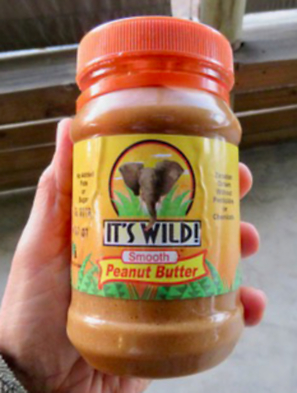 You also can be treated to freshly made peanut butter when exploring a southern Africa marketplace. The Dambwa Market in Livingstone, Zambia is filled with many stalls that offer a variety of products along its unpaved streets. Our primary purpose for the visit was for our female travelers to select colorful Chitenge fabrics for a later class at camp on how the material can be used for multiple purposes (e.g., a sarong, headscarf and baby sling) by the women of the country. Allocated some spare time for independent exploration, I wandered down dusty paths until I found a booth that featured a machine that made peanut butter upon demand from freshly harvested ingredients. I was generously offered free samples that I found distinctively delicious. For a modest price, a small container found its way into my daypack to be added to my existing home-imported stash. Alas, the temptation proved too great and this market souvenir was consumed well before the trip's conclusion.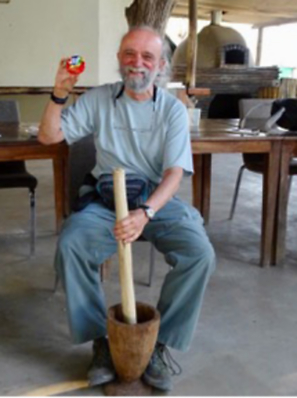 Perhaps the ultimate peanut butter experience on the Ultimate Africa trip was an instructional session at the Lafupa River Camp in Zambia. There, before venturing out on an afternoon safari, we were provided with a class on how villagers traditionally produced the tasty spread. Bessie, the camp manager, was our instructress. She placed the ingredients into a wooden mortar and used a rounded pole as a pestle to pound the materials into a paste. We "students" were invited to try our hand at the craft. We were rewarded with spoonfuls of the fruits of our labor. I had brought to the demonstration a small tub the U.S. variety to compare. The homemade river camp version won the taste test hands down!
With a couple of O.A.T. trips on the docket for 2018, I'll once again not leave anything to chance and will be bringing along an "OTC" supply of peanut butter. However, based on my African experience, I will be on the lookout for local offerings to sample along the way.
Peanut butter may not be the best reason to travel to Africa, but enjoy it as an added bonus during Ultimate Africa: Botswana, Zambia & Zimbabwe Safari.