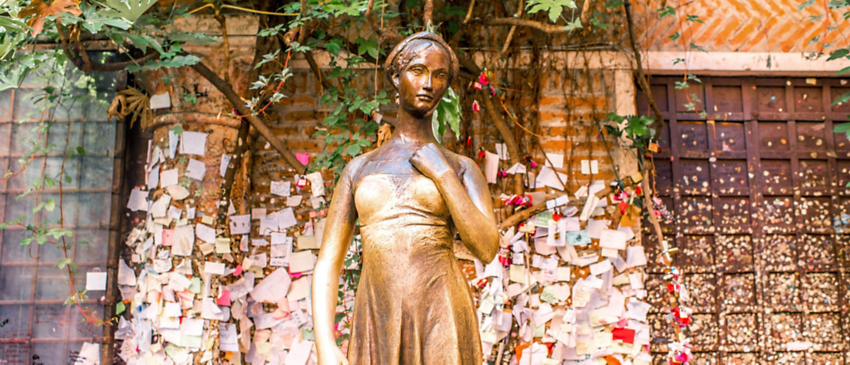 By Henry Rilling, 48-time traveler from Sierra Vista, AZ
The great thing about an O.A.T. adventure is the daily surprise that the Trip Experience Leader springs on you. Above and beyond the daily itinerary are the serendipitous moments of unexpected pleasure to which you are exposed.
I am writing about such a moment that rises to the top of the hundreds I have experienced in the 47 trips I have taken with O.A.T. and Grand Circle. It occurred in Verona, Italy on the Northern Italy: The Alps, Dolomites & Lombardy trip.
On our morning walking tour of the city of Verona, the local guide produced a key to the Club Juliet, and we were ushered into an office that answers thousands of letters to Shakespeare's famous heroine Juliet. Letters come from countries all over the world addressed to "Juliet, Verona." Since no one was working there at that early hour, we sat at the big table where volunteers answer the letters.
The walls were lined with boxes of 50,000 letters received and answered for over 70 years, and there were boxes of letters yet to be answered, which were sorted by country of origin. We were each handed a letter from the U.S. & Canada box to read.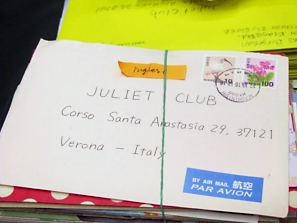 Unlike my other treasured moments on trips, this one took me out of my adventure comfort zone, and it has taken me several months of research and study to ease the discomfort and turn it into one of my best experiences. At first I felt like a peeping Tom invading some teenager's private space. I couldn't imagine how anyone would write for advice from a fictional character who lived 400 years ago and had committed suicide. At dinner that night I asked fellow travelers about the letters they had read. It became apparent that we had all read letters filled with romantic problems, but others—including my wife—were not as troubled as I was.
Since then, having spent a lot of time in websites, articles, and books, I'd like to share what I've learned about the power of love and romance and the part Club di Giulietta plays in it.
There can be a lot of pleasure in looking up the origin of the tale of Romeo and Juliet; going back to 1302 when the famous Italian poet Dante was exiled from Florence and settled in Verona. The ruler there probably told him of the troubles two rich families (Montecci and Capello) were having. Dante then placed them in purgatory as Montague and Capulet in his Divine Comedy (Canto 6 lines 106-108). Using Capello family genealogy, Juliet's birthday would be September 16, 1284, about 18 years before Dante heard of the family.
About 230 years later, English poet Arthur Brooke wrote a poem based on an earlier French translation of a 1530 Italian novelist Luigi da Porto, based on still another by Matteo Bandello. In 1594 Shakespeare used Brooke's poem as the basis for his play Romeo & Juliet.
More fun came in reading old newspaper articles about how the amount of letters increased since about 1936, when a Hollywood movie Romeo & Juliet prompted letters to come to the empty crypt people thought was Juliet's. They were dealt with by a romantic groundskeeper, and then a local poet after World War II. In the 80s, the mayor gave the task to a group formed to promote initiatives linking their city to the play, who later called themselves Club Juliet. The city pays for the return postage only. Space is donated, and everything is done by volunteers.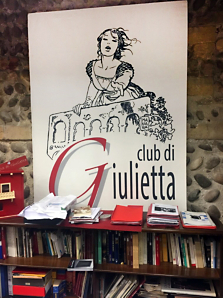 Letters increased as articles appeared about the Club: according to The New York Times March 3, 1993, there were about 2,000 letters a year; Washington Post February 14, 2002, there were about 5,000. Books began to come out in 2006 and 2008, each with its impact, one leading to a second Hollywood movie in 2010, after which letters began hitting 10,000 a year.
The book that inspired the film was Letters to Juliet: Celebrating Shakespeare's Greatest Heroine, the Magical City of Verona, and the Power of Love. It was written by two sisters "who finish each other's sentences," Lise and Ceil Friedman, in 2006. Lise is a professional dancer and editor, Ceil an art historian who has collaborated with the Verona city museum and other Italian institutions, and is an adjunct professor at New York University. It features 75 letters, (names changed to protect letter writers—they looked at 5,000 out of 50,000), retraces the tale behind Shakespeare's tale, and tours the monuments that have fueled the world's enchantment with Romeo and Juliet.
"It's about suspending disbelief," Lise Friedman said, trying to explain why so many people would write to Juliet, unseen, perhaps only imaginary. "It's about having a life of the imagination," she said in an interview in The New York Times on March 27, 2006.
In 2008 another book, The Juliet Club, was written by Suzanne Harper for young adults. In an interview, she opines that teens' first encounter with Shakespeare is through Romeo and Juliet, that they are fascinated by death and afterlife and close to the shocking moment when they first realize that people they love, and themselves, will die. The book is about a girl that gets dumped, vows never to love again, goes to a Shakespeare symposium for college credit, and meets a guy….
The 2010 movie Letters to Juliet garnered a lot of letters to the Club Juliet, but also some rotten tomato movie reviews. In it, a young American, played by Amanda Seyfried, goes to Italy and discovers an unanswered Club Juliet letter from 1957 written by a now elderly woman, played by Vanessa Redgrave, and answers it.
When the movie was released in 2010, letters to Juliet spiked to 10,000 a year. Since then a website for the Club, plus their extracurricular activities of awarding a "Dear Juliet Prize" for the most beautiful letter of the year, and a literary prize for "Writing for Love" to authors of love novels, and other cultural events like celebrating Juliet's birthday, have boosted letters even more. It now takes 45 volunteer "secretaries" from all over the world to handle the Club Juliet's work.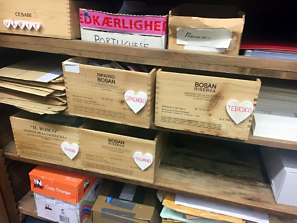 So it is no wonder that the city of Verona wants to keep the Shakespeare romantic theme alive as "The City of Love." In the 1880s a group of notables purchased a 13th-century villa on Via Cappello. They wanted it to be Juliet's house, and Cappello is similar to Capuleti, which is similar to Capulet. A balcony was hung on it in the 1930s (Shakespeare mentioned a window).
A bronze statue of Juliet is in the courtyard, her right breast very polished by the hands of tourists who caress it "for luck." The walls are a mess of graffiti and bubblegum that was used to post notes over many years, but there is a special letter box for "Letters to Juliet," and now those get answered by the Club. The house is so crowded by tourists now that it is something you must do on your own during free time. It is not on the tour because there are so many better things to see in Verona which are gems that are not crowded.
Being a "castle and walled city" kind of guy, my free time was spent riding a funicular up to the old city walls of Verona. I had seen them, longingly, over the years, from the autostrada or from the train between Venice and Milan. I found them to be unique, because they are double walls with a 50-yard space in between. Many people now jog or ride mountain bikes in between them.
There is a restaurant with a spectacular view at the top of the tram. You can see from there how the old 25,000 seat colosseum from Roman days dominates Verona. It turned out to be my best personal discovery day, especially now that I have researched, and now understand the power of love and romance in letters I read that morning that were simply addressed: "To Juliet, Verona, Italy."
I have learned, as have all the "secretaries" to Juliet who have answered letters to Juliet for the Club Juliet over the years, that it is the act of writing the letter that is important, not so much the answer. It is the first step in understanding yourself on the way to an answer. The Club has always tried to be a sympathetic ear since it was formed in 1972 by Giulio Tamassia and later taken over by his daughter Giovanna. Realizing that point went a long way to calming my alarm at the problems in the letters that I was exposed to that day on the tour. It isn't up to the "secretaries" to solve the problem; even if they consult a psychologist, they can only reflect back to the letter writer that she (four out of five letters are from young women) has to choose her response now that she has put the problem in writing.
My understanding was enhanced by the Folger Shakespeare Library (Washington D.C.), which has the world's largest collection of materials relating to Shakespeare and his works, from the 16th century to the present day, as well as a world-renowned collection of books, manuscripts and prints from Renaissance Europe. From their website I was able to read (free) Romeo & Juliet, and be exposed to their interview with the author of what I believe to be the best book yet about the Club Juliet written by Glenn Dixon, Juliet's Answer.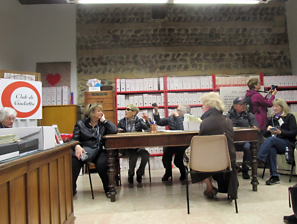 Glenn Dixon taught Romeo & Juliet to high school students for 20 years, while having a miserable love life, but a great understanding of the teenage heart. In 2014 he went to Verona to be one of the "secretaries" in the Club Juliet. What he learned that summer answering letters to Juliet did him no good when he went home to practice what the Italian "secretaries" advised him to do: "Confess her your love." When he returned home he found that the love he had only been able to be friends with for 20 years had become pregnant by someone else. Undaunted, he returned to the Club the next summer, where he was responsible for showing a new recruit to the Club around the Club and Verona. She had always wanted to be Italian, learned the language, and married an Italian; but had a failed marriage. They commiserated, then fell in love, while walking hand in hand that summer on the cobblestone streets of Verona, "The City of Love." They went back to Canada and were married and he wrote a great book Juliet's Answer in 2017.
Dixon learned while answering letters to Juliet, that you are really answering your younger self. Maybe letter writers can learn by writing the problem down (to Juliet), that they may be doing something wrong; or maybe their original reaction (to which there were choices) could be different. His insight into the mind of teenagers in successive classes that he had taught, was very perceptive. At 15 or 16, they are at the beginning of philosophical thought. He says he could see the light go on when he quoted Shakespeare about "what we call a rose, by any other name, would smell as sweet." I'll bet that his answers to letters to Juliet had some magic in them; his book sure does.
So it took a long time for me to get over my shock at reading a letter to Juliet that day in Verona. To learn that "Juliet doesn't judge"; that if someone is looking for advice, what they need is someone to listen to them. You don't expect a friend to solve your problem, but just to be there, as someone who cares. I hope whoever answered that letter used the gentleness and power of love that I learned about, in what I would call a winning protocol for problems of the heart. The universality of Shakespeare and of love are something to ponder, and my experience at the Club Juliet turned out to be more than a memory of a great day on a tour. It overshadows other memories of the trip (the "Iceman" trapped in a glacier for 5,300 years, the Elephant hotel, the hike in the Dolomite mountains, dancing to a combo and the candle light farewell dinner at a villa outside Venice) because it was a matter of the heart.
Visit Verona, and enjoy free time to perhaps explore the Casa di Giulietta, when you join O.A.T. for Northern Italy: The Alps, Dolomites & Lombardy.