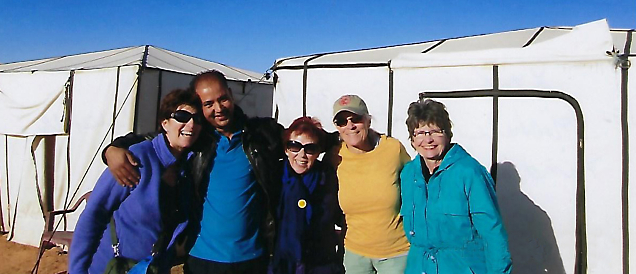 From left to right, at their Sahara camp in Morocco: 7-time traveler Michele C. of Mission Viejo, CA; coach driver Mohammed; 7-time traveler Sue S. of Dana Point, CA; 2-time traveler Linda C. of Oakland, CA; and 6-time traveler Mary B. of Bellvue, CO.
By Mary B., 6-time traveler from Bellvue, CO
We had been camped in the Sahara for three days and were on our way to see a garden in the desert. Before we entered the garden, I asked our Trip Leader if the large plant that I was looking at was an agave. The answer was yes and how did I know that plant? I responded that we have agave in the Southwest U.S. and we make tequila. The guide's response was that from the agave plant, they make silk. When we went to the botanical garden, we found that there wasn't much info about this Moroccan silk, but we knew it was used in garments in west Africa and found out it's called "sabra." The man at the botanical garden said that it was the aloe version of the agave plant that only grows in northern Africa. This is what sabra is made from.
Having a deep interest in textiles, I had to know more and the rest is a long story of how I began to study Moroccan silk (sabra). On many trips back to Morocco to study, I began collecting caftans and visited the Textiles Cultural Teaching facility in Casablanca. That type of clothing has been worn for 6,000 years. I went back to Morocco on my own. I couldn't get everything answered on the first trip, but the seed was planted. I just wanted to study more and more. I got in touch with our guide again.
We asked him if he could lay out more itineraries for us when we were traveling without O.A.T and he did that for us twice. Each day he wore an indigenous outfit. To see someone in their indigenous clothing was very special to me since I am so interested in textiles.
He introduced us to someone that worked at the textile cultural center in Casablanca and I bought a couple things there. The embroidery is named for the communities they're from. I got interested in the Berber side of it too. You'll see brides have a rug on their shoulder that they're bringing to their new home. With O.A.T., we went to a rug dealer and I bought one. It was interesting bargaining with the rug salesman. Once I purchased it, they wrapped it up, shipped it to my house, and it beat me home.
Back at home, I approached the Avenir Museum, where I volunteer a couple hours a week, about having an exhibition of the Moroccan silk and the caftans. Also, I wanted to share the adventures I experienced all because of O.A.T. I was invited to one of our Rotary International Clubs in Ft. Collins to give a private tour of The Allure of the Moroccan Caftans, which has inspired a group to sign up for a trip with O.A.T. to Morocco in the fall of 2018. For the first time, the Avenir Museum made their giveaway pamphlet in two languages: English and Arabic.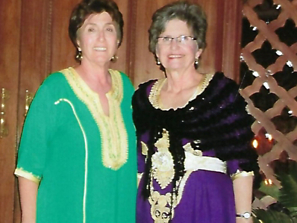 The Foreign Language department at Colorado State helped us put together the two pamphlets because we printed one in Arabic. We tried to get as many departments at Colorado State involved as possible. We got the International Dept., Geography Dept., the Foreign Language Dept., Fashion Dept. embroidery specialists, and the Science Dept. botanists.
I invited over some of the people that helped me in my research who are from Morocco. I got them visas, which wasn't easy, and they came and presented at the museum. I'm going to donate all of the caftans to the museum once the exhibition is finished. On November 16, 2017, the curator will be doing a talk. The exhibit goes until Dec 15, 2017.
I wanted to share how one traveler can be inspired to take the experience to another level. This experience has changed my life and has developed interest in a "secret wish" of many people to live their bucket list and see Morocco. I tell everyone go for it, you won't be sorry. With all of the ugliness in the world I felt like I couldn't change the world, but I could do something positive and say "come look at these beautiful garments, all of the work that has been done to them, these are antiques." This has been an amazing experience and it all started over a plant!
Perhaps you'll discover a new passion of your own when you join O.A.T. for Morocco Sahara Odyssey.