Indonesia: Writings from the Road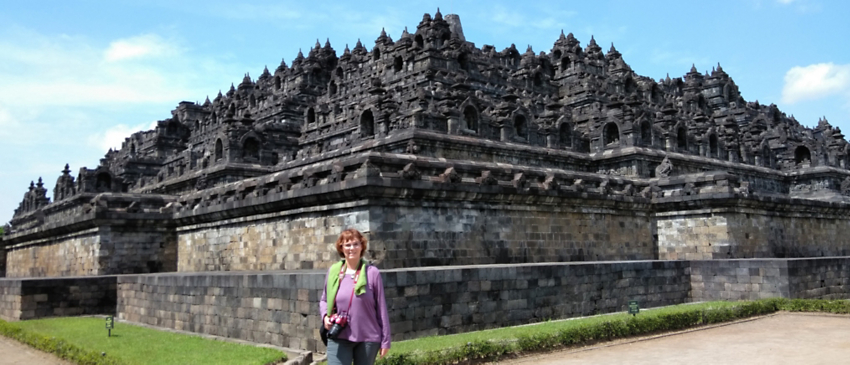 Petra is a frequent contributor to the O.A.T. Travel Forum, and often posts live updates of her adventures from the road. Here, we've excerpted select postings and edited for length—you can read the full Forum thread here.
By Petra G., 11-time traveler from Saint Simons Island, GA
I am on my way to Jakarta! As long as WiFi allows I will try to take you along on our exciting trip and will try to give daily updates. I am really looking forward to this adventure. Hopefully my experiences will inspire some of you to take a closer look at this destination. It might bring back fond memories to all of you who visited this part of the world already.
Mystical Indonesia: Jakarta
We spent our first morning in Jakarta exploring the old Dutch colonial town square and several museums surrounding it, including the very interesting puppet museum.
We had a great lunch at the historical Cafe Batavia overlooking the square and then returned to the hotel in the early afternoon. I walked around the immediate neighborhood for about 45 minutes, but due to it being Friday during Ramadan lots of businesses were closed. After a meeting with a Chinese minority leader who explained the difficulties of his community of being accepted and not discriminated against by the Muslim community, we ventured out into the now-busy streets filled with partying people breaking the fast. It is Durian fruit season and the locals were enjoying their treats.
Yogyakarta & Borobudur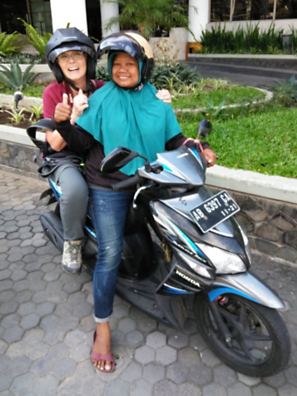 After a short 45-minute flight we landed safely in Yogyakarta and started exploring the colonial city like the locals: on a scooter. All the drivers were ladies and we had a lot of fun experiencing the crazy traffic and the sights.
Then we set out to see Borobudur Temple, a huge ninth-century Buddhist temple consisting of nine stacked platforms topped by a central stupa. The temple is decorated with more than 2,600 amazing relief panels and more than 500 Buddha statues. It is a marvelous structure and all of us truly enjoyed the visit.
Due to Ramadan the usual crowds at the sight were non-existent, which made our visit even more spectacular.
In the late afternoon our Trip Experience Leader took us to Malioboro Street, the local shopping area, to find souvenirs we could not live without and we later on had our Home-Hosted Dinner with a very nice Indonesian family. What a great day!
A Final Day in Java
We started our last day on Java with a walk through a residential neighborhood very close to the hotel. It was very interesting to observe the residents going on about their daily lives. The ladies were buying groceries from vendors pushing carts through the streets while some older gentlemen were tending to their hydroponic gardens. The lundry was hanging out to dry in front of every house and the children were playing in the street. A happy, uncomplicated life...
Our next destination was a visit to a Batik Foundation, where local ladies are being trained in the almost forgotten art of wax-resist dyeing. All of us were given a piece of cloth and we drew a design on it. Let me tell you, it is not easy and mistakes, like accidentally dripping wax where it is not supposed to go, cannot be fixed.
In the afternoon all of us decided that we would like to visit the Prambanan Hindu Temple, Java's second UNESCO Heritage site. It was absolutely amazing! To our surprise O.A.T. supplied the bus, guide and paid for our tickets, even though this visit was officially taken off the itinerary. None of the travelers in our group wanted to miss it and we are glad that we went. The structures are very, very different from the Buddhist Borobudur temple, very interesting and not just another temple.
Another World in Bali
We flew to Bali today and arrived on a lush and tropical island. It feels like a different world even though Java is the neighboring island. There are no tall buildings, but single-family homes with rice paddies and vegetable gardens. The locals are more relaxed and laid back. Artisan workshops are lining the streets. Beautiful tropical flowers are abundant. The big cities feel like they are far away!
Most of the population is Hindu and beautiful shrines, temples and sculptures are everywhere. For me this creates a feeling of harmony and peacefulness.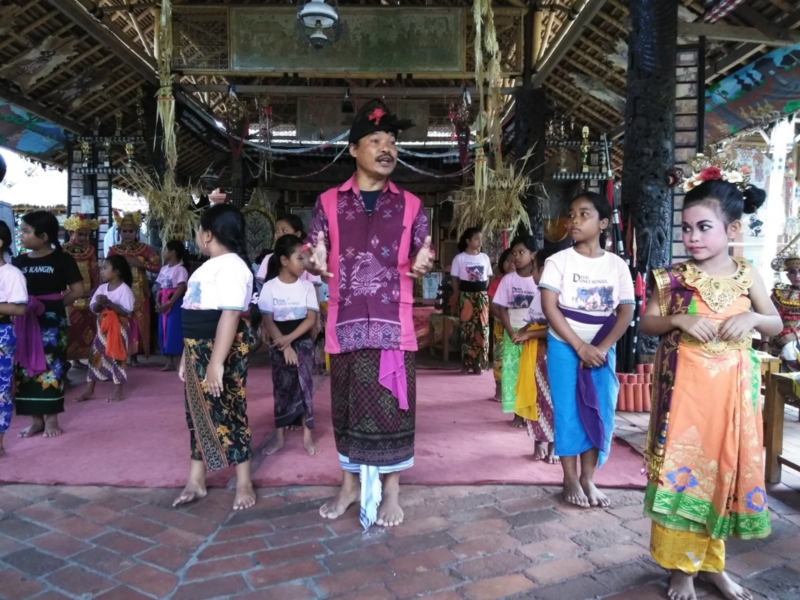 We visited a dance school where boys and girls starting from the age of six are being taught the art of classical Balinese dancing. Finger movement and facial expressions are very important in this type of dance. All of us got to practice some of the dance moves and it is extremely difficult and hard work! The instructor is a wonderful teacher and is very proud of the accomplishments of his students.
A Harvest and a Highlight
What an awesome day we had today! After leaving the hotel in the morning we noticed sharecroppers harvesting rice in the rice paddies and stopped the bus to talk to them and get hands-on experience. It was hot and humid, and cutting the rice plants with a serrated sickle and then removing the grain from the plant by beating it against a wooden platform is hard, hard work.
The workers are getting paid in rice. They sell whatever their families do not need for their own consumption. The climate here in Indonesia allows for three harvests.
A few minutes later we were able to attend a temple festival in one of the villages. Every 210 days the community celebrates the temple's birthday and most of the villagers or their representatives are attending in their traditional outfits. Both the temple and the street leading to it are beautifully decorated and everybody has offerings to be blessed by the priest. It was quite an experience! We were very grateful that we were allowed to watch and learn.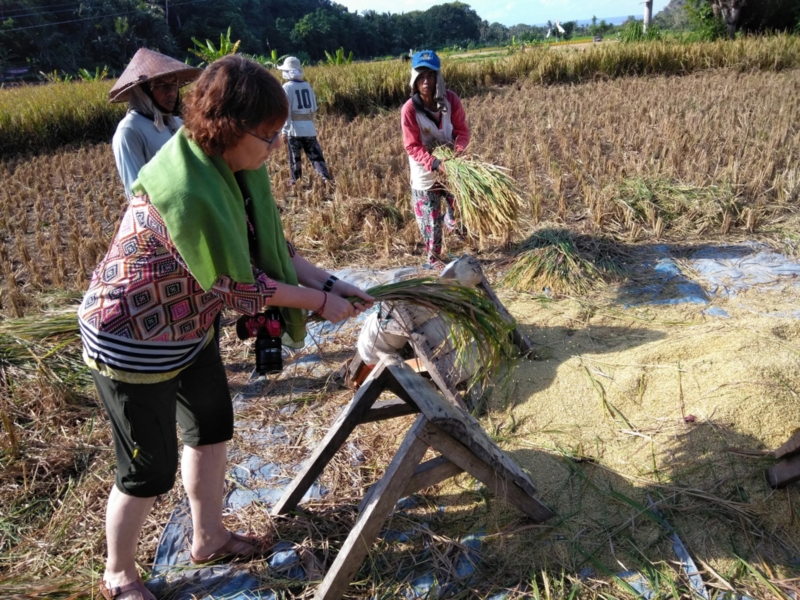 My personal highlight of the day was the visit to the Gates of Heaven at Lempuyang Temple. Five of us organized our own excursion to this fabulous site, driving up winding, narrow mountain roads to the hill top temple. It was magical! There were only very few people there and everyone was patiently waiting to pose in between the gates to have their photo taken. On a clear day the active volcano can be seen in the background. It was overcast while we visited, but all of us still really loved the experience.
Unique, Artistic Ubud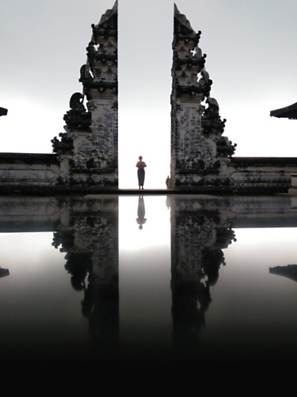 We arrived in Ubud today, the center for the arts on Bali. What a unique and eclectic city this is! Art studios can be found all over the city. Most of them are located in one of the "compounds" of the locals, which are scenic, enclosed courtyards with walls made out of the local deep orange-colored brick. The entrance doors feature beautifully and ornately carved wood with masks placed above the doors to keep away the evil spirits. Combine this with amazingly colorful tropical flowers and fountains and you feel that you just stepped into a movie set. Each compound has their own temple located on the eastern side, offerings are being placed by the front door and the smell of incense is in the air all day long. I am truly enjoying the city!
On our way to Ubud we briefly stopped at a local salt maker's house next to the ocean and learned about the time consuming and labor intensive production of sea salt.
Afterwards we stopped at a local temple located partially in a huge bat cave. Worshippers were praying in the active temple while thousands of big bats were either hanging upside down observing the people, or flying in and out of their cave going on about their daily bat life. It was very strange.
Before arriving in Ubud we stopped at Sudamala temple for a local purification ceremony. Wearing our bathing suits and sarongs we stood in the river praying with the priest first, then making a wish and finally stepping underneath the waterfalls to let the holy water clean our bodies and souls. I am not a very religious person at all, but somehow the whole ceremony was very spiritual and emotional for me. It was a fabulous experience standing there with all the locals and being part of their rituals.
In the late afternoon several of us drove to Tegenungan waterfall during our downtime to get some exercise by going down the 450 steps to the falls. It was fun and we were rewarded by the opportunity to take silly photos on our way. We will always remember the four chicks in the nest.
A Change of Scenery in Lovina
We arrived on the amazing black volcanic sand beach of Lovina today. What a change in scenery from the busy, artsy mountain town to the quiet beach resort! We got here by a VW thing, again climbing steep, curvy and narrow mountain roads that are not suitable for even our small bus. This trip is not for travelers prone to motion sickness. Make sure you bring your Dramamine!
There are lots of VW things in this part of Bali because the former chief of the county declared them his official vehicle in the 70s, to master the road conditions. Now we tourists are having a blast cruising around in them and enjoying the amazing scenery.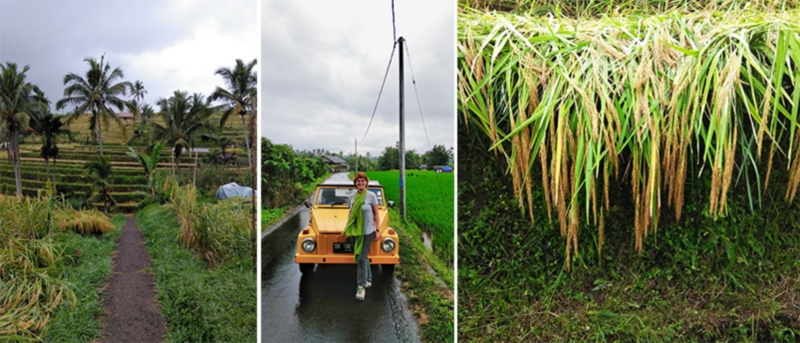 We briefly stopped at a temple where all the preparations for the upcoming temple festival were in full swing. Lots of villagers were preparing food, offerings and decorations, dressed up beautifully in their festive garb.
We soon reached the UNESCO heritage site of Jatiluwih, where Balinese rice is grown on very scenic terraces. We hiked for about an hour through the terraces, talking to the farmers, taking in the beautiful scenery and learning more about this kind of rice.
It looks very different compared to the dwarf rice that is cultivated everywhere else in Bali. It kind of reminded me of long, blond hair blowing in the wind.
The farmers there only get two harvests a year. Incredibly enough, the job of harvesting the Balinese rice is even tougher than what I described in a previous post. Every single stem of rice has to be cut individually with a special tool, mainly because the crop is laying flat on the field due to it being a lot heavier than dwarf rice and also due to rain. The farmers have to return later on and cut the empty stems off to prepare the field again. The rice flower with the crop gets bundled and dried for several days, before the farmers take it to the mill to separate the rice from the husk. The husk gets used as feed for cattle. We also visited a mill where ladies were lifting heavy bags of rice and husk. The amount of dust in the air is incredible.
In the evening we had a fabulous candlelight dinner right on the beach watching the sunset while fishermen were wading in the shallow water trying to catch mussels.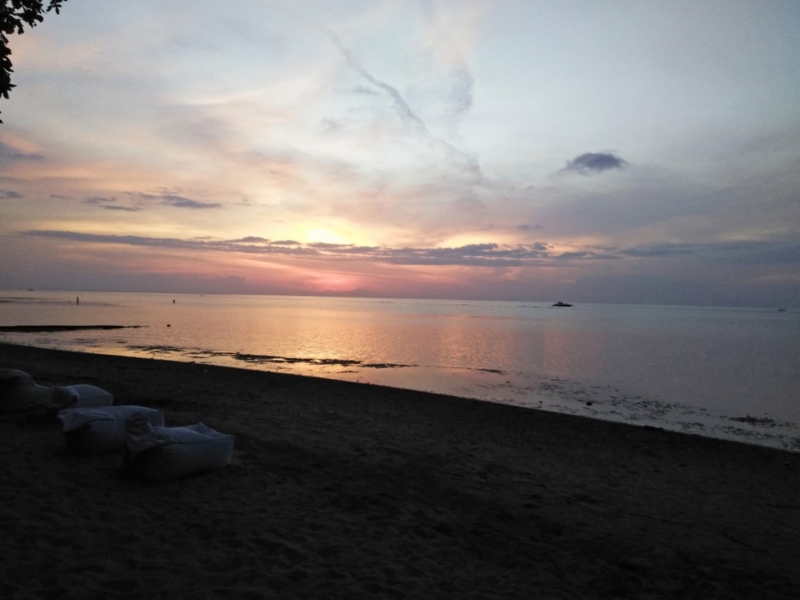 I am writing this chapter of the blog sitting on the veranda of my hotel suite enjoying a glass of wine and the mild air and listening to roosters crowing. Life is good! Aren't we all so lucky to be able to experience all of this?
Daily Life in Lovina
Today we were supposed to visit the school, but unfortunately due to Ramadan, the school was not in session. We therefore met with the chief of the village, who showed us around and let us get a closer look into the daily lives of several families. We first met the local shaman and afterwards the basket makers who are weaving beautiful baskets and mats out of bamboo strips and selling them to wholesalers.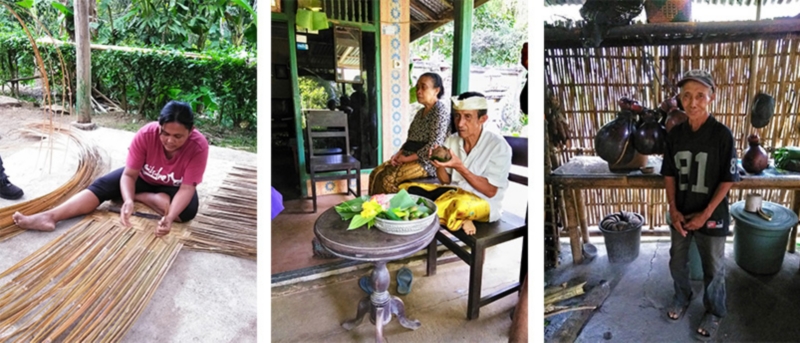 We had lunch at the brown sugar maker's family. The 69 year-old gentleman climbs ten very tall palm trees twice a day to harvest the sap from the tree and then produces the most delicious tasting palm sugar.
We started our last day in Lovina very early to experience a beautiful sunrise watching dolphins while cruising along on an outrigger. It was fabulous! We saw a lot of bottlenose dolphins playing and jumping right next to the boats. None of us regretted getting up at 5:30 am.
Sanur: Beach on Holiday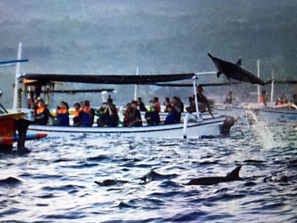 After breakfast we were on our way to Sanur and had to cross the mountain range again to head south. Be prepared for more switchbacks and narrow mountain roads! We briefly stopped at Ganesha University to talk to some of the students and learn about college education in Indonesia before visiting Bratan temple, a very scenic place next to Ulun Danu Lake. It was very crowded with local tourists due to a long holiday weekend, but nevertheless a sight that is not to be missed.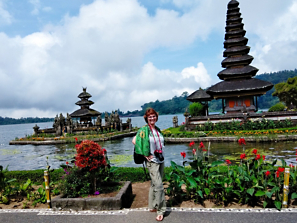 In the late afternoon we arrived in Sanur and I could not wait to get down to the waterfront to see the beautiful beaches of Bali. What a disappointment—I could not believe it. There was no water. Lots of boats were just laying on their sides on the dry sand. The Indian Ocean was on vacation!
I asked at the hotel later on and the employees and our Trip Experience Leader explained that for three days before up until three days after a new moon, the tide is super low and the beaches look anything but beachy and inviting to go for a swim. It is very, very strange!
Sights and Kites in Sanur
The next morning some of us got up very early to take a bemo, the local transportation, to Denpasar Square to get some exercise while walking or jogging around the square with the locals. Today was the last day of Ramadan, Eid, and all of Denpasar's Muslim population was congregating in the square to pray together. It was quite a sight. Thousands of people were arriving with their prayer rugs, dressed up and ready to celebrate.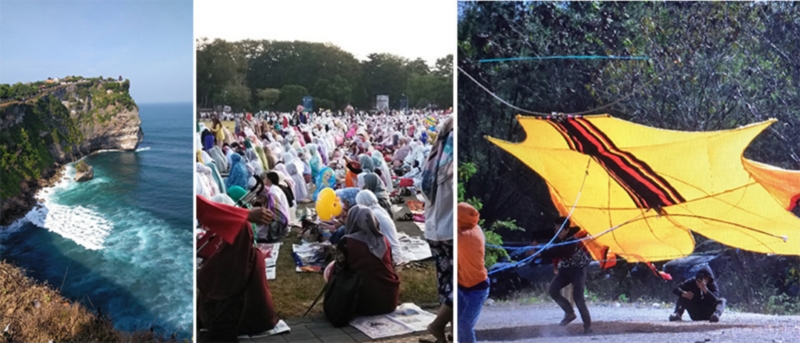 After breakfast we left to explore Uluwatu Temple, located on a scenic cliff overlooking the Indian Ocean.
It was a wonderful experience, even though we were warned about some naughty, naughty monkeys, who are living at the complex. We were advised to take our glasses off and to hide our cell phones. Luckily no one in our group was harmed or harassed but other travelers were not as fortunate. We observed several people losing their belongings and snacks or water bottles to the macaques, who were soon chowing down on candy bars. It was actually hilarious to watch them unwrap the treats and bite holes into water bottles and squeeze the cold liquid into their mouths. Monkey see, monkey do.
In the afternoon most of us went to a field near the beach where the local youth were flying their enormous, homemade kites. We observed them while they were assembling their creations and later on launched them into the air. It was quite a sight!
I really enjoyed the trip with its diversity and cultural experiences as well as the friendly locals, the food, and the sights! Great job O.A.T.! Thank you all for your interest and for following me along on my travels.
Experience the spirituality and artistry of Indonesia when you join O.A.T. for Java & Bali: Indonesia's Mystical Islands.