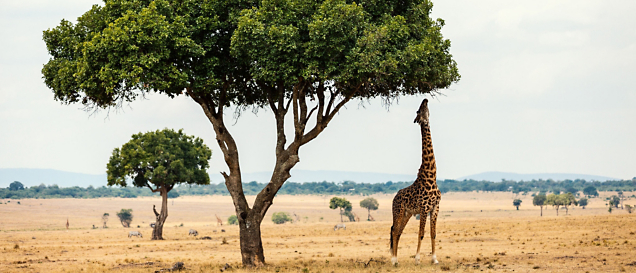 By Wanda Lane, 7-time traveler and 5-time Vacation Ambassador from Okatie, SC
When my friend heard about the trip, she said, "You'll come back a different person."
"How so?" I asked laughing.
"Travel changes a person," was her reply.
Her statement proved both prophetic and profound. Just now returned from two weeks in Tanzania where I was immersed in its culture and wildlife, I've been sifting through my memories and journal jottings hoping to synthesize and articulate the beauty and uniqueness I encountered. It has been a challenge.
Of course, the animals are among the most indelible images. The startling beauty of a lone giraffe silhouetted against an acacia tree and a cerulean sky; a family of warthogs tripping quickly along with snout horns curved and tails erect; the velvet charm of a zebra's face and his boldness to lock eyes with mine; a lioness with a bloody face gorging on her kill; the vultures languidly suspended above, waiting.
All in the order of the Serengeti.
People made indelible images, too. Women in bright, bold, contrasting prints carrying babies on their backs, balancing a basket of vegetables on their heads, using a stick to urge a sulky donkey forward. Young men loitering around their motorcycles waiting for a fare to make a shilling or two. The Maasai, tall and thin, garbed in red—the color heralding them as lion killers and linking them to the blood in their diet—herding cattle.
All in the uniqueness of Tanzania.
A triage of needs presented indelible images as well. Cracked dry, dirt void of growth, livestock emaciated to the point of starvation, dry and shrinking water holes used by both humans and animals made obvious the lack of water. Schools with old-fashioned blackboards and scarcity of supplies rank next in Tanzania's hierarchy of needs. Government schools are being built near isolated villages and attendance is now mandatory, but teacher/student ratios are high and most learning is by rote.
Perhaps my career in special education shaped an acute awareness of the dearth of services for the deaf, blind, and physically handicapped. Also included in the special populations of Tanzania are albinos, people who need government services for support and protection from those who still believe the superstitions of ages past.
Yet, in each of these situations, another indelible, unerasable image emerged. Change. An inexpensive water filter now being distributed to the villages provides clear, safe, drinking water. Even with the lack of critical school supplies, children are passing the government tests required to advance. Shaman and traditional healers are conscientiously debunking the superstitions surrounding albinos.
All in the quest for a better Tanzania.
I brought home lovely reminders of my trip—a hand carved ebony elephant, a unique checkers game purchased from an albino workshop, dainty elephant and giraffe earrings. More than these, however, I brought home images on my heart that will forever be indelible.
In the end, my friend was right. I am a changed person.
Embed your own set of images into your mind when you join O.A.T.'s Safari Serengeti: Tanzania Lodge & Tented Safari. Preview the wildlife that awaits you in Serengeti National Park in this film.
Produced by Electric Peak Creative