Honoring the Hidden Hero
How a son paid tribute to his father through travel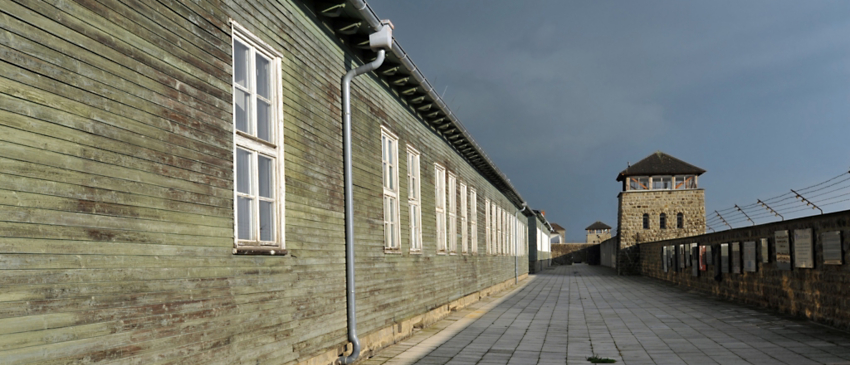 This is perhaps the first time we've heard of a first-time traveler "convincing" a 10-time traveler—and a 7-time Vacation Ambassador—to join him on a trip. It's like referring a friend in reverse … and we like it. Of course, Richard M. had good reason for initiating this journey, as you're about to read.
By Richard M., first-time traveler from Tremont, IL
My father was a commander in the 139th MASH hospital during World War II. When he came home from the war he had about 200 pictures, but he eventually burned them: he couldn't stand having them around. I wanted to know more but nobody knew about this hospital; it was undocumented at all of the Holocaust Museums I visited (including the museum in D.C.).
I kept digging and learned about my father's involvement in liberating the Ebensee camp [west of Melk] on May 6, 1945. My children convinced me to write a book about my father's story and in 2010, I published Inside the Gate: The Nazi Concentration Camp at Ebensee, Austria.
Ever since, I have being giving lectures at the Lifelong Learning Institute about my father and the liberation. After the book was published, many people reached out to me. One man from Ohio had been my father's clerk. A woman who knew that her father had been in the same regiment as mine asked me to help her locate the man; I did and, at 95, he found out that he had a 65 year-old daughter.
I was invited to speak at the 70th anniversary of the liberation of the Mauthausen Concentration Camps(of which Ebensee was a satellite camp). My sons made me go. One of my sons had worked for Seimans and had a friend from work who lives in Bamburg, Germany, so he arranged for me to meet with the family and have dinner in their home.
I convinced my friend Barbara [a 10-time Grand Circle traveler] to join me on the Great Rivers of Europe cruise because I knew I'd be stopping in Melk and could go to the site of its concentration camp. I'd been to other satellite camps of Mauthausen but had never been to that one. She'd had her own special trip, in which she found her grandparents' marriage certificate while in Sicily, and agreed to go with me.
I scheduled a cab to pick me up from the boat and bring me to the camp. I don't speak German and the cab driver didn't speak English. But when I told the cab driver the address, the driver asked 'oven?' And I said 'yes.' I visited the Melk crematorium, part of the last remaining building, and saw the cremation oven inside.
Once I got back to the ship, I talked about my experience there and about the book I had written and everyone wanted to know more. Our Program Directors asked me to give the lecture that I offer for Lifelong Learning as we traveled to our next destination.
As I write in my book, the 139th Evacuation Hospital brought thousands of human beings the hopes and dreams of post-war life. I'm glad to be able to tell that story.
You can follow in the footsteps of the soldiers who liberated so many when you join Grand Circle on The Great Rivers of Europe. Among the many places you'll explore is Vienna, Austria.