At the request of her son-in-law, who was born in India, Sally C. brought her granddaughter's hair to Varanasi for a ceremony on the Ganges.
By Sally C., 10-time traveler from El Dorado Hills, CA
My husband and I, along with a group of fellow O.A.T. friends, took the Heart of India tour in February 2012 and we had an incredible experience. The trip was exhilarating, overwhelming, fascinating and, at times, heartbreaking. Every adjective you can think of describes this country. The contrasts between rich and poor, cities and villages, north and south simply defy the imagination. No matter how much you read beforehand, it's hard to be prepared for all the sights, sounds, tastes, and smells.
One memory, in particular, stands out from our adventure. Before we left, our daughter and son-in-law (born in Chandigarh, India) made a simple request. Could we please deliver their daughter's first hair to the Ganges? We quickly learned that in Hindu culture, the first haircut is considered auspicious and is often included in a ceremony called Mundan. Many believe that the first haircut rids the baby of his/her past life's negativity and bestows a long life and good future.
We spoke with our wonderful Trip Leader, Geeta Singh, before we left and asked for her help in making this wish come true. We realized that this was an unusual request but we also knew that O.A.T. Trip Leaders are amazing guides and often find creative ways to enhance a traveler's experience. Geeta was a genius! Not only did she arrange for a Hindu priest to meet my husband and me at sunrise on the banks of the Ganges in Varanasi, but she offered to include our entire group in the special ceremony.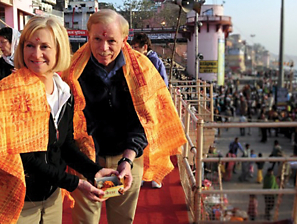 She quietly provided translation as the priest chanted, performed various symbolic rituals, and finally placed our granddaughter's hair in a ball of dough surrounded by marigolds. Geeta then hired a boat to take us out on the Ganges to drop the hair "package" in the river and watch while it floated away. It was a very personal and special experience for us as grandparents and for our daughter and son-in-law who marveled at the photographs.
We have come to expect wonderful Trip Leaders on all O.A.T. tours, but Geeta was one of our favorites. Despite its many challenges, India remains an incredible destination, steeped in history and with a hopeful future. I hope other adventurers will place it high on their future travel list.
Experience a hard-working, dedicated Trip Leader like Geeta when you join O.A.T.'s Heart of India adventure.