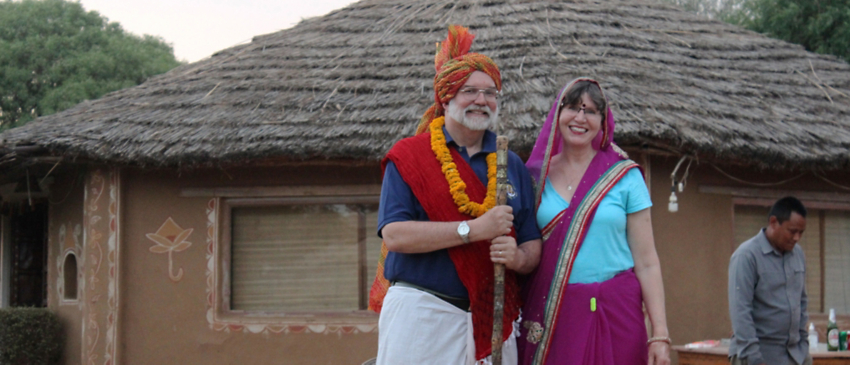 In July of 2017, we featured a Traveler Insight from Wayne R. about his "perfect proposal" to his now-wife, Pam, during our Route of the Maya adventure. We're honored that the newlyweds chose O.A.T. for yet another new chapter in their relationship: the honeymoon! Congratulations to the happy couple.
By Wayne R., 16-time traveler & 5-time Vacation Ambassador from Gloucester Point, VA
I had proposed to my wife on our Route of the Maya trip in 2017 at the ruins in Tikal. We got married and decided to take our honeymoon in India. Little did we know that we would be treated like royalty. This whole trip felt like one surprise after another.
We started off our trip in Dubai on the pre-trip Stopover. The hotel knew that we were traveling on our honeymoon and they upgraded our room! This was just the beginning. As we continued on our trip to India and Bhutan, almost every hotel we stayed at went above and beyond with the amenities and surprises. Our rooms would be full of balloons and sometimes the beds were all decorated with rose petal designs that were so beautiful we didn't even want to sleep in the bed! In Bhutan each hotel had a bottle of wine for us. In India each room had a cake in it and flowers. We really felt we were treated like royalty.
When we got to the O.A.T. camp our Trip Experience Leader, Prabhu, pulled me aside and he said he'd like to do a little ceremony with my wife and me. "We know it's your honeymoon, and if you'd be interested we'd love for you to do a Hindu wedding." We've been to Hindu ceremonies before and they're about four days long. After assuring this would be an abridged version, we were happy to participate! They took Pam inside and dressed her up in the traditional outfit. I stayed outside with the group and they dressed me up as well. Prabhu actually got a priest to conduct the ceremony. It lasted for a little over an hour, which was longer than our initial wedding ceremony! We went through the traditional blessings, and a symbolic knot tying. There is a fire offering where we had to walk around the fire seven times to be blessed by the gods. They had a couple of our fellow travelers stand in as the mother of the bride and father of the groom and everyone had a fun time with it. They finish the ceremony with everyone offering a blessing to the newlyweds. It was so impressive. After the ceremony they had a traditional party with dancing.
It was a fantastic trip and we felt so special the entire time! We shared all of our cakes, bottles of wine, and treats with our fellow travelers each night, which was a really nice way to get to know our group. We felt like royalty on this trip to India.
It may or may not be your honeymoon, but you'll appreciate the warmth and hospitality of the Indian people when you join us for Heart of India.