Evelyn Hannon played with these street musicians—who are definitely among her "cuties"—in Dubrovnik.
Evelyn Hannon is a professional travel writer and founder of Journeywoman—a top-ranked women's travel blog. It was a pleasure to have her aboard Hidden Gems of the Dalmatian Coast & Greece this past September. She'll be posting in more depth on Journeywoman soon, but we enjoyed her Facebook posts so much—including her tradition of finding daily "cuties"—we reproduced them for you here.
By Evelyn Hannon, 3-time traveler from Toronto, Canada
September 7, 2016
Today is the day! I'll be in Greece and cruising on the Dalmatian Coast for the next few weeks. Follow along with me. And yes, I will keep my eyes open for CUTIES to share with all of you!
September 8, 2016
Toronto to Athens: Nine-and-a-half hours in a plane, but it is so worth it (though I didn't feel that way at hour #5). We are overnighting in a lovely boutique hotel in the swanky part of Athens. Went up to the rooftop bar and was rewarded with 1.) An awesome Athens sunset over the city, and 2.) There in the distance on a hill is the Acropolis. OMG, I studied that building in Art History 101! Looking forward to tomorrow—first day of touring and boarding the ship.
September 9, 2016
We are onboard the small ship M/V Athena sailing towards Delphi. The weather is wonderful! Had a great day in Athens and I want you to meet some of the folks I met on our walking tour of the Plaka.
Walking by this Greek lady she called out, "Where you from?" I said, "Canada," and sat down beside her and showed her how to take a selfie. She was concentrating while I took the pix but gave me a big smile once she saw the photo.
I met these policemen in the Plaka and they agreed to be my "Cuties of the Day" when I told them all of you would be happy to see them. Nice, nice guys. Enjoy!
September 10, 2016
Yesterday we boarded the small ship Athena. Gorgeous little ship (50 passengers). I met James (today's Very Sweet Cutie of the Day) who will take care of me and my cabin. We sailed through the Corinth Canal in the evening (lovely experience). And, the weather is absolutely cooperating!
September 11, 2016
Aboard the small ship, Athena. This is our Captain, Mislav Orhanovic from Croatia. Last evening was the fancy Captain's Dinner. Prior to sitting down we all enjoyed cocktails and hors d'oeuvres served by the dining room staff, who honestly couldn't be nicer. I was delighted to be seated at the Captain's table directly to his left. Really nice man and interesting conversation!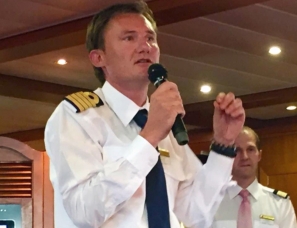 September 12, 2016
Today I visited Albania, a country I've never been to before. And... I met 4 Cuties.
The man who was our guide for the morning ( excellent guide, too!)
A young man of 12 selling bracelets. I made a deal with him: I told him that instead of buying something from him I would pay him 1 euro to pose for a photo. He thought that was a good deal but he wanted to take the selfie himself. "Do you know how," I asked. "Sure," he said. "I have an iPhone 6 at home."
An old man agreed to let me take his photo (no euros involved).

September 13, 2016
Aboard the 50-passenger Athena where I am being spoiled silly. This is just a small sample of our gorgeous seafood lunch buffet today. Wine included at every meal. The itinerary is called Hidden Gems of the Dalmatian Coast & Greece. It's a great way for an independent traveler to see this part of the world. There is no single supplement on some single cabins. I'm half way through my cruise, the sun has been shining, the sea is blue, and I've been loving it. Think about it, ladies.
September 14, 2016
We are docked in Kotor, Montenegro, five minutes from the old walled town. I got up early, walked past the ancient sea gate (1555) and continued left to a small local market. The merchants didn't speak English but with lots of sign language I came away victorious: portraits of two older local women in traditional black garb—and lots of sardines. For all independent travelers, there is a mix of guided tours and then free time on this cruise. When we are in port, it's fun to go off and have a little adventure by yourself or with new pals made onboard.
Sailing out of Kotor, Montenegro on our way to Dubrovnik, Croatia, I stood on my cabin balcony completely mesmerized by the lovely patterns created by the mountains that joined with the many cloud formations. The only sound I heard was the rush of the water we were sailing through. For me, this was a magical moment in time. I know that each of you have had your own magical moments. That's what travel is all about, right?
September 15, 2016
Dubrovnik, Croatia: After a short walking tour in the A.M. we had five hours free to spend in Dubrovnik. Did I have fun? You bet I did! Taking photos, pizza lunch in the square, gelato (lemon and watermelon) in a waffle cone (US $1.50) and playing with the street musicians. There were a gazillion tourists in town from all over the world (Japan, France, Russia) but we explored all the little winding streets away from the major crowd. I chatted with a woman who was sailing on a 2,000 passenger ship. She was really jealous when I told her about the Athena with only 50 passengers. Check one of the pix I included in today's post. Three boats in a row. Ours is the smallest one in the front of the line.
P.S. I love this city. Even the stone bannisters are elegant.
September 16, 2016
This is what I woke up to at 6:30 this morning as our ship sailed into the port of the walled city of Korcula, Croatia. This is one of the nicest island destinations I've ever had the pleasure of visiting.
September 17, 2016
Today I visited Hvar, Croatia. The scenery I shot was wonderful but this portrait is the fav of my photos. I am giving her center stage and calling her, "Souvenir Seller from Northern Croatia." Enjoy, everybody!
September 18, 2016
Yesterday in Split, Croatia, a group of young enthusiastic people came on board the Athena to entertain us with their traditional Croatian dances and music. They were excellent. Of course I asked if they knew how to take selfies. In a moment they took my iPhone, got together and left me with some selfie souvenirs from Split. Young people around the world may not understand everything I say but everyone understands the universal language of "selfie."
P.S. Skies are still bright blue with the sun shining although we had about 20 minutes of very light rain which disappeared as quickly as it came. The Dalmatian Coastline rocks!
September 21, 2016
When you travel solo you always make new friends. It's 5:45am in Zagreb and I'm getting ready to check out of the hotel. Time to head home after a lovely 15 days with Grand Circle exploring Greece and the Dalmatian Coast. What a jam-packed and interesting itinerary! I'm going home with a new understanding of this part of the world. I'm also now very much aware of how lovely and hospitable Croatians are. This is a juicy part of the world to experience.
Follow in Evelyn's footsteps when you join Grand Circle Cruise Line on Hidden Gems of the Dalmatian Coast & Greece. In this film, you can explore several of the same locations with travel expert Rudy Maxa:
Produced by Small World Productions