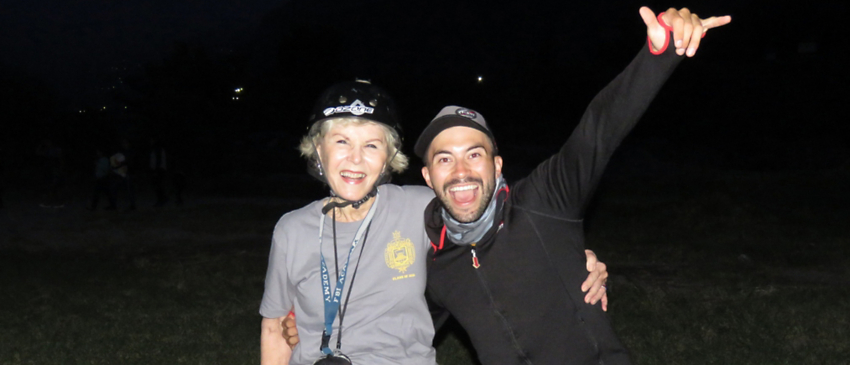 Kay's thrilling adventure took place on a free afternoon at Lake Atitlan during O.A.T.'s Route of the Maya adventure. While we can't guarantee all groups can have the same opportunity, always let your Trip Experience Leader know what you might like to do on our own. He or she will do their best to make it happen!
By Kay S. 13-time traveler and 8-time Vacation Ambassador from Harrison Township, MI
Our awesome Trip Experience Leader, Walter, had been on his cell phone for a while. When he finished his call, his grin was VERY wide. He had made arrangements for anyone interested to have the chance to paraglide. YIPPEE! I had asked about this yesterday, but he thought it was an all-day event and there would not be enough time.
He learned that we could do it as soon as we docked back near our hotel about 3:30. Well… we were late getting back, and had to RUSH to the shop, sign a waiver, pay our $100, and hop in the waiting van (three of us) with three "pilots" and three chutes. The ride up to the take-off spot was rugged and two lanes of dirt. We would be 1,500 feet above the lake.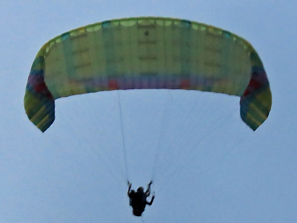 Our pilot, Christian, spoke with us the whole way, and his enthusiasm outshone ours! He LOVES to "fly" and has been doing it for over 10 years. One of the other pilots is Caesare, who placed third in a world-wide championship for paragliding acrobatics—I want to fly with him. Terry chose to fly with Christian, so Olga would go with the other dashing young man.
The wind was not cooperating. One chute unfurled and we got a demo of equipment. Fog and clouds then rolled in. Losing hope. Wait… maybe? No, not enough wind and poor visibility. Slim chance? Chutes unfurled again. Caesare suited up and helped me with my gear. Locked us together and explained what I should expect. Hopes up. Wind not cooperating. Fog still very thick. Then… a gust of wind. Ready? Run… and off the edge of the cliff into the clouds!
OMG! Awesome. Cannot see a thing, but Caesare has a compass and knows where we are. He asks if I am OK. I AM SO FULL OF ADRENALINE! It's cold with no jacket, but my excitement keeps me warm. We go down lower beneath the clouds and catch the wind and thermals near the side of the mountain. It is so quiet and we chat.
He asked if I was ready to land. No, just a few more minutes please, and he asked if I wanted to do some acrobatics. SURE! We did and recorded video on his GoPro.
It was getting dark and lights were coming on in town. Neato! We landed smoothly and there was a welcoming committee to meet us. Paul, Kate, Robin, Walter were waiting for us along with Christian's wife. They took photos of the landing, we unhitched, and hugs all around.
Walter said in his 10 years as an O.A.T. Trip Experience Leader, this was the first time any of his travelers had done this. Now, where are Terry & Olga? Weather had turned and their pilots didn't feel it was safe to fly. Terry must be so disappointed!
Perhaps you'll follow in Kay's footsteps when you join O.A.T. for our Route of the Maya adventure.