Enlightenment in Israel, or in Ashland, MA?
Posted on 8/15/2017 12:01:00 PM in Traveler Insights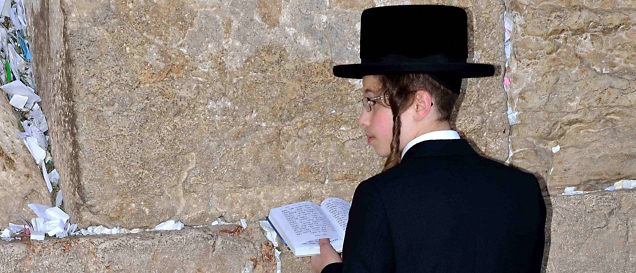 A sense of enlightenment might come to you as a result of visiting Jerusalem's Western Wall, but the timing of it might surprise you.
Howard A. is an Ashland resident, travel photographer, writer, and former high technology executive. He has photographed in 79 countries on six continents and has traveled to 40 of the U.S. states. He is primarily interested in native and tribal cultures, religion, architecture, and wildlife, which he feels are all disappearing at an alarming rate. His goal is to document through photographs and articles as much of this as possible, while it still exists.
By Howard A., 21-time traveler & 8-time Vacation Ambassador from Ashland, MA
Jerusalem: A Magnet
I heard the siren song, and it wouldn't let me sleep. Although I have travelled to 78 countries, I had yet to visit Israel: the land of my people. I am a person of the Jewish faith by birth, but secular in practice. Like most male Jews, my final regular visit to synagogue was on my Bar Mitzvah, followed some 50 years later by my father's passing. Although passionate about the historical, cultural, and social aspects of Judaism, I have never been overly enthusiastic by the purely religious characteristics. I have however, always admired the culture of the Orthodox Jews—so respectful, supportive of one another, community oriented, family focused, and deeply devout and spiritual. They seemed so marvelously unique—anachronisms, living in their own close-knit, secretive and mystical world, and without question, the essence of Judaism.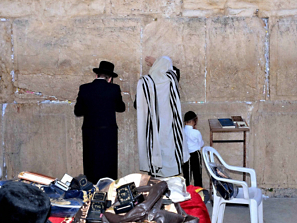 In Search of
I felt that something was missing in my life. I was searching for answers like so many others, and hoped I would find those answers in the "Holy Land." Jerusalem was the end point of our two-and-a-half-week tour. Perhaps like the festivals in the Bible where the best wine is saved for last, this was "bashert" (meant to be). I was looking forward to visiting the 2000-year-old Western Wall; the most holy site for any Jew, being the equivalent of the Grand Mosque in Mecca for Muslims, or the birthplace of Jesus in Bethlehem for Christians. This was unquestionably the "big stage." The Jewish tradition is for one who wishes to communicate with the almighty, to place a note in the cracks of the old temple wall. There are no rules. You can ask for anything, including forgiveness from God for things done, or from persons no longer living. You can ask for future health, riches, fame and fortune, or merely to have a simple but fulfilling life. Perhaps you need a bit of help to get your son into Harvard? The choices are up to the individual, and are endless.
Preparing for Transformation
I had heard from so many people that when you touch the wall and place your requests there, you will be instantly spiritually transformed. The feeling will be unmistakable and palpable. Your world will be rocked! I looked forward to my transcendent moment, unable to sleep at night, patiently awaiting this life-changing experience. After much thought, before leaving the U.S. I wrote two requests for my creator on small individual sheets of paper. I reread them each night in Israel, making sure that I had expressed my desires concisely and clearly. I assumed that God, the almighty CEO, is very busy, and as such my requests had to be clear, succinct, and to the point.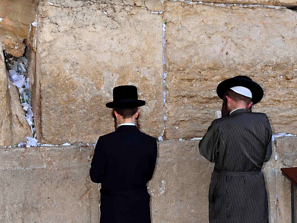 Finally, my day had arrived. I visited the men's area of the "Wall" in the early AM. There were already approximately 75 Orthodox Jewish men and young boys there dressed in black and white Orthodox attire, and adorned with the associated religious accoutrements. Most were deep in prayer: wailing, moaning, and even crying. Bodies gesticulated and waved to and fro. The air was alive. I was mesmerized. These deeply religious people were in meditative trance-like states, and completely unaware of anything around them. I had seen Sadhus (Holy Men) on the banks of the Ganges in India, and meditating monks in a Tibetan monastery in similar states. I yearned for the spiritual deepness, cleansing, and lucidity that they were unmistakably experiencing.
The Waiting is about to be Over
I approached the wall exactly as I had seen the Orthodox Jewish men do. I felt totally alive, open and receptive to the spiritual lightning bolt I was about to receive. I placed both hands on the warm ancient stone. I waited—but nothing … nothing … absolutely nothing! No lightning bolt, no instant karma, no sudden lucidity, no epiphany, no words from God, no deep meditative feeling. Nothing, reader—simply nothing! I gathered myself, closed my eyes, tuned out all thoughts and sounds and breathed deeply. I psyched myself up, absolutely sure that I could get tuned in and "feel the feeling" or "hear the word," but still nothing. I remained optimistic however. Being one who is not easily discouraged, after analyzing the situation I came to the conclusion (obvious—no?) that what I was seeking required that I place my notes to God in the wall first. Yes, surely that was it. I had left out a compulsory step. It is a two-step process. This was my first time, so of course I had missed a required step. Upon realizing this, I became reinvigorated.
The Re-boot and Disappointment
I pulled my notes from my pocket, folded them, and jammed them into the cracks in the wall. There were literally thousands of notes already there, but I was now fully convinced that after inserting mine, I would receive that intangible feeling that I had travelled 5,500 miles to find. I was ready. I again placed both hands on the wall. I concentrated deeply and tuned out all thoughts and sounds. All I could hear was the rhythmic mystical sounds of the religious men deep in chant and prayer around me. This was my moment. I was ready to receive my fulfillment. But—AGAIN NOTHING! I left with tears in my eyes, feeling empty, discouraged, and broken. Why was my call not answered? What did this say about me? Was God ignoring me? I spent the day in a down mood. I had done all I could, and in the most sincere and reverent manner possible. There was nothing left to be done. It was a "wrap," so to speak. The best one can do, is the best one can do. It was just not meant to be. I rationalized that if I choose to live in the past, I wouldn't have much of a future. Not one to dwell on failure, I moved on but the disappointment lingered on and deeply troubled me.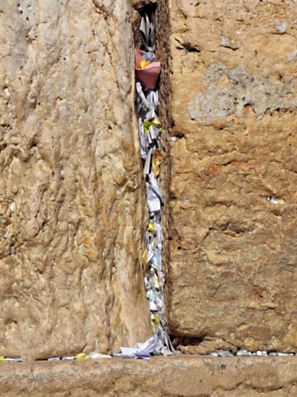 A Most Happy Ending
We returned to the U.S. a few days later. Within a few weeks I started feeling unmistakable emotional, mental, and spiritual changes. My senses were heightened. I started sleeping better and waking earlier, thinking more clearly, and being more patient. Food had more taste. Colors were richer and deeper. The sound of a child playing or a friend's smile filled me with blissful joy. I gave some money to charities. It felt great, so I did it a few more times. Reading became a sheer pleasure, and music (always my favorite) lifted me to new heights.
I had been changed. There was no doubt about it. I did not get my "jolt" at the wall, but I most definitely did receive what I had sought, just not in the manner I had expected. In life, changes of degree often become changes of kind. When it is late afternoon, with each passing moment it becomes slightly darker. Suddenly it is night. At what exact point that happened cannot be determined. What is clear, however, is that a change of "kind" has taken place as a result of changes of "degree." This is how my wish was delivered, reader.
There were many people such as myself at the Western Wall that day, all making requests or in search of answers, and thousands of notes in the cracks. Perhaps all the circuits to the upstairs were jammed and the protocol was first come, first serve. After weeks on hold however, my call was answered.
Perhaps you'll experience an enlightening moment of your own when you join O.A.T. for Israel: The Holy Land & Timeless Cultures.