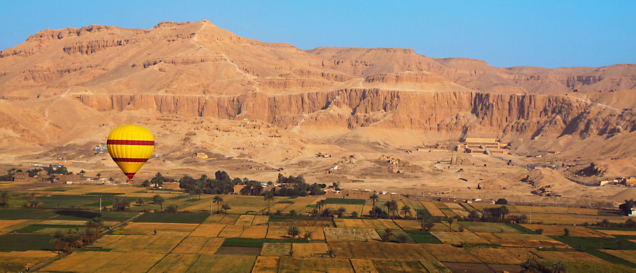 Renee was unsure about riding a hot air balloon in Egypt, but after the experience, she was so glad she did.
By Renee S., 6-time traveler and 7-time Vacation Ambassador from Atlanta, GA
Prior to our 2005 trip to Egypt with Grand Circle, my husband suggested we register for the hot-air balloon ride. I was apprehensive and declined the offer, but he decided to go ahead and register himself. After thinking about it very seriously, I decided that if there were an accident, I certainly did not want to become a widow in Egypt, so I told him to register me as well. Our oldest son surprised us by coming along on the Egypt trip so of course, he went on the balloon ride also.
It was an amazing experience. After walking around the Valley of the Kings the day before, the very early morning hours found us being lifted gently into the big basket by strong young men, and then floating over the homes and the Valley itself. We heard the early morning sounds of the roosters and dogs, and watched as the villagers awakened. It was an unforgettable experience and I have thanked my husband dozens of times for insisting that we do this. Also, what a great experience to share with our son!
As the balloon landed, we were met by those strong young men, lifted out, and invited to dance with several dozen men, women, and children who had come to celebrate with us. There was no champagne since we were in Egypt, but dancing was so much better.
On that same trip, we met grandparents who had promised their twelve-year-old grandson a trip of his choice and he had chosen Egypt. That planted the seeds and we have given our own grandchildren their choice of trips upon becoming twelve. One chose a rain forest and we knew just where to take him, thanks to our Grand Circle trip to Peru. His younger brother decided that was his choice as well, so we took the whole family to Peru that year. The next year when a grandson from another family chose Alaska, his younger brother wanted to go there too, so we took the whole family to Alaska.
I have to add this little story to the mix regarding the Egypt trip. Our son is a physician and was living in New York. We had flown there to meet him and we three joined the other Grand Circle travelers at JFK. A new friend from our home city of Atlanta had fallen in the airport and hurt her knee. I suggested she let Lanny look at it and provide first aid. Another traveler saw what was happening and did not realize that Lanny was our son and simply checking on our new friend. That person spread the word that Grand Circle provided physicians to travel with us!
We are so excited that we are about to embark on another Grand Circle trip!
Witness Egyptian sites for yourself during our Suez Canal Crossing: Israel, Egypt, Jordan & the Red Sea Small Ship Adventure.