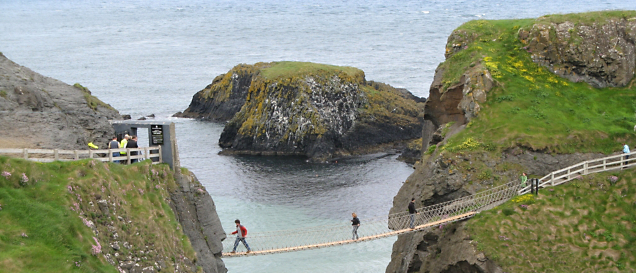 Would the promise of beautiful views be incentive enough for you to cross this rope bridge?
By Mark H., 7-time traveler from Potomac, MD
Northern Ireland's craggy Antrim Coast, among the prettiest in all of Ireland, offers many places of interest to visit. In one busy day, you can visit the Giant's Causeway (a World Heritage Site), Old Bushmills Distillery, the cliff top ruins of Dunluce Castle, and the rope footbridge at Carrick-a-Rede.
Crossing the Carrick-a-Rede Rope Footbridge is a thrilling experience and those who cross it will be rewarded with marvelous views. The bridge, suspended about 100 feet above sea level, was first erected by salmon fishermen over 200 years ago to gain access to Carrick-a-Rede Island from which they fished for migrating salmon. From the parking area to the bridge entrance, it's about a half-hour scenic walk, with the Atlantic Ocean on your left and farms on your right.
Towards the end of the path, you'll encounter many steps cut into the steep cliff-side. At the bottom of the steps, a National Trust ranger will check your tickets (purchased at the parking lot) and grant access through the gate leading to the bridge.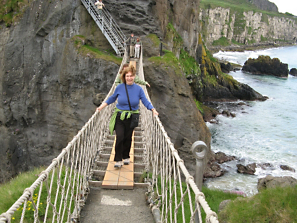 After descending a metal staircase, you take your first tentative steps onto the bridge. While the bridge is very strong and probably could support an elephant, it swayed and moved underfoot, which is disconcerting for many people. I crossed without trepidation, but still held on tightly. My wife, Elaine, was more apprehensive but she did cross it. No more than eight people are permitted on the bridge at any time and a ranger directs traffic so that it flows in one direction at a time so no one has to pass another along the way.
There are stunning coastline views to each side and straight ahead as you cross the bridge. Once on Carrick-a-Rede Island, stroll around to admire the views and do some bird watching. There's also an old fisherman's cottage and some fishing-related equipment. Rathlin Island, where thousands of puffins breed every year, is only four and a half miles away.
Perhaps you'll challenge yourself to walk across the Carrick-A-Rede Rope Bridge when you join O.A.T. for Irish Adventure: Belfast, Dublin & the Northwest Counties.