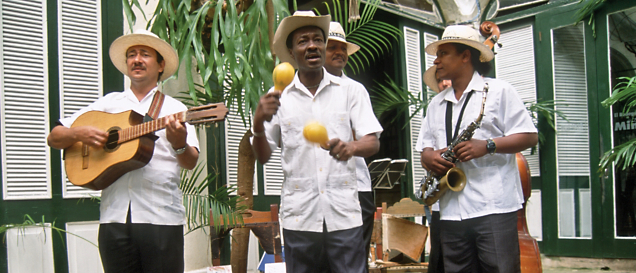 Renee recalls musicians at every turn in Cuba, often sporting classic button-down guayabera shirts.
By Renee S., first-time O.A.T. traveler from San Antonio, TX
As swirls of cigar smoke danced in tune to a combo playing lively Cuban rhythms on the patio of Nacional Hotel in Havana, I drank it all in … the musicians wearing white guayaberas while playing the guitar, bongos, and clave; the strutting peacocks; and the smooth mojitos brimming with run, sugar, limes, and mint on the cool, star-filled night. My Cuban adventure was under way.
Earlier that day, flying 22 miles on an Aruba Air plane from Miami to Havana, we also traveled back more than half a century to a city frozen in time. In Cuba, we realized immediately that things happen without regard to plans or schedules, and if you expect American efficiency, you will be frustrated and sorely disappointed. Baggage handlers seeped in mañana-attitude produced suitcases at random, along with huge shrink-wrapped packages, including many large-screen television sets that passengers were bringing into Cuba. Eventually, the luggage was sorted out, and our group emerged from the Jose Marti airport to the sight of dozens of brightly painted vintage American cars from the 1950s, all jerry-rigged into convertibles and polished to perfection. I broke into a laugh as I spotted a 1955 two-tone blue and white Chevy like the one my grandpa drove when I was growing up.
My senses were on permanent overload. Aging yellow, green, and pink building facades competed for my attention with the 1950s cars and agile bici-cabs weaving through the traffic. Abuelos playing a hot game of dominoes drew my eye from an inscrutable curandera wearing a starched white dress and turban and blue reflective sunglasses as she plied her trade with tarot cards. Images flashed as if I was seeing through an old-fashioned viewfinder: a beautiful young woman playing a flute in an open window, a man meticulously rolling Cuban cigars, women with graceful hands weaving colorful straws into baskets and placemats, three women in bright Creole dress and hats sitting on a shady park bench. Wherever we went, we saw the jarring juxtaposition of magnificently restored colonial buildings with crumbling structures where clothes handing on a line fluttered like flags waiting to be saluted. And providing the soundtrack to it all were musicians, their pulsing sound the beating heart of this island nation.
We met craftspeople who created art from found objects, reclaiming a garbage tower and in the process, transforming a community; artists whose paintings, photographs, and sculptures reflect their politics and passion; and a brilliant and hilarious agromonist who educated us on the finer points of coffee plants as well as homeopathic cures for arthritis, high blood pressure, and other disorders. And we met several generations of a family that operates a coffee farm where they create the strong, dark coffee Cuba is known for. And we visited a dilapidated sugar plantation, once part of an enormous Cuban sugar empire. At its height, Cuba was the world's largest sugar exporter, produced with the help of thousands of African slaves brought in to harvest sugarcane for production. We see the faces of those slaves, along with the Chinese brought in to build the railroad, as well as the Spanish, Greeks, and other nationalities in the multi-ethnic faces of Cubans today.
We visited with men who earn their living from the sea as fishermen and joined them for lunch at a restaurant where Ernest Hemingway used to hang out, and were a fisherman of another generation was the inspiration for The Old Man and the Sea. And we watched retired baseball players patiently teaching boys the finer points of the game at open sports fields. Cuba's deep commitment to the arts was on display during performances of a renowned contemporary dance troop and one of a choral group concert, as well as during visits with performers. At several community projects and at a party, we were invited to dance the rumba and cha-cha with local Cubans.
No matter where we went in Cuba, we were never far from political statements and symbols. One billboard proclaimed the success of the 1959 revolution, while another called for crushing the American blockade. Signs declared everlasting love for Fidel, while ubiquitous images of Ernesto "Che" Guevara in his jaunty revolutionary cap peered at us from restaurant walls, art galleries, and building facades. And one piece of broken tile art heralded Cuba's deep friendship with Hugo Chavez of Venezuela.
On the brink of its 500th anniversary, Cuba is a country at a crossroads: a nation trying to preserve its unique culture and socialist form of government while growing carefully and strategically. They welcome foreign investment from other nations, but are determined not to allow other countries to dominate Cuba as the Spanish, Americans, and Russians did for many centuries. Americans, we were told, are "late to the party" of investing in Cuba. Fiercely independent and committed to the principles of the 1959 revolution, Cubans still resent American imperialism and the CIA for its 368 attempts to kill Fidel Castro. Even so, they love the people of the United States and constantly expressed their happiness that we were there.
Throughout Cuba, it was the people who touched my heart. A gentleman at a senior center wearing a plaid shirt, khaki vest, and a bright smile rose to dance with me—with his wife's permission, of course—and told me he had worked in manufacturing his whole life, but always loved to dance. A three-year-old girl in a preschool program flashed me a smile and took a photo of me with her Lego-created camera while I took on of her with my iPhone. I smiled in sympathy at a mother of a crying baby trying to settle him down by rocking his stroller as I told her I had done that with my own children. A girl peering out a window caught my eye and responded to my "buenos dias" with a broad smile and a two-fingered victory salute. There was a bici-taxi driver who came into the farmer's market with me to advise me on the best onions to buy so we could bring vegetables to our next stop. And the fisherman who had learned English by watching classic American films and couldn't wait to show off his language skills with us, and his friend who spoke no English but communicated perfectly with us by sharing photos of sailfish, hammerhead sharks, and tuna he had caught on his cell phone, along with pictures of his lovely wife and children.
From the thrumming energy of Havana, to the elegant colonial structures of Cienfuegos, to the frozen-in-time crumbling pastel facades and cobblestone streets of Trinidad, Cuba charmed and enchanted us. On our last night in Havana, our guide had one more surprise for us. After a wonderful meal in our paladar, or privately owned restaurant, she had arranged for us to ride back to the hotel in vintage 1950s cars. We climbed into the brilliant-colored convertibles from the 1950s, mine a bright gold 1952 Pontiac Catalina, with our drivers swerving and honking joyfully at one another, showing off as much as high school boys would have done in the 1950s.
I left Cuba with a keener understanding of this remarkable country, feeling that in my small way, I had contributed to a continuing dialogue, while leaving a bit of my heart behind.
Collect your own series of images and memories when you join us for Cuba: A Bridge Between Cultures.