Creativity Blossoms in the Netherlands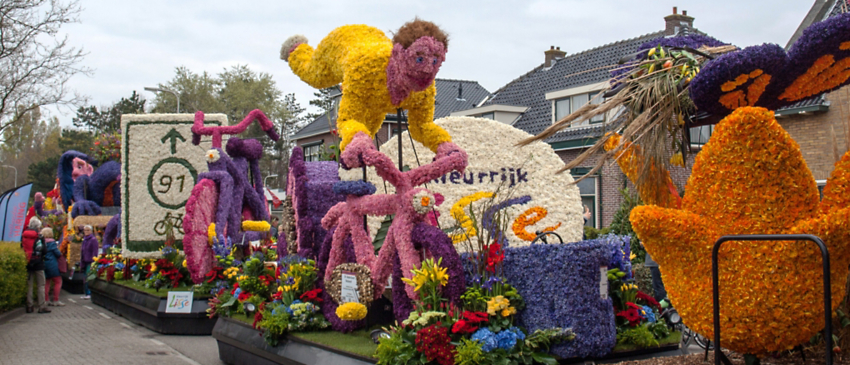 By Jane L., 43-time traveler from Shingle Springs, CA
I'm very independent and I have been my entire life. When I get the notion to go somewhere, I book the trip right away. I don't delay. I don't wait for someone else to decide whether he or she can go with me. I live alone, so I don't mind being alone with my thoughts when I travel.
Europe inspired me to explore my own creative side while traveling solo on Grand Circle's Holland & Belgium in Springtime River Cruise. Although I post an online photo album for all of my trips, this album was by far my largest. I took so many pictures, and there was so much to do—sometimes up to three things in one day—even though it's one of Grand Circle's shorter trips.
I'm all about embracing new experiences. I was lucky enough to travel to Haarlem on the Sunday of the city's annual flower parade on the Amsterdam extension. It was kind of like our Rose Bowl here. There were floats in the main square and it only happens once a year. The theme was communications and there was everything from Indian smoke signals to carrier pigeons to newspapers all done in flowers. It was absolutely beautiful! I love discovering new places and new cultures when I travel. That is far more important to me than ever feeling alone on a trip. Believe me, I have never felt truly alone on a Grand Circle vacation.
I like the balance between free time and guided explorations on Grand Circle trips. Because I took the post-trip extension in Amsterdam, I did a lot of things on my own there. I squeezed in all the museums and the Anne Frank House, and it was really easy to get around on the trains. It's nice if your Program Director takes you on the train or subway the first time. And if I didn't feel like venturing off on my own on any given day, I was always assured of finding a "buddy" amongst my traveling companions.
Besides making a digital photo album of each of my trips, now I bring back an art souvenir. I have a very tall living room wall that's now covered with travel art. I love to look back and remember the circumstances. But Holland & Belgium in Springtime may be the first trip that I bought more than one. I brought back a little watercolor from Kinderdijk and at Keukenhof I bought a small print of the flower fields. We have a wonderful gallery in Sacramento, near Shingle Springs where I live. I made it a point to get there after coming home and realizing how much I appreciated the art in Europe.
Experience Amsterdam, the flower gardens at Keukenhof, and so much more during Grand Circle Cruise Line's Holland & Belgium in Springtime River Cruise.