Conversation with Robert & Janice G.
Posted on 12/26/2017 12:00:00 AM in Traveler Insights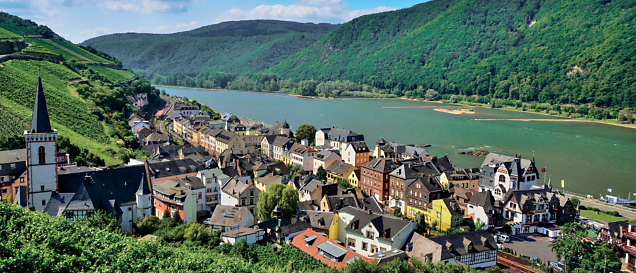 The quaint village scenery along the Rhine River helped make The Great Rivers of Europe a favorite for Robert and Janice.
By Robert & Janice G., 8-time travelers and 22-time Vacation Ambassador from Vero Beach, FL
What was your favorite trip and why?
Our favorite trips were the Galápagos and The Great Rivers of Europe cruise. They were both so different from each other, but we loved seeing the castles on the hillsides right from the rivers on our Europe cruise, and the Galápagos is such a unique place to visit.
What's your favorite/most successful way to refer a friend?
We use the little referral cards that you include in your catalogs. I carry those in my pocketbook all the time. We'll get to talking to people about our trips, I give them a card, and tell them to check out Grand Circle online.
Have you had any pleasant surprises during your trips?
We were on a river cruise and the locks weren't working properly, so we had to wait a few hours before we could continue on. We got to spend a little time in a coffee shop by the dock, and when we got back on the ship, our guides really went above and beyond to make sure we were happy. They turned what could have been an unpleasant experience into a really nice evening.
Perhaps Grand Circle Cruise Line's The Great Rivers of Europe River Cruise will make it to the top of your list as well. Preview the experiences that await you in this video.