Cape Town: A Natural Beauty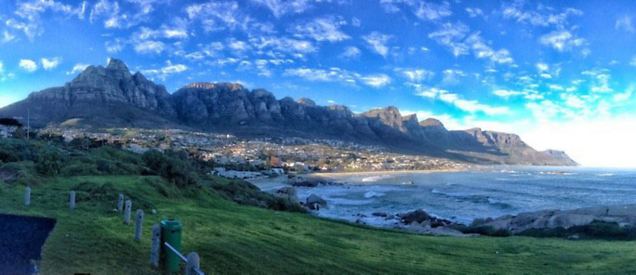 Nancy and Peter initially published this account of their safari on their blog, Pull That Cork. Do you blog about your adventures with O.A.T.? We'd love to share excerpts in The Inside Scoop. Email a link to [email protected].
By Peter B. & Nancy B., 5-time travelers from Stockton, CA
Cape Town, South Africa is stunningly beautiful. It sits perched on the edge of the Atlantic Ocean in the southern portion of South Africa. The city and its suburbs are located at the northern end of a peninsula which terminates at Cape Point. Sweeping beaches stretch along the Atlantic and are interrupted by a rocky shoreline. The ocean is blue-green and wild along the Atlantic. Along the eastern coast of the peninsula False Bay is calmer. The skies are crystal clear.
As if the ocean wasn't beautiful enough on its own, Cape Town is surrounded to the south and west by spectacular mountains. The city and its suburbs have grown around Table Mountain, which sits to the south of the city, and rises over 3500 feet above sea level. Devil's Peak punctuates the eastern end of Table Mountain and Lion's Head the western end. Just north of Lion's Head is Signal Hill. South of Table Mountain a chain of smaller peaks, Twelve Apostles, parallels the ocean.
It seems that no matter which way you look you are presented with a stunning view. The ocean in one direction and a variety of spectacular mountains in every other!
After spending 15 delightful days in the interior of Africa, visiting Botswana, Zambia, and Zimbabwe on safari, where winter weather is characterized by warm days, cold nights and no rain, Cape Town was quite a contrast. No more dusty dirt roads. Cape Town is a modern city of nearly four million with a busy port and a modern skyline.
We were in Cape Town toward the end of July—winter in the southern hemisphere. Weather in July is typically cool (lows in the 40s, highs in the 60s) and rainy. We experienced both rainy weather and spectacularly clear days. Perfect really.
Six of us continued on to Cape Town along with Sanction, our Overseas Adventure Travel Trip Experience Leader for the safari portion of our trip. We stayed at Inn on the Square which is located on Green Market Square. The square is filled every day with individual vendors who bring their local handicrafts in for sale. Every morning the vendors bring in their stalls and goods and set them up. Every evening they take everything down, and haul it all away. Every day is the same routine, rain or shine.
Green Market Square has been many things since it was built in 1696 including a vegetable market, slave market, site of a city well, and even a parking lot.
We spent two days on driving tours of the city and beyond. Our driver, Khotsa, was equal parts historian and guide. He constantly directed our attention to points of interest all the while telling us the history of Cape Town, South Africa and its people.
The first day of our tour in Cape Town started with a tour of Kirstenbosch National Botanical Garden, a spectacular 528-hectare garden on the eastern slopes of Table Mountain. Relics from the Stone Age have been found in the area. Khoikhoi and San tribes lived in the area when the Portuguese first arrived. After that, the Dutch East India Company used the forests in the area for timber beginning in the 1650s.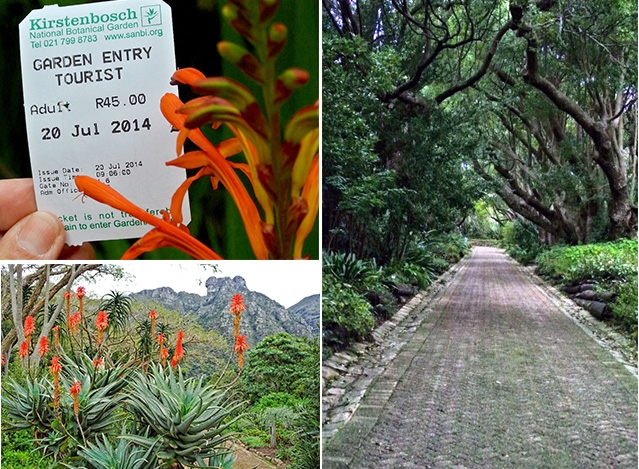 The area was farmed by a series of Dutch owners and eventually purchased by Cecil John Rhodes in 1895. When Rhodes died in 1902, the property was left to the nation's people. It was Rhodes' desire to protect the eastern slopes of Table Mountain from urban development and in 1913, the acreage became a botanical garden.
It was overcast and a bit drizzly when we visited Kirstenbosch, but the gardens were absolutely beautiful, even in winter. I can only imagine how spectacular they are in the spring and summer.
Our tour continued with a drive around the center of the city. Cape Town is a blend of old and new. There are many very old buildings remaining from the city's founding and dating back to the 1660s. The Castle of Good Hope (originally built to protect Cape Town from invasion via the sea), City Hall, cathedrals, and Parliament buildings are all beautiful. Built in a variety of styles, they give the city a very European feel.
At this point, our tour continued to Table Mountain for a cable car ride to the top and on to Victoria & Alfred Waterfront for lunch and shopping. It was a whirlwind tour, by no means a comprehensive visit. A good portion of Cape Town's city center is walkable. "Hop on, hop off" bus sightseeing tours of all of the city sights are available. Something for us to consider for our next visit to Cape Town.
Day two of our stay proved to be a sunny and spectacularly clear day. With Khotsa once again behind the wheel, we spent the day driving south from Cape Town down the Cape Peninsula.
We followed the Atlantic Ocean side of the peninsula before turning inland and down to Cape Point. The drive inland took us through large areas of native vegetation called fynbos. It's a diverse combination of over 9,000 species of plants unique to the Cape Floral Kingdom, which stretches from Vanrhynsdorp, north of Cape Town, along the southern portion of South Africa and as far eastward as Grahamstown. This unique vegetation occurs in a narrow band along the coast within 200km of the ocean.
The landscape of the Cape Peninsula is very rocky and rugged in areas. We did manage to spot some wild game; an ostrich, white-faced antelope, and very scary-looking long-haired baboons.
Khotsa remarked that the weather on this day was unusually calm. Often the wind is so strong down at the Cape of Good Hope it can literally blow you over. It was still very windy by my standard, definitely a bad hair day, but so worth it!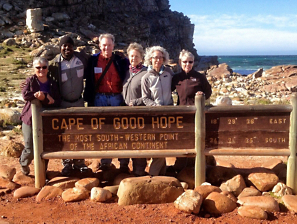 We took photos at the Cape of Good Hope then continued on to Cape Point where we boarded a funicular up to the lighthouse. The lighthouse was completed in 1860, but as it turned out was located too high on the cliffs to be effective. The lighthouse's warning light was often lost in the clouds. A second lighthouse was built closer to the sea.
From Cape Point we drove northward along the False Bay side of the peninsula. We enjoyed lunch at The Black Marlin, near Miller's Point, with a beautiful view of the bay. The ocean was relatively calm on this side of the peninsula.
Our next stop was The Boulders, just south of Simon's Town, where we viewed a colony of African penguins. This colony of endangered African penguins, formerly known as Jackass penguins, started with two individuals in 1982. The pair discovered the sheltered beach at Boulders and since then the colony has grown to over 2,000 individuals.
We continued northward back to Cape Town and through many picturesque villages. The coastline was beautiful all along the way. How fortunate the residents of Cape Town are to be so close to this very large and protected wild area. There are many hiking trails and tented camps throughout Table Mountain National Park.
We enjoyed dinner at Fork, a tapas-style restaurant within walking distance of our hotel. Along with a variety of small plates, we enjoyed several delicious South African wines, just as we had the prior two evenings: Pinotage, Cabernet Franc, and Pinot Noir. All were delicious. Our wine selections every evening punctuated the end of each day of our slideshow.
Two full days of touring Cape Town and the surrounding areas meant we just scratched the surface of what the area has to offer. We still had three days remaining in Cape Town. The usual tourist would probably have spent those days diving into the museums and walking the city. We are not usual in that sense. We spent the next three days wine tasting instead, and feel we spent our time wisely!
Please enjoy our slideshow of Cape Town and points south.
Discover all that Cape Town has to offer during our Cape Town & The Cape of Good Hope post-trip extension of Ultimate Africa: Botswana, Zambia & Zimbabwe Safari. Stay tuned to a future edition of The Inside Scoop to read Peter and Nancy's blog about wine tasting.