Bhutan: The Real Shangri-La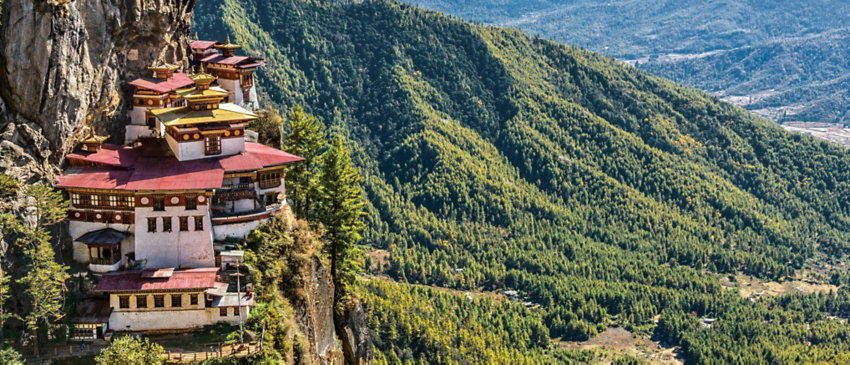 By Donna P., 19-time traveler and 2-time Vacation Ambassador from Savannah, GA
Bhutan—one of my favorite place on Earth! There are few words that can describe my wonder and awe of this amazing place rising out of the mist in the Himalayas. Bhutan is known as the true Shangri-La.
At Paro Bhutan Airport, on DrukAir, there is only one very short runway. The valley is not much wider than the plane, making for a very scary landing. Until 2006, Bhutan discouraged visitors. The government now only allows 100 tourists a day and only on their airline. Another 100 must leave at that time. The entire country has only seven planes (this was in 2008). As you fly close to the mountains, you can take photographs of Mt. Everest from the plane window. You may possibly have a quick stop at Katmandu to let trekkers disembark.
A guide, in native dress, meets you at the airport and you leave immediately for Thimphu, the capitol. You will look with wonder at cactus and palm trees, unbelievable in this altitude, changing quickly to mountainous terrain, green and lush with fields. It blows one's mind. Thimphu takes about two hours to reach, stopping briefly at sights along the road—stupas, prayer flags and colorful farm homes. You magically go from palm trees and warm weather, to mountains and cooler weather.
The countryside is spectacular. Very mountainous, with hundreds of prayer flags on the crest of the hills, with the wispy clouds floating lower than the mountain peaks. It is believed that the prayer flags will blow in the wind and send a message to God. They are never taken down, so there are more and more, with only deterioration causing a reduction. Lines are strung from peak to peak in order to allow more flags to send their messages. Most are just small scraps of solid colored fabric, usually light in weight. It is fascinating to see all the colors, like a constant rainbow, fluttering on the mountain tops.
Visiting a World Wildlife Fund site, you will see strange-looking deer and a yak-like animal indigenous only to Bhutan in their natural habitat. Checking in to the Hotel Phuntsho Pelri, you are welcomed with cocktails of beer, mango, and orange juice, with an assortment of local liquors, as well as cashews and chicken sausage for appetizers. A cultural dancing show is enjoyed during the cocktails.
While in Thimphu, you will tour the Library Museum where one of the world's largest books is located. Then on to the Arts and Crafts School where young people continue their cultural education by learning the old arts, such as sculpture, weaving, metal work, and woodcarving. The architecture of the Thimphu Monastery, a dzong, is absolutely stunning, and the temple is now used by the legislature. A dzong is a very colorful architectural fortress, or temple, unique to Bhutan. These dzongs, including the Thimphu Monastery, are always strategically located on a promontory overlooking rivers and valleys. They were originally constructed as fortresses for meditation and some are still used for this purpose today.
You will see many of these structures, but none as spectacular as the Tiger's Nest (Taktsang) Monastery, used in the eighth century as a meditation cave. It is a mystical and fascinating Buddhist sacred site built into the cliff side of the mountain in 1692, above the upper Paro valley. This is where Buddhism was introduced to Bhutan. Practically unreachable, it is mind-boggling how they could have built such a breathtakingly beautiful complex so many years ago. You will probably not visit this dzong unless you are very hardy. They are constantly finding new ways to reach it, but only the able-bodied can now make it to the fortress. But it is magnificent to see and photograph from afar.
During your stay in Bhutan, you will visit many stupas—monuments containing relics or remains of Buddhist monks or nuns, used as places of meditation. Occasionally, you will see three stupas together. Going over the Dochula Pass (altitude 10,000 feet) is one site with 108 stupas, all identical.
You never know when you will run across a stupa. They can be—and are—everywhere; in the fields, in towns, even along the roadside. Stupas can be very primitive, very ordinary, or extremely elaborate. The Memorial Chorten is a very large stupa holding remains of several noted monks. Right beside the stupa is one of the largest collections of prayer wheels in the country. It is typical for stupas and prayer wheels to be in vivid colors with a lot of gold and red. The Bhutanese will sit or walk around for hours spinning the wheels. It seems no matter where you are, where you are going, or where you have been, it's all beautiful.
Riding along the roads between cities are amazing scenes of Bhutan that are both beautiful and awe-inspiring. Visiting a farm, you will find an entire room designated as the "worship room." There are typically three floors: the first floor for livestock, second for living quarters, and the top floor is for storage and drying of foods. One cannot speak of Bhutan without mentioning color and these private temples, and living quarters are no exception.
The waterfalls and streams from the mountains tend to increase the wonder of this country, and are viewed abundantly throughout the entire area. You might see a woman washing her clothes in the stream, while the children play nearby and wave happily. It is the culture and nature of Bhutanese to be happy, although they live moderately.
The population of Bhutan is close to 800,000. Locals, more often than not, appear in their native dress, proud of their heritage. Guides and officials are required to wear traditional dress while at their work. There are many monks living in Bhutan in dzongs, one of which is Punthang Dechen Phodrang Dzong, or Palace of Happiness. Most governments judge their progress with GNP (gross national products). Bhutan's measurement of success is GNH, or gross national happiness.
As small as Bhutan is, it's not surprising that they only have one Olympic sport, archery, which is also their national sport, and has given them several Olympic medals. They are very skilled and during tournaments, wear the traditional attire.
Bhutan is one of the few places I would like to visit again. Beauty and happiness abound which provides a wonderful time for all who are fortunate enough to experience the culture of this tiny nation.
Note: We were there during the transition from monarchy to democracy, and tourist facilities were in the development stage.
Discover all that Bhutan has to offer during O.A.T.'s pre-trip extension, Bhutan: The Hidden Kingdom, part of our Heart of India adventure.