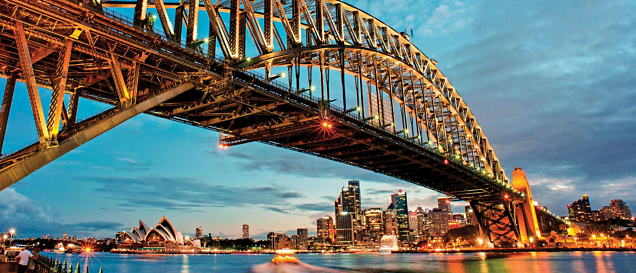 Climbing to the top of Sydney Harbor Bridge isn't our idea of assisted living—but Wanda L. found plenty of pleasant similarities during Australia & New Zealand: An Adventure Down Under.
By Wanda L., 8-time traveler & 5-time Vacation Ambassador from Okatie, SC
In my naïveté, I thought I knew what the term assisted living meant. To me, it meant approaching the last rungs on the ladder of life, the step before a nursing home, a few breaths removed from the may-you-rest-in-peace benediction.
I pictured a living arrangement whereby my meals were provided, my waking time and bed time were fixed and my room was assigned. Transportation was a ride in the facility's van for outings and shopping and an occasional dinner out. Gone with the wind were independence and personal responsibility on which I had always thrived. No matter how up-scale the facility or lavish the grounds, assisted living, by definition, came with these built-in limitations.
In my opinion, it was a place to be avoided as long as possible. Assisted living was for old people. Clearly, not me.
Weighed down by these realities and needing a getaway from our retirement life in paradise, Bob and I decided to take a trip. Escaping as we were, we decided to be as far flung as possible and eventually selected a thirty-day O.A.T. trip to Australia & New Zealand: An Adventure Down Under.
We made all the necessary arrangements. We checked our passports, applied for visas, and notified the most important VISA to expect transactions from the other side of the world. I even started washing my hair with Aussie shampoo.
After a wearying fifteen-hour flight from Los Angeles to Melbourne, we met Mike, our Trip Leader, and our twelve fellow passengers. From the beginning, Mike endeared himself to us displaying keenly honed organization, in-depth knowledge, and his own unique Aussie/Kiwi brand of humor. His accent and his frequently asked, "Yes?" at the end of sentences blended with the aura of Australia that began to envelope us.
At our orientation briefing later that day, Mike explained how our trip would operate. He would hand out a three day at-a-glance schedule. The schedule would provide our travel and event agenda and would include meals and transportation information. Mike would also provide suggestions for free time. All that remained for us to do was to sit back and enjoy.
And enjoy we did. We visited Melbourne, the garden city of Adelaide, Alice Springs (114 degrees), and Uluru (formerly Ayers Rock). We were enchanted by the primitive mysteries of the Daintree Rain Forest and climbed to the top of the Sydney Harbor Bridge. All were spectacular.
It was during a pause in our travels as we ate lunch selected from a pre-arranged menu, at a specified place, on a given day, at an arranged time that an epiphany concerning our future occurred.
As if in a vision, I saw how limited my previous viewpoint had been, how painfully inside-the-box my perception, for I suddenly realized that the most substantive decision I had made in the last two weeks was what to eat or what to wear (although every woman knows that can be a vexation) and I was loving it.
All at once, our future life lay revealed like precious coral on the shore of the Great Barrier Reef. It was all so amazingly obvious. Stereotypical images and preconceived notions had hidden the perfect life style for us.
I mean, when you really stop to think about it, who needs independence? Chuck personal responsibility. Assigned living space? A mere trifle. In my new world, gone was the need for grocery shopping and cooking. No longer did I need to keep a calendar. My room was ready each night, and I could leave the bed unmade in the morning. Transportation was ready, available and first class. And the best part…the very best part… all of this happened like clockwork, and I had nothing to do with it.
In that moment, our path became clear. We sat back and savored our dependent, fully assisted living for the next two weeks in New Zealand. But even as we winged home, we were busy planning back-to-back trips for the future. Now I see assisted living not as a rung on the ladder of life to be avoided, but as a step toward adventure and excitement to be eagerly sought.
Assisted living? You bet!
Let O.A.T. take care of all the details—except what to wear—when you join us for Australia & New Zealand: An Adventure Down Under.