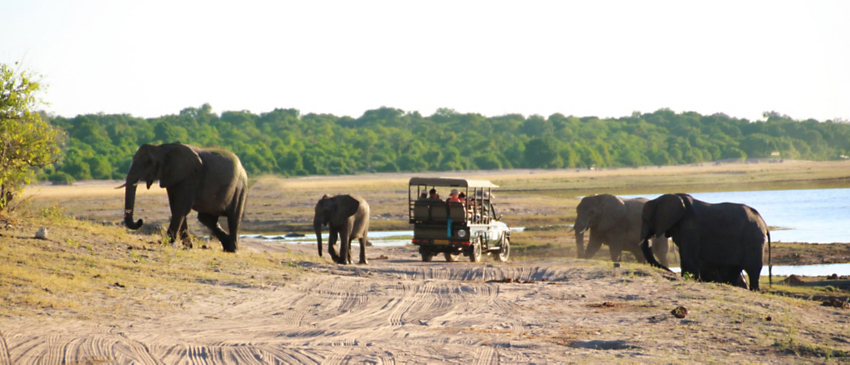 By Robert Robinson, first-time traveler from Fort Smith, AR
Never in my wildest dreams did I believe this born and raised Arkansan would explore the wilds of Africa!
I had never traveled with a tour group before. However, my co-adventurer Nancy convinced me Africa wasn't a place we wanted to rent a car and explore on our own. So we signed up for Overseas Adventure Travel's (O.A.T.) Southern Africa Safari.
The Africa adventure began in Kruger National Park (KNP). At 7,500 square miles, it is the largest park in South Africa. Kruger is home to 147 species of land mammals, the highest number in Africa, including all of the "Big Five"—lion, leopard, rhinoceros, elephant, and Cape buffalo.
Our home base at KNP was Buffalo Rock Lodge. The lodge was embedded deep within the heart of the bush country. It was comprised of a large open-sided dining area/bar, offering wildlife viewing opportunities even while dining and lounging about. This central hub was surrounded by independent dwellings for the guests, constructed of thatched roofs, wood floors, and canvas walls.
Ndaba Ncube, our O.A.T. guide, wasted no time in beginning our quest to bag the Big Five trophies (via camera), by organizing an evening safari.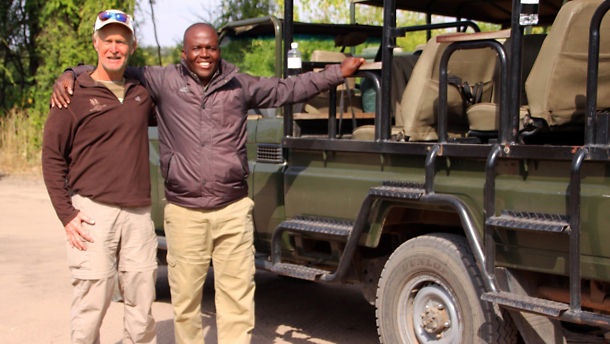 The vehicle of choice for the overland safaris was an opened side off-road 4X4, with three rows of elevated bench seats behind the driver's seat, offering unobstructed views for each passenger.
On this abbreviated outing, in addition to nabbing photographs of two Big Five trophies—an elephant and a Cape—we also collected our first photos of hippos, warthogs, impalas, and an assortment of brightly colored birds.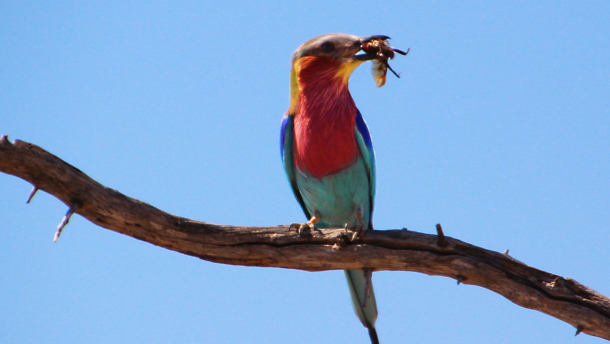 But the highlight of that first outing occurred while rumbling along a narrow path in near darkness. Spotting a shadowy figure slowing strolling along the path towards us, our guide shut off the vehicle, allowing it to slowly roll to a stop.
Nearer and nearer, the animal continued to close the gap. Thirty feet, then twenty-five, and at twenty feet we were just able to make out what appeared to be spots on the sides of our visitor.
A leopard!
The graceful feline paused briefly at the front of the vehicle, in Norma Desmond style, and then gradually altered its course to stroll alongside the vehicle, within inches of our excited troupe.
What an exciting finish to our first safari experience!
The Adventure Continues
Over a delicious breakfast prepared by Chef Henry, there was excited chatter about trumpeting elephants and laughing hyenas we heard during the night.
Everyone gasped at a picture I had taken of a fresh giant pile of elephant dung deposited overnight beside our porch.
On our first full day of safari we successfully bagged another member of the Big Five when Ndaba spotted a rhino munching contently on a bush.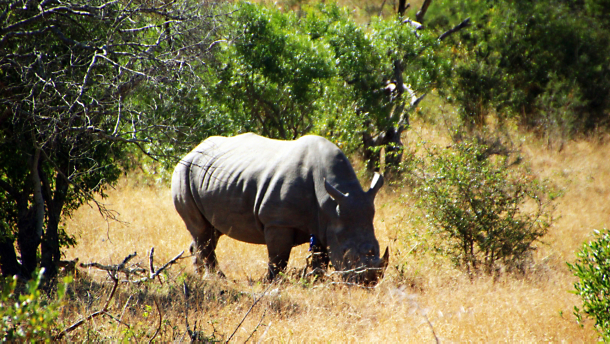 Following this, I excitedly directed everyone to another new find, "Giraffe at nine o'clock!" It was the classic pose I had seen in movies and National Geographic documentaries, a knobby boney head protruding above treetops and four long slender seemingly unattached legs below, with the tree vegetation blocking the animal's midsection. Another exciting day in the Africa bush!
Zimbabwe's Hwange National Park was our next stop. Hwange is renowned for its unspoiled grasslands, acacia woodlands, and herds of regal sable antelope.
Sable Sands Lodge (SSL) was our new basecamp. SSL was arranged similarly to the previous lodge except our housing units were constructed of painted stucco walls. The lodge overlooked a shallow pool of water about 100 yards away, making for great wildlife viewing opportunities while lounging on nearby daybeds.
Our Hwange safaris took us through tropical teak forests, beneath majestic acadia trees, and across vast savannah plains, which the park is famous for. We not only spotted a large herd of the sable antelope but also many of its 400 known bird species.
On a morning safari, we happened upon a large herd of impala running helter-skelter across the grassy savannah range to then abruptly circle back to where it came from. They repeated the activity again and again, often leaping high into the air, spanning some 30 feet in distance.
Ndaba explained that these were the young impala practicing maneuvers to elude and escape a predator.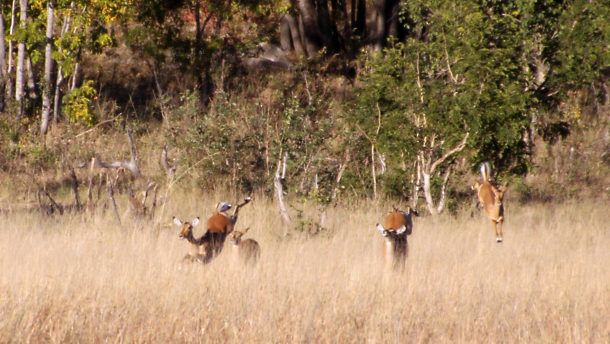 Being able to observe these exotic animals in their natural habitat was one of the experiences that made the trip special. These parks are large enough for the animals to live as they have lived for centuries, unaffected by the encroachment of man.
Having been born and raised within the park, they are accustomed to the safari vehicles. The vehicles have not harmed them so they, and we, were not seen as a threat.
On one of our land safaris, we traveled to Hwange's expansive savannah ranges, where a recent drought had dried up many of the watering sources. When reaching one of the remaining reliable water sources we discovered many herds of exotic animals.
At times fifty or more elephants were standing in the pool, playfully slinging water and mud over their backs and sides with their trunks.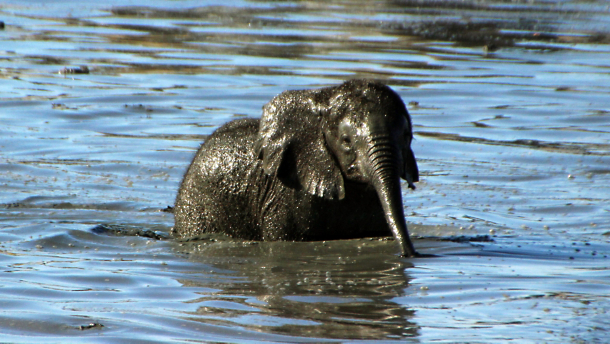 Crocodiles lounged on the banks of the water while Springbok antelope strolled nearby. There were also warthogs, impala, wildebeest, roan antelope, and numerous elegant waterfowl.
Rounding Out Our Big Five
Our final day in Hwange we had an objective. Ndaba had been speaking with another guide who had heard a pride of lions calling to each other while on a hunt.
The quest took us off-road navigating through dense underbrush and past secluded watering holes. We flushed out a pack of jackals in the process; however, we were on a mission, so pressed onward.
Leaning over the side of the vehicle, Nancy spotted a lion footprint, and our driver redirected the search. Shortly afterward, our efforts were rewarded.
As he lay nestled under the shelter of a tangled bush, our driver maneuvered the jeep to within ten feet and parked. The male lion did not even acknowledge our presence, snoozing contently with a full belly and the half-eaten zebra carcass above his shaggy head.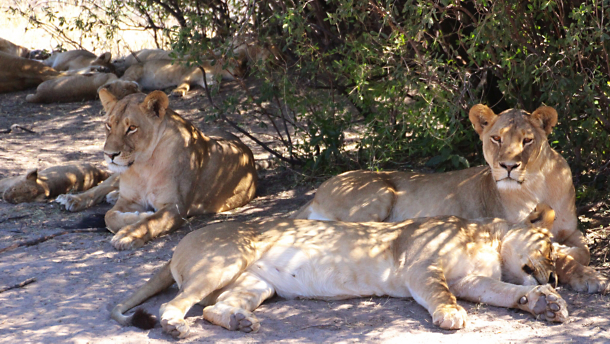 As we maneuvered about the thicket, we discovered three female lionesses and eight cubs enjoying the aftermath of their successful kill.
The Smoke that Thunders
Victoria Falls truly deserves its title of being one of the Seven Natural Wonders of the world. With the Zambezi River pouring five hundred million cubic meters of water per minute, plummeting over the edge into a gorge over one hundred meters below and nearly two kilometers wide, words cannot do it justice.
Drenched by the spray drifting upward, Nancy and I walked the path that bordered the bluffs of the rainbow-framed, gaping gorge to view the incredible natural feature, one section at a time.
It was truly magnificent, but we both agreed the only way to effectively capture this larger than life experience was from the vantage of a helicopter.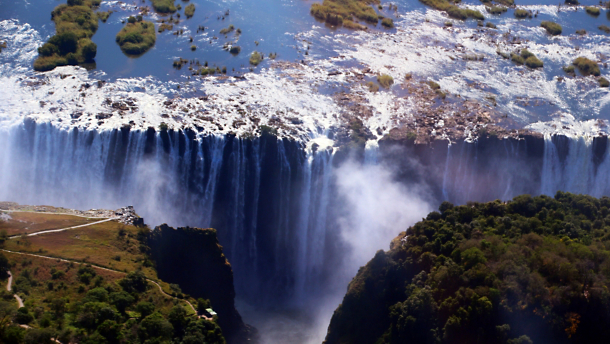 And we were right! Viewing the entire feature from that elevated position was an experience of a lifetime.
Our group devoted an entire morning enjoying this awe-inspiring one of a kind natural wonder in every manner offered.
During our stay at Victoria Falls, O.A.T. had also arranged A Day in the Life excursion where we visited a local market to shop for food which we later delivered to a bush community.
The villages are very primitive, with pit toilets, no running water, and a small solar panel for electricity to power a radio. The women have to walk up to three miles each direction to fetch water in large pots carried on top of their heads.
It is a hard life, but it is the life they are accustomed to.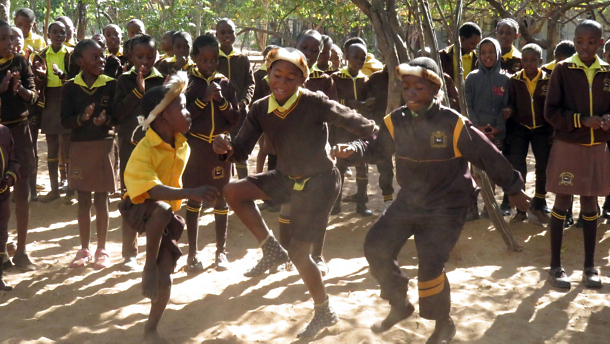 We also visited a privately funded primary school. The children were very friendly and happy to see us. Surprisingly, they spoke fluent English, demonstrating the effectiveness of their schooling.
The Final Adventure
Although it was hard to believe the trip could get any better, O.A.T. saved the best for last.
Chobe National Park is one of the largest parks in Botswana. With its vast size and incredibly diverse terrain, from floodplains and marshes to forest and mopane woodlands, it offered some of the best animal viewing opportunities we experienced on the trip.
The Elephant Valley Lodge was similar in arrangement to the others, but what set it apart was the watering hole some fifty feet from the dining area. Observing the parade of animals visiting the pool as we ate our evening dinner was surreal.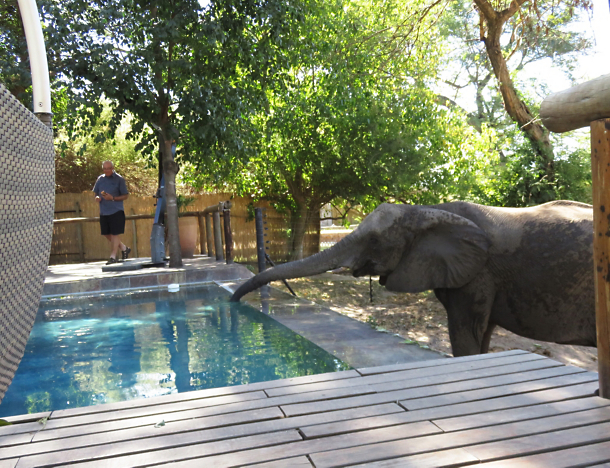 The highlight of our Chobe adventure was a boat safari down the Chobe River. It was as though all the animals ventured to the shoreline to bid us farewell.
What a great setting, leisurely drifting along the river's calm waters, with savannah grasslands for as far as the eye can see on one shore and wide-open beaches framed by thick undergrowth on the opposite. It was a perfect setting for observing the everyday activities of a wide variety of animals.
Long lines of elephants lumbered down to the river for a final drink at the end of their day. Scores of impalas grassed on lush vegetation bordering the beach—families of hippos, both in and out of the water, and one even chasing our boat. Crocodiles lined the shoreline, sleepily raising one eyelid when we approached too close. And the waterfowl, incredible!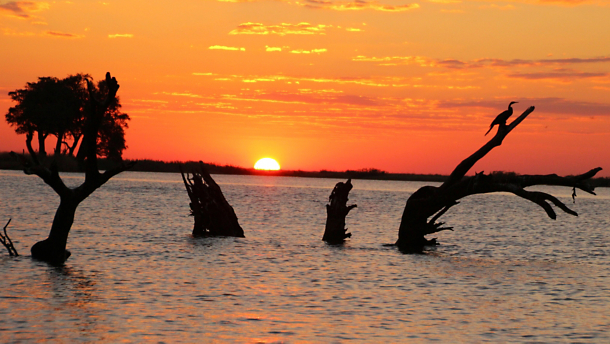 They had all come out for our final excursion. Our adventure was climaxed by a classic Africa orange sunset spanning the horizon, silhouetting African Openbill Storks perched on the naked branches of a tree.
Spot the "Big Five" and experience more natural marvels of Africa when you join us for Southern Africa Safari & Lake Kariba Cruise: South Africa, Zimbabwe & Botswana adventure.