By Linda & Boyden Marison, 16-time travelers from Mclean, VA
The Iberian Voyage we took last November was truly outstanding not only because of the itinerary, but the wonderful boat (M/V Clio) we were on, with the captain, Mr. Luetic, his crew, and the everyday activities our leaders provided. We found Lisbon interesting and attractive to explore during the first few days there. We learned about its past, as well as about Portugal's achievements during the Age of Discovery. Our hotel, Atlis, not only was in a great location but was the headquarters for the governing party during the national election Portugal just conducted. It was kind of unusual to be surrounded by small and large TV cameras and see not only a crowd of journalists but politicians, ministers, and the Prime Minister, all accompanied by beautiful wives, secretaries, and guests arriving at Atlis by limos for the victory party. Who in O.A.T. was able to arrange for us such a spectacle? And nobody asked us for special IDs or passports! We were only not allowed to take elevators to the hotel's top floor reserved for "politicos."
Boarding the Clio in Portimao instead of Lisbon was also a smart decision since the Atlantic is rough at this time of the year. So, traveling by bus we were able to see wide stretches of southern Portugal with its cork tree forests (largest in the world) and hundreds of storks arriving from northern Europe to winter there. Sailing from Portimao to Seville was a challenge! Especially for our captain. Fortunately, it was night when we were (mostly) in our beds. There is no way to describe a city like Seville, with its Plaza de España, unusual architecture of the Real Alcázar, several beautiful parks plus modern structures. However, our Clio was able to navigate up the river Doñana and anchor at a place used once by Columbus and Spanish galleons coming from America. There were three replicas of those ships on display next to the Clio and open for visitors.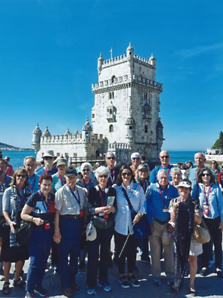 Afterward we sailed to Tangier, Gibraltar, Malaga, Cartagena, and Valencia. The weather was nice, visibility was excellent, and the Mediterranean Sea was calm with beautiful sunrises. Gibraltar was another feast on this tour. What a fortress with all those siege tunnels and the magnificent St. Michael's Cave. Not many tourists can see all of that, maybe only monkeys. We had an excellent guide. She was a British lady who flatly stated that "We stole this mountain from Spaniards as they stole it from Moors before us!"
Malaga came next with charming Andalusian Pueblo Mijas. What a view of the Mediterranean and this often advertised sunny coast we had from there. We learned that Picasso was born in Malaga, and we saw the house where he grew up and visited his museum. We also went to the small town of Casabermeja for lunch hosted by the lovely Sara's family. It was interesting to see how middle-class people live in this part of Spain, how they work, and take care of their children. There is much more one could see and learn in Malaga and its region but our Clio was again ready to sail North to Cartagena, arriving there the next morning. It is a Spanish naval base now, however, some of the forts above the harbor were built by Cartagenians and enlarged by Romans. In the center of Cartagena, there was rediscovered recently a Roman amphitheater, the largest in Spain!
Valencia was another surprise. We learned that this third largest Spanish city is at the forefront of the country's development. Devastated a few years ago, Valencia decided to "relocate" its river Turia. The old river bed became a new park and site of an ultra-modern Arts and Science Center. Spanish architect Santiago Calatrava created several unusual large structures with fountains, sculptures, and a large lake here.
There are also boats, small restaurants, and attractions for the young and old. One wonders only how all that was financed in today's Europe! Well, Spain is being modernized quickly and hopefully in a wise manner. Our lunch was not there but in the Valencia Club Cocina, specializing in the renowned Andalusian dish, paella. We had to prepare it ourselves by cutting all kinds of vegetables and then watching the frying process. Afterwards, we received another surprise, a "Diploma of Paella Master" with the photo.
Our guides, Sonia and her three buddies, kept us busy on this trip from early morning until late in the evening. Each day, after sightseeing and lunch we had discussions, movies, games, concerts, and folk group performances with one outstanding dance, the Flamenco! The general atmosphere on our Clio was relaxed, informal, and very friendly. Captain Luetic invited all passengers to his bridge to demonstrate the way modern boats navigate these days.
Every morning when we were leaving the Clio for a scheduled bus tour or land walking, he wished each of us a good day. He introduced us to the whole crew and had a cocktail party at the end of the trip. Any problem we might have encountered on the ship was solved by its Hotel Manager, Mr. Radovanovic. He also had many funny stories for us, about his previous jobs on much larger ships than the Clio. At the front desk one could always get any information from friendly Ms. Bogdanova and in the main lounge, no matter how rough the sea, was piano music by Ms. Costerton. There was also the bar for those tired or who wanted to forget any problems left at home. And of course, the Clio had an exceptional Executive Chef, Mr. Soucek. What a menu he was able to provide for us! All of those buffet-style breakfasts, lunches, and special dinners. The whole crew was really exceptional, including the cabin attendants—on our deck was Mr. Meeka Dudnyk.
Our tour ended in Barcelona on the 17th of October. There was a general strike caused by Catalonians, and the airport was closed. Despite those problems, we were able to have a general city tour in one of those comfortable and modern Spanish buses. We saw from outside the famous Sagrada Familia and went through Gaudi's Pedrera. O.A.T. located us in the modern H10 Hotel Marina in the quiet part of Barcelona. We had one extra day to walk around on our own. There were some violent riots that were happening in the central parts of Barcelona, but we saw them only on television. Sonia arranged our flight departure to Washington DC for Saturday (October) 19th. One of those fine buses took us to the airport early in the morning. It was dark but the coastal freeway was open. The airport was crowded and chaotic. Most flights were still canceled. Fortunately, we found the United Airlines desk and were able to get to our plane. Our departure was delayed by two hours but we landed in Washington DC. before 3:00pm.
Writing about this exciting tour I have to thank Sonia, Marcel, Miguel, and Francisco for their energy and ingenuity in all that we saw and they were able to provide for us. I will never forget their hilarious game of "Who is the liar." Something like that one could only see on Broadway! Thank you O.A.T. for this tour and having these guides, and of course, the Clio and its crew!
Experience the wonders of Portugal, Spain, Morocco, and Gibraltar when you travel aboard our Iberian Voyage: Lisbon to Barcelona Small Ship Adventure.