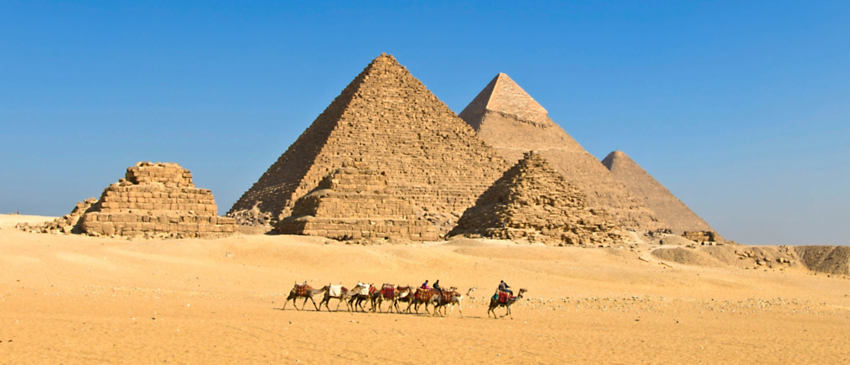 By Elena C. 15-time traveler and 3-time Vacation Ambassador from Palm Coast, FL
My husband and I took O.A.T.'s Egypt trip in November and I thought maybe our experience at the Great Pyramid might be of interest to fellow travelers heading there. It was a fabulous trip, start to finish, and one of the best we have taken. Can't say enough good things about it!
My husband and I had the most interesting and exciting challenge to consider on our recent O.A.T. Egypt and the Eternal Nile trip. We returned just three days before Thanksgiving. I cannot say enough about all the amazing sights we saw, both on land and while on the Nile on our lovely boat. Right out of the gate, our first thrilling adventure was when we went to Giza to see the pyramids there. What a sight to behold! You have seen them since childhood in magazines and on TV, and now you are there! They are actually right in front of you! I can't find the right word to describe the feeling of seeing them in person. Maybe awesome. Or exhilarating.
At the Great Pyramid, we were given the option of actually going inside! It sounded so, so exciting—just like being an archaeologist—but we were warned that it might not be for everybody. You must crouch through a low, narrow tunnel while climbing a ramp. What? Oh gosh. I had been having issues with my right knee. I wasn't sure I was capable of crouching through a tunnel for too long. While climbing a ramp? What if I got behind someone going really slow? My knee might not take it. What if I had to turn around! Plus, my husband is claustrophobic!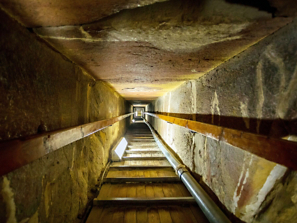 We kind of asked around our fellow travelers to see what they were going to do. Not everyone was going to elect to go. We gave it some serious thought, although there was not a whole lot of time to deliberate. Since this was such a once-in-a-lifetime kind of thing, we decided to go for it.
We first had to climb up the stones on the outside of the pyramid to get to the opening that would lead us inside. When we reached the opening, we were shown in and entered a kind of stone chamber. It was not a tunnel and we were able to stand up. It was a bit narrow though, with people passing us on their way out. We continued a short way and climbed a short ladder which led us to the tunnel part. Once we entered that, we did indeed have to crouch, but it wasn't unbearable. And the ramp was equipped with wood slats that helped you keep your footing. That actually made it easier. And there was a railing that you could hold onto. That also helped a great deal.
We were very lucky in that there were not many people in the tunnel with us, so we didn't get held up by slower people. Yay! Once we came out of the tunnel, we were in a huge, towering, but very narrow, chamber or hallway that was tilted up quite a bit. The ramp continued up and we resumed our climb, all the while feeling amazed and just so very excited to be inside a pyramid.
It is just hard to describe that feeling of anticipation as you climb. What are you going to see when you reach the top? Well, at the top there was a large, empty chamber with an open sarcophagus at one end. There was no top visible and there was nothing in it. There were no paintings or carvings on any of the walls or surfaces. It was not disappointing to me, as my main reason for doing this at all was to experience being inside a pyramid. I thought it would be cool inside like it would be cool inside a cave. Instead, it was quite warm and also very humid. I think we all came out quite sweaty! I had not expected it to be hot!
Once we started going down, it was also not difficult, although the ramp was narrow and we had to make way for people coming up as well as go around a couple of people who were going extremely slow heading down. But, it was not difficult at all. Once we were back out in the strong sunlight, we both felt such a feeling of elation and joy. We had decided to take on the challenge, we were successful, and we were just so thrilled to have had this magnificent opportunity to go back in history. Probably the most impressive part of the whole experience was being in that great hallway that rose up so high and narrow. It was just an amazing morning! If you are taking this wonderful trip, I would highly recommend taking this opportunity to see inside the Great Pyramid.
Perhaps you'll have the opportunity to go inside the Great Pyramid during O.A.T.'s Egypt & the Eternal Nile by Private, Classic River-Yacht adventure.