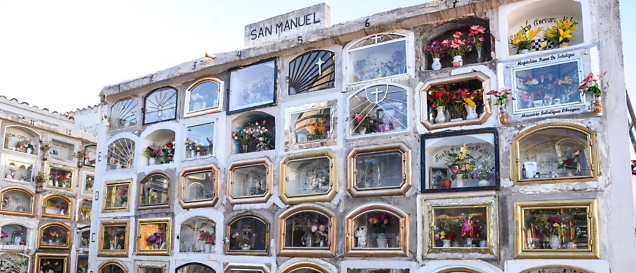 Families visit the cemetery each Sunday to add fresh flowers to the graves of their loved ones.
By Marcia S., 4-time traveler and 4-time Vacation Ambassador from Pueblo, CO
In 2013, my aunt and uncle, Susan and Larry V., wanted me to accompany them to Peru. I introduced them to O.A.T. and we booked our trip for Real Affordable Peru. It was a real adventure for my aunt who hates to fly. But when we met our Trip Leader, Raul, she felt more comfortable. Raul was a wonderful Trip Leader showing us all the wonderful things Peru had to offer. The pride he took in his country and his people was so very evident, especially when we went to his hometown, Chinchero Village.
One of the days in Cuzco, a day we had to ourselves, Raul volunteered to take us to the Cuzco cemetery. It was not on the itinerary, so he was using his own time for those of us who wished to go. I readily said yes, but my aunt and uncle decided to take the day off. Raul explained the burial practices today and how they are connected to the ancient practices of the Incas. As we strolled through the cemetery, he explained the small niches placed in front of all the graves. Each niche is filled with small icons that represented the life of the person in the grave, a practice used by the Incas. We were enthralled to see tiny kitchens, complete with a stove, table, and chairs and food on the plates. There was a grave of a trucker filled with tiny semi-trailer trucks. A seamstress had icons that were sewing machines, fabric bolts, and tiny garments. A musician's grave held tiny instruments. All were filled with small vases of real flowers. He explained that families visit every Sunday to replenish the flowers.
Being a retired teacher, I was particularly taken by one grave of a teacher. He had a desk with tiny papers and pencils, his photos, and a bookcase filled with tiny books labeled math, science, and reading. As we passed on, Raul told us to be mindful of the small drainage trenches that ran across the path. After a while, we turned back toward the entrance. Again Raul told us to be careful, but we were all in awe of the graves too much to pay real close attention to where we walked.
Suddenly, I felt this hard punch to my back which caused me to stumble forward. I put out my arms to grab the wall in order to keep upright. I looked behind me to see one of our fellow travelers on the ground. Barbara had stepped in the trench and stumbled forward hitting me in the back. Her husband Tom was trying to help her up. I started to step back when Raul rushed to me and shouted, "Marcia, don't move!"
I couldn't understand why until I looked down and realized my left forearm had gone through the glass on a grave niche door. Three very pointed shard of glass were against my skin. Raul carefully pulled each shard out and we were both in shock to see that not one piece even scratched me, let alone penetrated my arm. He made sure I was okay then attended to Barbara who skinned her knee. After being sure everyone could walk, Raul called the cemetery office to report the damage and arranged payment for the glass replacement.
When we turned to leave, I glanced at the damaged grave and was startled to see it was the grave of the teacher. I think he knew I was a teacher and protected me from a potentially serious injury. After the incident, Tom and Barbara and I became fast friends. We continue to email each other, and Tom and Barbara have traveled to my hometown to visit. They are wonderful and kind people. We would not have had this relationship if it had not been for my dear friend in the grave, teacher Mr. Guevara Auallpaya.
Perhaps you'll discover a Peruvian graveyard during your travels with O.A.T. on Real Affordable Peru.