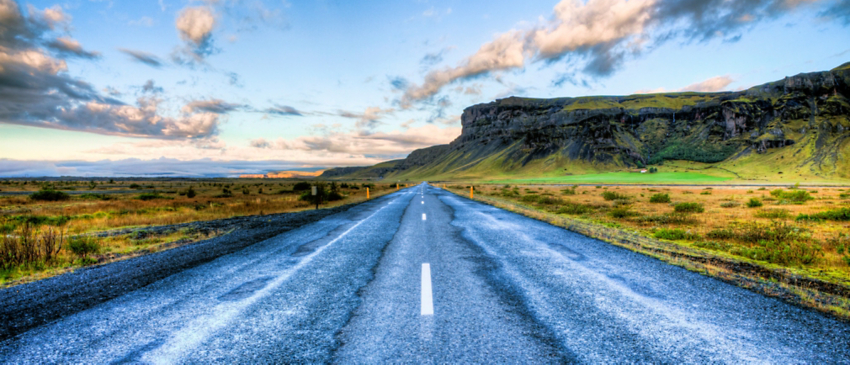 By Jean Cusick, 4-time traveler and 2-time Vacation Ambassador from Hancock, ME
It was a dark and very stormy day. The two lane smooth highway had turned into a watery potholed byway. It was Route 1, the Ring Road around Iceland, and I needed to pee—now! I was in the middle of nowhere. No gas stations, no little stores, nothing. I needed desperately to find a turnout where I could hide between the two car doors. Then the fog descended and now it was a dark and stormy and foggy day.
I could not find a spot to pull over until finally, peering through the fog and rain I passed a large turnout with a red shed where I could hide behind.
Then the bad choice was made. Instead of reversing straight back and turning in frontwards, I backed up toward the red shed and slid quietly over the bank. The car now rested at a 45-degree angle, unable to go either forward or back. I was stuck and I still had to pee. Now I was really pissed.
Digging thru the rental car papers I found an emergency number and dialed, was transferred to a police station where I tried to tell them where I was at. I had no idea when the last turn was, and even with GPS, the spelling of Icelandic byways was indecipherable. As all of you who have been to Iceland know, the people are very welcoming and would never think of passing a car angling over the edge and after all it was Route 1. So, of course the first car along stopped to see if I needed help. In the teeming rain, with water dripping down his nose and over his hat rim, the driver approached. I rolled down my window and said, "Could you please tell me where I am, I have the police on the line." He obliged, I passed this information onto the police, they called a tow truck and I was told it would be about 45 minutes to an hour.
One problem solved, now for the main problem. I really needed to pee. How to get out of the car and behind that red shed. I was located in the uphill seat. In order to open the door, I had to get both feet up against the door and push as hard as I could. With rain slicker and hat being whipped by the gale force wind (number 9 on the Beaufort Scale) and raining from every direction I ran as fast as I could to the back of the shed hoping I could finish my business before the next car came around the bend. Pulling my pants down and squatting, I began to pee. I was not in the lee of the shed. The wind was coming from all directions swirling around my legs. It took control of my pee not allowing one drop to touch the ground. It soaked my feet, my ankles and up my pants. Well as all women know, once started there is no stopping.
Finishing my business, pulling up my sodden pants I ran back to the car and climbed inside.
The tow truck came, hauled me out, and I followed them back to the garage to settle up my bill.
In the garage was a small boxer puppy who would not leave me alone. I kept trying to shoo him away because I did not want the garage owners to know why he was so interested in my lower body extremities.
Experience Iceland's Ring Road—without this unusual conundrum—when you travel in the safe hands of O.A.T. during our Untamed Iceland adventure.