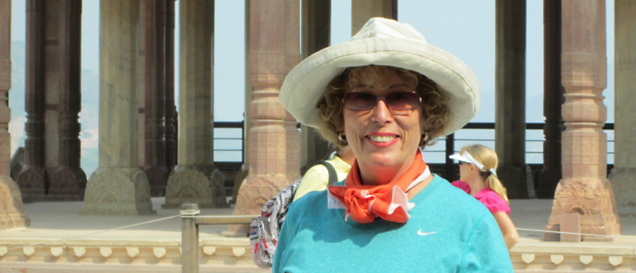 Ann H. inside the 16th-century Amber Fort palace complex, located just outside Jaipur.
After her Heart of India adventure, Ann H. took to her husband's blog to write about her experience. Bob introduces her story with a touching note about how much he admires his wife for taking this trip solo. So do we! This is an excerpt from the first part of Ann's journey. We look forward to sharing part two!
By Ann H., 3-time traveler & 4-time Vacation Ambassador from North Palm Beach, FL
"Ever since reading Shantaram, Ann's desire to tour India was heightened. Did I want to go? Well, yes, but mostly no. The latter relates to health issues and, truth be told, in my advancing years, I like travel that is less stressful. (And having read Shantaram as well, I felt I had already experienced the real India!) But these factors would not detour my intrepid wife, and I respect and admire her determination and willingness to endure some of the frenetic aspects of the trip not to mention some disheartening sights. I was lucky enough to be the recipient of her fascinating, spontaneous emails along the way and I collected them for her and she in turn has edited and embellished them with more detail. I'm delighted to be publishing her account here."
— Bob H.
Ann's Trip to India
Half of the fun of travel is the planning and anticipation, and for my trip to India at the end of October, I had been on the highest level of excitement you can imagine. For the prior six months, I had been collecting the appropriate clothing, receiving my vaccinations and inoculations, sending away my passport for the requisite visa stamp, making sure I had all possible contingency medications on hand, as well as purchasing other travel gear for safety and comfort during my stay in a third world country. No one could have been readier for this trip! That is until Hurricane Sandy began threatening first here in Florida and then more seriously, the northeast. So I had to ask myself, why was it hitting New York on the very day I was flying out of JFK to Delhi? The hassle of having to reconfigure all of my travel logistics just added to the overall anxiety, anticipation and nervousness I was already feeling about leaving Bob for 18 days and going off on such an exotic adventure.
Once it seemed certain that the airports would most likely close down, at the very last moment I was able to book a direct flight on Air France out of Miami. With a big sigh of relief, I was now on my way! An uneventful fourteen hour flight later, I was met at the airport by an Overseas Adventure Travel employee and driver and stepped out into the smoky, smog enshrouded streets of Delhi.
I arrived a day early, which helped me to acclimate a little to the 10 ½ hour time change, and met my trip leader, Vineet Joshi, who gave me a huge bear hug at the hotel. He was always accommodating and looked out for each of us like a Mother Hen, not to mention sharing some hilarious and often very touching personal stories about his family and the difficulty of finding a suitable marriage partner. When Vineet was already well into his thirties, his father said that the time had come for him to marry. One of the popular ways to search is through the newspaper matrimonial ads. So they placed one that said "A handsome Brahmin, from a good family, well educated, self employed as a Travel Guide, wishes to marry Brahmin girl, etc., etc." The responses: 3. Very disappointing. The next ad read: "A handsome Brahmin, etc. owns 5-bedroom home, etc." The responses: 300! From all the photos and letters, it finally happened that one girl was known by his family to come from a very good home and when everything else was compatible, they married. They now have a little boy and are united for life. These arranged marriages work out very well in the end.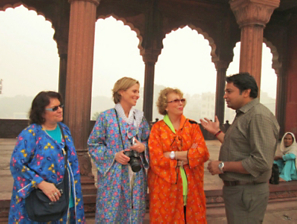 So far only Estela, my friend from Spain, and I made it to India. We two had a crazy idea and decided to leave the hotel and go exploring on our own. The streets of Delhi were exactly as I had read about, cacophonous with sound and teeming with unimaginable traffic, cars, trucks, buses, tuk tuks (3-wheeled minicabs), rickshaws pedaled by underfed men, starving looking dogs, livestock, begging children, people everywhere, jostling, attempting to constantly stop us and sell us something or offer to take us somewhere and of course, people of every age and description with their hands out for money. And then there are the horns. Blowing a horn in India is the only way to drive anything that moves even if there is absolutely no need whatsoever: there are no traffic lights or stop signs or very few, certainly no road signs to tell you where you're going, it is a free for all, a game of "chicken" every single moment every day and a miracle that more people are not maimed or killed either walking or riding, since entire families of five or six ride on the motorcycles or squeeze into the tuk tuks often piled to the roof with passengers or the buses offering all the extra riders the deluxe air-conditioned seats, atop the bus, holding on for dear life!
Once Lisa arrived, we three began our tour, minus the four other couples who were still stranded waiting for flights out of NY. Our first stop, totally unscheduled, was the Gurudwara Bangla Sahib kitchen, part of the Sikh Shrine which has been feeding approximately 180 Delhi residents every 15 minutes since 1935, free and open to everyone regardless of religion, caste or age. All of the food preparation, cooking and serving is provided by an army of gursikhs who are paid workers and by volunteers every day from 5:30am to 11:30pm. No money is paid by anyone for this food; it is all provided by donations and contributions. It was an inspiring experience and a testament to the generosity of those more fortunate.
In the three days we spent in Delhi, we saw many of the major sights, including Birla House, where Mahatma Gandhi spent his last months and was assassinated in 1948 while taking a quiet walk. It is now a holy shrine in his honor. Earlier in the day, we rode on our first cycle rickshaw ride through the congested and filthy streets of the Chandni Chowk bazaar.
We spent time at the magnificent Jama Masjid, the largest mosque in India, also built by Shah Jahan in 1650 AD; the courtyard can accommodate 25,000 worshippers! Our guide and driver also took our little band of three ladies along beautiful tree lined boulevards where we could see from a distance many of the buildings of India's Parliament and the residence of India's President as well as Embassy buildings belonging to many countries. We saw the famous India Gate surrounded by a park and the 12th century Qutab Minar with its 234 foot-high tower.
Dinner with Vineet and Estela was an adventure too, with Vineet hailing a tuk tuk, our first ride in the 3-wheeled little minicab or motor rickshaw, as it is often referred to, to take us off to dinner. We were up early the next morning for our first five hour road trip to Jaipur. Good news… we were finally going to meet up with the rest of our group there.
We enjoyed a beautiful lunch on the way to Jaipur in a former Maharahja of Jaipur's palace, now a splendid hotel and restaurant. Once comfortably settled in our hotel, and now all eleven of us gathered together, we proceeded to see many of the wonderful sights including the Amber Fort-Palace, built in the 16th century, including the Sheesh Mahal, a room whose ceiling is covered with small mirrors to represent the night sky sparkling with a million stars. Our visit to the City Palace Museum was fascinating as was the Jantar Mantar, an astrological observatory built in the 18th century and still functioning perfectly today! In fact, the giant sundials are still accurate to two-tenths of a second.
For me, the highlight in Jaipur was our Home-Hosted dinner with a wonderful family, the Singhs, who were extraordinarily gracious. Five of us were welcomed so warmly into their home with a standing greeting at the gate, Mrs. Singh placing a bindi on our foreheads, a dot made with a pinch of vermilion powder, just in the center and a little above our eyebrows. (We were often greeted entering our many hotels with a dot placed just so and a cool drink or a garland of marigolds or wet towels to cleanse our hands.)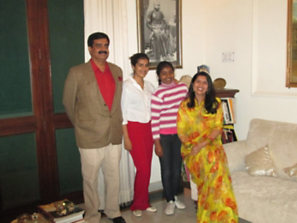 She and her husband, who coincidentally is the grandson of the Maharajah whose palace we had stopped at for lunch, have a 22-year old daughter in law school and a 13-year old foster daughter they are raising who was born into a lower caste. Mrs. Singh founded and supports a home/school/hospital for children ages 3 to 15 orphaned by AIDS and themselves suffering from it. It is her proud enterprise and she was so happy to discuss this with us, realizing she had sympathetic listeners. She also shared more personal information about how she is already searching for a husband for her daughter. It will be an arranged marriage, as was hers. It was just an outstanding evening, one I will never forget, particularly as I was leaving, she and I gave one another such a warm embrace!
We are visiting India during Diwali. This festival rivals our Christmas and New Year's all rolled into one! There is nothing like witnessing the frantic days beforehand of shopping, the frenzied cleaning of the huts and homes, the strings of lights and garlands of marigolds strung up everywhere you look. It is the "festival of lights" and every home will have purchased small clay pots to be filled with oil and kept burning all night to welcome the goddess Lakshmi, who represents good over evil. Everyone, from the poorest to the wealthiest will have purchased new clothes and something new for the house as well—even if just a spoon, new pots and pans or bed linens, food, especially sweets and snacks which are shared with family and friends since visiting one another is part of this happy celebration. Even presents are exchanged. Firecrackers are a big part of Diwali as well, hearing them popping constantly for hours with the air overwhelmingly filled with the smoke.
From Jaipur, we drove overland through the countryside, over unpaved, uneven, potholed roads toward the Ranthambhore National Park. We enthusiastically started out on two game viewing experiences in an open four-wheeled canter. Unfortunately, both were to be met with disappointment as we had hoped to catch just a glimpse of the elusive Royal Bengal Tiger, but saw only fresh tracks instead. We were treated to sightings of other Indian species such as a cousin to the deer, the sambar, the Langur monkey, antelopes, the treepie bird and others. These rides through the National Park system were the bumpiest, roughest, sandiest, and most jarringly uncomfortable of any I have ever experienced in my life. At one point, I was sure I had shaken out two or three fillings from my teeth!
After breakfast the following day, we were off on another adventure, this to visit the school nearby that Overseas Adventure Travel supports through donations from the Grand Circle Foundation, a most worthy endeavor. We met the Principal, members of his family and a few of the teachers in the school. The children were out of school for Diwali, but there were plenty of interested bystanders and actual students to enhance this experience. In the past, our own Vineet had volunteered his painting expertise along with other OAT Trip Leaders to make the school look as presentable as possible. From here, we walked through the nearby alleyways seeing how the local villagers live, meeting a few locals who were as interested in us as we were in them and were served tea in the yard of a local family.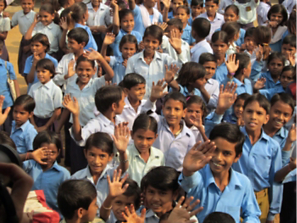 Our next stop the same day was a Woman's Cooperative which was the inspiration of a group of women who were eager for these local villagers to have a chance to learn a handicraft, sell them and earn their own money. The store itself contained garments to wear, handbags, tablecloths and napkins, and many other handmade items, all of which were very simply sewn, but with beautiful cotton fabric in a variety of designs.
Now we were on the move again, this time many, many hours driving on extremely bumpy roads again until we finally reached our village camp retreat quite late in the afternoon. Here we were assigned a tent cabin where we all were able to freshen up for a minute before being ushered to a campsite and offered refreshing glasses of wine or beer and popcorn, of all things! As the sun set, we were treated to a fireside group of dancers and musicians who performed for us, all male. A wonderful Indian buffet was served in a large dining tent afterwards. We were all happy to retire to our tents for the night, although I had to sleep in my clothes with a pile of blankets on top since I was freezing cold, loose fillings chattering. We were asked to rise early and dress warmly as we were in store for a treat.
We had a parade of camels and their handlers marching toward us after breakfast and each of us who were riding them were dressed with the appropriate headdress, the men in turbans and the women in colorful floral head and shoulder wraps artfully tied near our hearts. I thought I was so dainty throwing one leg over the camel's back and hoisting myself comfortably onto the pillowed saddle. We were all told how to hold on so the camel could rise up, bumping us way forward and then way back, and suddenly we were off—around and about, through village farms and fields, cantering lightly in the seat. I was feeling like Ann of Arabia! When it was time to alight, there was nothing dainty about having one leg on the ground and the other still thrown across my camel's back when he suddenly decided to get up and with me still half attached! I yelled "whoa there boy" and luckily others came running to my aid. He settled down on the ground again and I hopped off with as much grace as it is possible to have with someone lifting your leg over a camel's rear hump.
Experience the sensory assault that is India with O.A.T. during Heart of India.
You may also like…
India's Festival of Lights
See how Indian families prepare for and celebrate Diwali.
India: A Once-in-a-Lifetime Experience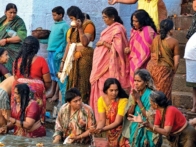 "India is not for everyone"… which is just fine with us.
A Solo Travel Tradition
Here's one way to avoid holidays with the mother-in-law.