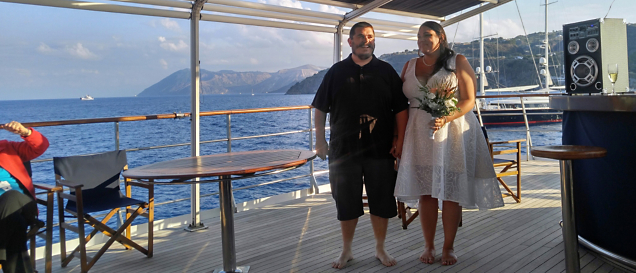 Gordon & Kathy's son made their family adventure even more memorable by getting married onboard the M/V Artemis.
By Gordon & Kathy B., 9-time travelers from Richland, WA
About seven to ten days prior to our Grand Circle trip departure, our son asked us if we could have his wedding performed onboard by the ship's captain.
We emailed our Trip Leader, Alessandro, and he got back to us after checking with the Captain, who said we were "good to go."
During the first week cruising, our son and his fiancé announced to their fellow travelers that they would be having the wedding the next Tuesday … and everyone was invited!
Basically, Alessandro took it from there. My wife and I really just sat back and let the kids and Alessandro do the rest. What was amazing was that he arranged for a beautiful wedding cake (created by our onboard chef), planned wedding music, and even got flowers for the bride.
The evening of the wedding was gorgeous, and we were moored just off of Lepari, Sicily. Almost 100% of our fellow travelers attended and were so enthusiastic! Amazingly, as the wedding started at 6pm, somehow church bells sounded in the distance on shore! What a beautiful event thanks to Alessandro, the chef, and the young Croatian Captain.
It was wonderful!
What pleasant surprises await you on the open seas? Find out during our Italy's Western Coast & Islands: A Voyage from Rome to Valletta Small Ship Adventure.