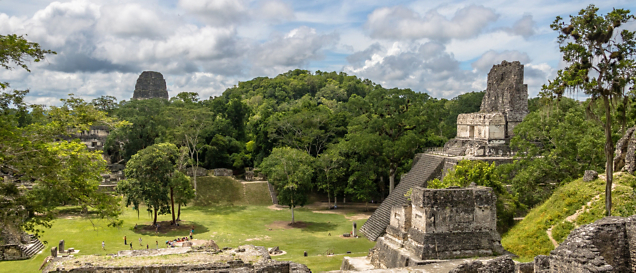 The Mayan ruins of Temple 2 at Tikal provided a breathtaking backdrop for a life-changing question.
By Wayne R., 15-time traveler & 5-time Vacation Ambassador from Gloucester Point, VA
I've been traveling with O.A.T. for 20 years. My first trip was in 1998. After my mother passed away, my father and I went on a trip together to China. After that I started traveling with my best friend Craig after we graduated from medical school. We have traveled on almost all of my O.A.T. trips together.
My wife, Stephanie, passed away in 2014. This was a month before I was scheduled to go on a trip with O.A.T. to India and Bhutan, which I obviously cancelled.
I met Pam a year after Stephanie died and we have been together for two years now. Pam hadn't traveled very much before we met. She had gone to Europe once or twice while she was in college. She took her first trip with me last year on O.A.T.'s Morocco trip. I had contemplated popping the question while we were out on the Sahara, but the timing didn't feel right and I chickened out.
For our second O.A.T. trip together, we planned Route of the Maya to see the ancient ruins. This time, I wasn't going to chicken out. I looked at the itinerary to figure out the perfect spot to pop the question. I talked to Luiz, our Trip Leader, and told him what I was planning. Luiz grew up right in Tikal and played in the ruins as a child so he knew a lot about the area. He confirmed that Temple 2 would be the perfect location to propose to Pam.
When Luiz asked if I wanted to do it in front of the group I thought about it for a few days. Originally I wanted to do it privately, but we lucked out with our group; everyone really got along and became fast friends. The only people that knew were Luiz, Craig, and a wonderful couple we had really clicked with on this trip, Ron and Christy.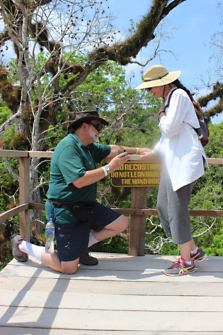 The day had finally come when I would propose to Pam, and Luiz and I had it all planned out. The group had some time to wander around the ruins on our own and then we all came together to climb the steps up to Temple 2. Luiz lectured on, teaching us all about the different temples. We came to the top of the steps at this beautiful location overlooking the Grand Plaza, and when he was almost finished, he turned to me and asked, "Wayne, do you have any questions?" I had just one question to ask. I turned to Pam, got down on one knee, opened the ring box, and asked her to marry me. She said yes.
Pam was totally surprised. The whole event was very emotional, everyone was in tears. I had lost my first wife and you never know if you're going to find love again. I found love again, which is incredibly special, so I wanted to make this proposal special and unique.
Pam and I set the date for March 17th of next year. We are booked on O.A.T.'s Bhutan and India trip with a stopover in Dubai; the same trip I was booked on when Stephanie passed away. I'm excited to get the chance to see Bhutan, the last real "Shangri-La," and to share this experience with Pam.
Discover why Temple 2 was the perfect place for Wayne's big moment when you join O.A.T. for Route of the Maya.