During Galungan, Judith witnessed these women in colorful dress carrying offerings to their local temple.
We received this story in response to our November Question of the Month: Have you ever traveled during a holiday—either one you observe personally, or one unique to your destination? You can read more answers here.
By Judith B., 20-time traveler & 14-time Vacation Ambassador from Lexington, KY
In September, my husband and I were in Bali with O.A.T. during Galungan, one of the most important Balinese Hindu religious festivals. Galungan occurs every 210 days, which is the length of the Bali Hindu calendar, and symbolizes the victory of good over evil. On the days leading up to the festival, the streets became even more colorful than usual with tall penjors appearing in front of houses, shops, and hotels. These tall bamboo poles, some up to about 30 feet tall, are decorated with coconut leaves and other natural plants. Several feet up from the base, a decorative holder contains offerings to the gods. Another decoration is placed at the tip of the pole. Because the poles are so high, they curve near the top and sway with the wind. We couldn't take enough pictures!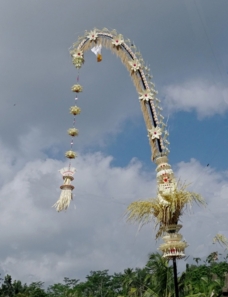 On Galungan, most businesses were closed all or part of the day (the latter were mostly those that depend on the tourist trade). Villagers go to several community and family temples during the day. For days leading up to the festival, families are busy making the penjors and preparing offerings of food and flowers. After the temple ceremony when the offerings have been blessed by the priests, the food was taken home to be eaten by the extended family.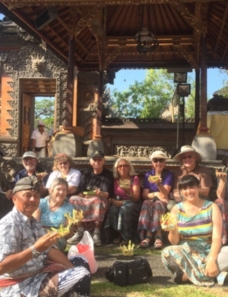 The highlight of the festival for our group was attending a temple service the morning of Galungan. Thanks to Susi, our O.A.T. Trip Leader, and Walika, our local guide, we donned sarongs, a dress requirement for entering the temple; took our places in the back of the large, enclosed outdoor temple; watched as families entered the temple compound with decorative woven baskets filled with offerings; and participated in the religious part of the ceremony. Our bus driver's wife had made floral offerings for each of us. It was an awesome experience—so interesting and educational to be part of this unique holiday.
Experience the unique traditions and deep spirituality of Bali with O.A.T. during Java & Bali: Indonesia's Mystical Islands. Get an up-close look at daily life in Bali's iconic rice terraces in this film:
Produced by Ian Cross