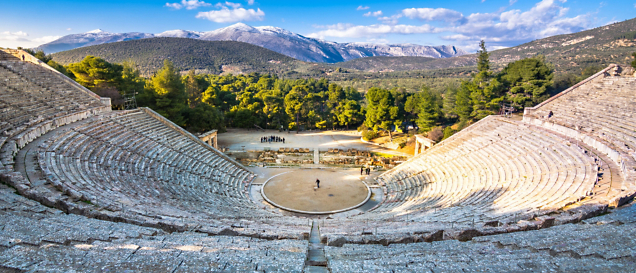 At the ancient Roman amphitheater of Epidaurus, Frank and Edna made an impulsive decision that resulted in a beautiful and unexpected performance.
By Frank & Edna C., 12-time travelers and 11-time Vacation Ambassadors from Indian Harbour Beach, FL
On our first ever tour overseas, my wife and I traveled to Greece. Sadly, it was with a competitor travel company, something we quickly corrected when we found Overseas Adventure Travel.
It was about our tenth day riding around on a bus with 58 other people and we had seen enough diggings, old pots, and vases to fill the Roman Colosseum. On this day, we arrived at the Theater at Epidaurus. This amphitheater is renowned to have the perfect sound acoustics giving an audience of up to 14,000 people the ability to hear the whisper of an actor on the stage. This is even more amazing when one realized it was done in the fourth century B.C.E. That's right folks, no electricity, no microphones, and no speakers.
Our guide was directing us to yet another museum, and considering our lack of interest in seeing more cracked jars and vases, we impulsively drifted to the back of the group and then quickly headed towards the Amphitheater. We just wanted to climb to the top row and watch life go by.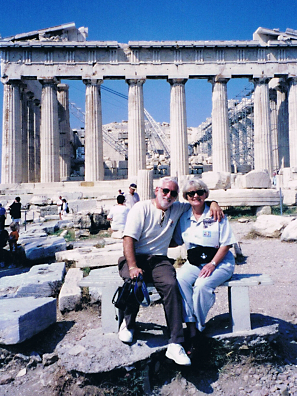 We did just that. After an arduous climb, we did arrive at the top row and sat back on the sandstone seat. Picture the day: warm, not hot, a soft, gentle breeze wafting across our faces and the muted sounds of laughter coming from some children exploring the ruins. At this point, we didn't think life could get any better, but it did.
Leaning back in our seats, eyes closed, enjoying our place in life, we heard what sounded like an amplified shuffling of feet and hushed voices. It sounded as though it was coming from the row of seats in front of us. We opened our eyes, but no one was there. What was there was a group of about 15 young people milling around the center of the stage, so far away. We could hear their individual voices, "Here, stand here" … "Let's get into three rows" … "What should we sing?" The voices were crystal clear and distinct.
Then it was hushed for a few seconds followed by the most beautiful acapella singing we've ever heard. Life did get better for the next 15 minutes just listening to the beautiful sounds reaching our ears in perfect pitch and harmony. It ended all too soon. Bits of laughter and movement were now coming from the stage as the group left. We weren't ready to return to life just yet.
We tried to rush to the bottom to find out a bit about this group but by this time, others had gathered to listen. They were gone when we reached the bottom. We were told by a lady standing close that it was a group of students traveling the country giving planned performances. This one was not planned.
Impulsiveness while traveling can be rewarding. It certainly was for us. Did we ever do anything impulsive again? You bet your worn-out travel shoes we did.
Perhaps you'll discover a pleasant surprise of your own in Greece when you join our Mediterranean Cultures & Islands: A Voyage from Barcelona to Athens Small Ship Adventure.