A "Hair Raising" Experience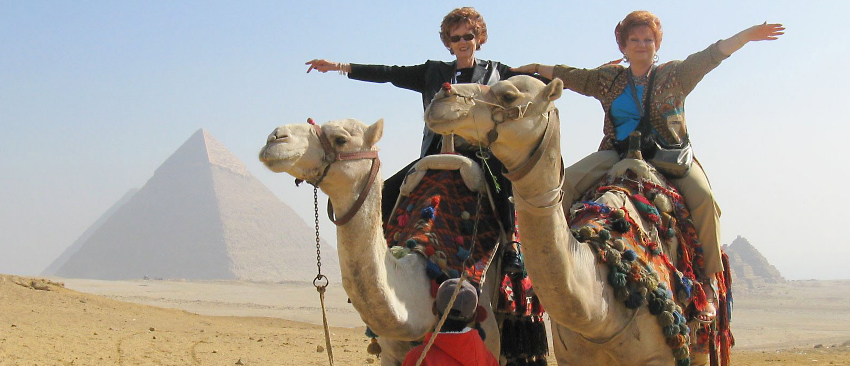 By Bonnie Mack, 6-time traveler from Clearwater, FL
After working together for many years and hearing about the wonderful parts of the world I was visiting, my friend Karen expressed an interest in traveling with me. I took a closer look at her, with perfectly coiffed hair, a beautiful lime-green suit—and matching jewelry. I didn't quite know what to say, so I just tried to temper my words. "Karen, your idea of a great vacation is spending a week at the London Hilton, followed by the Paris Hilton." (Gee, was that "tempering" my words?) But I carried on, "I can't imagine you sweating your way through Thailand, or getting dusty from the dirt roads on safari, or riding elephants and camels."
Truth be told, I felt rather bad laying it all out there, so when an opportunity came up for a cruise to the Greek islands, I thought it a safe destination to try things out. What I remember most was a woman who saw us waiting for our connecting flight in Heathrow. Approaching us, she said, "I don't know where you ladies are going, but I sure wish I was coming along—you look like you're having a great time!"
To think we really hadn't started the fun part of the trip yet. Well there weren't any surprises—no camels, or elephants to conquer. Instead, I'd exit the tiny bathroom in our cabin, and Karen would be cheerfully humming. How pleasant it was to have a companion enjoying herself.
All that was well and good, but the next test came a couple years later, when I found a great deal on a trip to Egypt. Though I'd been there twice since 1976, I'd always wanted to return to cruise the Nile. Karen was ecstatic … "Can we ride camels?!"
To my surprise, she turned out to be a wonderful travel companion. She was enthusiastic, never complained about the heat, or desert dust, or even the tiny cabin. She remained true to herself. She was the best-dressed woman who ever rode a camel!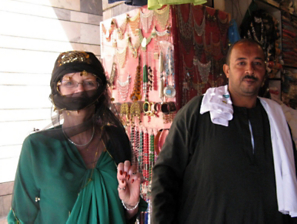 We were having a terrific time, and she really got into the spirit of Egypt. Our final dinner aboard ship presented an opportunity to dress in Egyptian attire. We were excited, as we set off in search of matching caftans. As opposed to my previous visits to Egypt, "bazaars" can now be found at all the major sites, with a myriad of enticing products. Karen didn't know which way to look, so she just kept looking at everything. Time was being lost, so I let her linger at her own pace and set off for the next shop in search of those caftans.
Meanwhile, a portly Egyptian man busied himself decking Karen out in a veil and caftan. When she caught up to me, she was flustered. It seems the "costume designer" in the other store was getting a little too close for comfort. Karen was getting more and more nervous and couldn't get the caftan off over her clothes. It was getting hotter and hotter. When she pulled the caftan over her head, the veil came off taking her wig with it! If ever there was a photo to be cherished, it would have been one showing the surprised expression on the salesman's face! "Served him right!" Karen declared, between hearty laughs.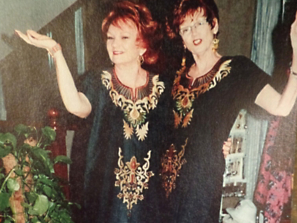 This experience showed me that I hadn't really known Karen. She was willing to participate in anything, and everything—camel rides, and even a hot-air balloon flight. After that trip, we were on the move, as I introduced her to my favorite places—Turkey, Eastern Europe, Kenya and Tanzania, Sicily, France, a cruise on the Volga, and Ireland. She thanked me for taking her to places she never dreamed she'd visit. I told her that she had grown in so many ways for having traveled to other continents. What a gem I found in this great travel companion who, given the chance, was eager to let her hair down.
Experience the amusing moments of Egypt on your own or with a travel companion during our Ancient Egypt & the Nile River Small Ship Adventure.