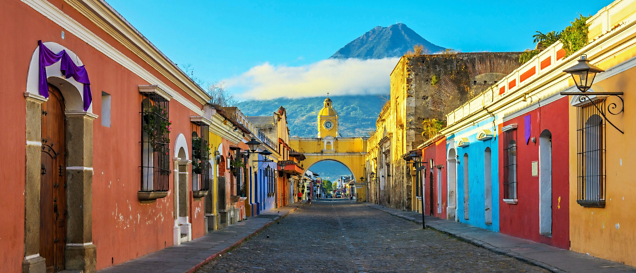 Guatemala's Volcán de Agua is visible from Antigua's colorful, colonial streets.
Nine-time traveler Jann S. took to our Travel Forum to document her recent trip to Central America. After spending some time on her own in the beginning, she joined O.A.T. to finish out her adventure. You can read the entire thread here.
By Jann S., 9-time traveler & 2-time Vacation Ambassador from Redondo Beach, CA
Hello forum friends ... I am leaving in the wee hours of the morning for my own pre-trip to Managua, and then onto seeing more in San Salvador before joining the tour in early November.
It's apparently raining all over Central America now in all the countries. There is even some sort of Level 1 alert in Nicaragua. Thanks to forum friends who are happy to share, I am booked at a casa in one of Managua's better neighborhoods. I had booked a week there and plenty of Viator tours. However, my original plan of an overnight in Miami got wiped out with the recent storms. So I was able to change my frequent flyer ticket to just a two hour layover in Miami, then onto Managua. Here's hoping the weather will cooperate! I am guessing my O.A.T. poncho will get a good workout on this trip.
In any event, after this trip I will have completed seeing all the Central American countries, so O.A.T.'s itinerary worked out well for me. I have pretty much done the same week in Guatemala, but O.A.T. provides things I couldn't see on my own, such as Safe Passage. Anyway, I hope you will join in my blog as I travel and share your experiences as well. Looking forward to this marvelous adventure!
Gorgeous Granada
What a glorious day! Rain seems to be mostly at night now. Took a great classic tour of this part of Nicaragua: the Masaya Volcano and handicrafts market, followed by time in beautiful Catarina, then lunch and time in beautiful Granada. Granada looks so much like Antigua, Guatemala, but with horses and buggies everywhere. Same colonial feel, which I guess is why O.A.T. didn't include it as part of their Nicaragua post trip. And Granada is a very clean city, with Lake Nicaragua right there and another beautiful volcano looking on. Absolutely gorgeous. It looks like there is, and has been, a lot of money in Granada. Saw a cemetery as we entered, and it was clear from the huge headstones the population had a lot of money at one time. Catarina is also an arts and crafts village, but people mostly come there for the other lake, which is so clear it mirrors the sky and clouds.
I am a bit curious why these cities are laid out the same with the colonial architecture and multi-colored houses. Especially when it's as clean as Granada and Antigua, it's a delight to visit. Lake Nicaragua reminded me of the Amazon with all the wildlife and flowered pods growing in the water, huge bird nests in the trees, and even a monkey island. Boats would cluster together like safari vehicles do when there is an animal sighting.
Lunch was an unusual salad but a tasty one; served on a banana leaf, it included cabbage, warm cassava, potato, chopped tomato, some sort of tropical baby lime, and pork rinds. Granada is famous for their chocolate, and chocolate milk is the real deal there. I enjoyed this meal in a beautiful garden setting while some poor animal nearby (chicken or pig) was obviously meeting its fate.
Good day. Looks like I need to graduate to 100% DEET tomorrow. Nothing is working. I saw a three-inch long mosquito today while cruising on the lake. Something just like it must have had me for lunch. You should see the size of the welts, especially when the histamine acts up. Something tells me that I will live to see another day.
Prelude to Adventure in El Salvador
Arrived at the O.A.T. hotel and met my Trip Leader after a morning of touring that I was really too tired to do. My guide took me to Santa Ana, the second largest city in El Salvador, then a drive around a beautiful lake that was a crater from a volcano. It was supposed to be a longer day, but I was feeling worn down from nearly two weeks of touring. We stopped at an art gallery that the O.A.T. group will return to tomorrow unless I decide to go to a museum in the afternoon. The artist is still alive, and I was talking to his son. He is a celebrated Salvadorian artist who paints in the Naïf style. Beautiful things, and mentioned in the itinerary as an optional for when the nearest Mayan ruin is closed. Looks like the tour lets you do both. Plenty still to see.
My friend who I met and stayed in touch with from my Heart of India trip showed up while I was chatting with some of the others. Nice to be greeted with a hug and a kiss on an O.A.T. trip, or any trip for that matter! So we spent a couple hours chatting and catching up. The Salvadorian dish pupusa is made on the street by local people, so the group went out for some pupusa with the Trip Leader while I caught up with my friend. I am not a big fan of street food even though it's cooked. I am sure I will see it again at breakfast.
Looking forward to the real tour starting in the morning. This is also the first O.A.T. tour I have taken where I have read reviews about the Trip Leader ahead of time. He has gotten wonderful reviews. Everyone seems nice and friendly, looking forward to this leg of the trip, which is really the main event!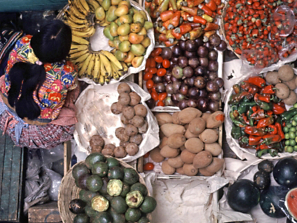 Real Life in Guatemala City
We had a long drive yesterday from Honduras to Guatemala City, passing through the Guatemala highlands. We also visited one family living on $1 a day and delivered the food we purchased in San Salvador. The scenery is spectacular and the culture near the border is interesting as well. Some truckers get stuck in paperwork errors and cannot pass into either of the borders, so they sleep in hammocks under the trucks. That was quite a sight. The rest was small Guatemalan villages along the way and the intense beauty of the highlands.
We had our tour of Guatemala City today, and it did not disappoint. We see the real deal, from the garbage dumps supported by and organization called Safe Passage (as well as the Grand Circle Foundation), to the central business district. We even passed by an interesting cemetery. It was a fascinating day, with the disparity between rich and poor all around, and discussion on political corruption which we will hear more about later.
We will continue on further into the highlands tomorrow, to places I have been before. But O.A.T. is of course giving me more than my money's worth, and our Trip Leader is excellent in his presentation of the history. He explained to me that my comments about needing to rename the tour were not accurate, because all the people who suffered during the more modern history were really all of Mayan descent one way or another. I appreciate that reminder, since it feels like two different types of history, but it's really all one people. I am learning so much every day, and the majority of us were not aware that the people here suffered so much at the hands of their government.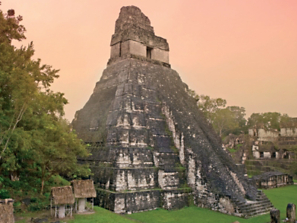 Into the Jungle
Arrived in Tikal tonight. The hotel, though jungle basic is seriously cool. My room is upstairs and it feels like a tree house walking up the stars to get to it! Nobody wants to do the early morning optional tomorrow since many of the same animals and birds can be seen from the rooms without even trying. When I stayed in Tikal five years ago (at much simpler digs), I passed on the early morning walk for that reason. This time, I wanted it, but I was the only one. I know I will enjoy Tikal no matter what.
Hard to believe I fly home next week! Any trip seems to go by in the blink of an eye, and like the rest of life, is over way too soon. I am looking forward to seeing as much as I can of Tikal. It's a four mile walk tomorrow through the jungle, so I hope with the humidity it will work out well for everyone.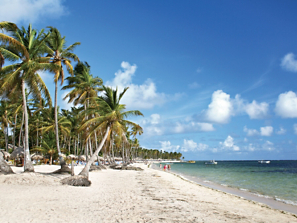 Slowing Down by the Sea
Belize is a place where people come for the Caribbean, the barrier reef (second only to the Great Barrier reef in Australia), and many other activities. I only recently learned in the past couple of years there were Mayan ruins here. However, seeing those today apparently was not in the cards for me. It's been a wonderful and active trip, and I never even took a day off to do nothing in four weeks. So when I woke up this morning, my body was telling me in every way possible to slow down. And that I pay attention to.
I am sure everyone will enjoy the trip to Lumanai, the last of the Mayan ruins on this trip. From the description I heard last night at dinner, it's about an hour each way by bus, and another hour or so by boat. The mosquitoes are quite aggressive here (one bit me on the face yesterday), and I understand they are even worse there. Sounded like a fun adventure last night. But this morning it felt more like I could potentially be in the wrong place at the wrong time, and a drain on the group. So the Caribbean is literally right outside, and reading by it is how I will spend my day. I love doing that. And hopefully, I will be recharged enough to enjoy dinner tonight. I have taken all the necessary stomach things I need for a while, and will use one of my vitamin packets mixed in water to give me a boost of energy.
However, I greatly look forward to sitting by the Caribbean and enjoying the relaxation, reading a book, and having some solitude while I recharge my batteries. I am glad that I have a few extra days here. I have wanted to come here for years. If I want to see more ruins, there are plenty to see. Or I may just enjoy the other fine things that Belize has to offer.
My Trip Leader just called my room and gave me the number of a local guide in case I need anything today. The phone number started with the numbers 666 and I had to laugh when I wrote that down! He said that was good luck here! My understanding in the U.S. was that they took out all the phone numbers with 666 in them due to the negative connotation. Such an interesting cultural difference.
Learning about the cultural differences has been my greatest joy on this trip. There are many. But in the end, observing the differences helps me appreciate the joy in the fact that we are really more alike than we are different. And the more we can learn from each other and gain an understanding, perhaps we can, even as travelers, help make the world a better and more tolerant place for all.
Dive into the culture of Central America when you join O.A.T.'s Route of the Maya adventure.