Between the Crosses, Row on Row
Posted on 11/28/2017 12:01:00 PM in Traveler Insights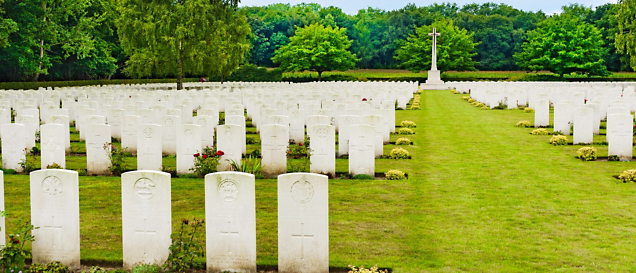 Thanks to local guide Rudy, Marian was able to locate her grandfather's grave in Dozingham Cemetery.
By Marian C., 4-time traveler and 2-time Vacation Ambassador from Hacienda Heights, CA
I was born in England in 1942. My mother lost her father in the First World War and he was buried in Flanders Field, Belgium. In those days, the deceased were not brought home, they were buried where they fell.
In April/May 2015, I was on a Grand Circle river cruise (on the M/S River Melody). While I was visiting the museum in Flanders, I pulled the guide, Rudy, aside and asked whether I could hire him, privately, to take me to Dozingham Cemetery the next day, a Saturday.
I told him I wanted to visit where my grandfather was buried. I had done my research and gave him all the information—the grave row and number. He thought a while and told me to take the train from Bruges to Popperinge and he would meet me there to take me to the grave.
When I arrived the next morning at Popperinge Station, he had a graph of the cemetery with all the graves marked. We drove there and he found it within minutes. It was unbelievable. I would never have found it alone as it was up a small muddy road, but beautifully kept.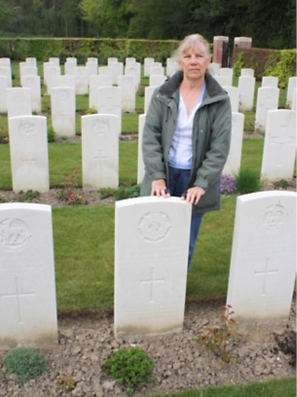 Although I had obviously never met my grandfather, I was making a pilgrimage for my mother. My Mum was only six years old when her father was killed. She was the youngest of five and died at the age of 93 in 2004.
I have kept in touch with Rudy and at Christmas, he sent me a picture of my grandfather's grave with a sprig of holly on it. He had gone there and placed it for me. He also goes back every October 16th, the day my grandfather died because that's Rudy's birthday. How fortunate I was to connect with Rudy and I am sure our connection will be forever.
Perhaps you'll make your own lasting connections during Grand Circle Cruise Line's Holland & Belgium in Springtime River Cruise.