Conversation with Judy & Fred P.
Posted on 11/28/2017 12:00:00 AM in Traveler Insights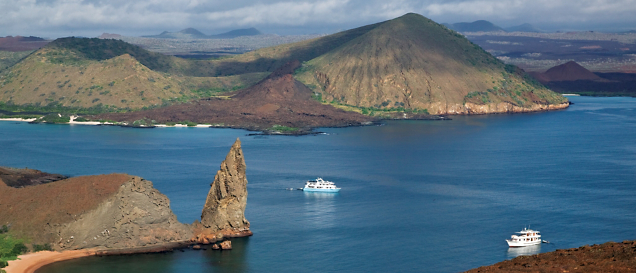 Judy and Fred would place sailing around the Galápagos Islands at the top of their list.
By Judy & Fred P., 17-time travelers and 22-time Vacation Ambassadors from Clayton, CA
What was your favorite trip and why?
One of our favorites was our trip to the Amazon and the Galápagos. We were on a ship for seven days, and spent time in the Amazon—which was certainly a different way to live. When we landed in Lima for the pre-trip to Machu Picchu, we were there at the right time and saw the changing of the royal guard. They could give the English a run for their money. That entire trip was memorable. We are drawn to the more exotic and different places.
What's your favorite/most successful way to refer a friend?
We've got a plan, and it works: Carry the referral cards in your wallet. We've handed them out at a steakhouse and a Lexus dealership. Once we met a semi-retired doctor, who said his wife just got back from Mongolia. That flipped a switch so we pulled out a card and said, "Here's a card, give them a call and ask some questions. They'll send you information and not pressure you." Everyone always asks us where we've traveled. We just talk to people on the street!
Have you had any pleasant surprises during your trips?
We were in Burma and we happened to be at the right place at the right time when there was a huge, extravagant wedding taking place at a nice hotel. There we were in our everyday O.A.T. clothes, and all of these people were in their finery. Everyone was waiting for the bride to come in, and they invited us to sit down and experience it. It came out of nowhere!
We were in Victoria Falls in Zimbabwe and we took an ultralight plane, which is tiny: just one person and a pilot, no doors. It was incredible. We wouldn't have done it, but a couple we met told us we had to. It was really a "wow" moment. Maybe our fellow travelers had more sense than us, but we are so happy we did it.
Perhaps O.A.T.'s Machu Picchu & the Galapagos Small Ship Adventure will make it to the top of your list as well. Preview the experiences that await you in this video.