While motorcycling in farm country between Germany and the Czech Republic, Jerry and his fellow "silly Americans" had to get creative with currency exchange.
By Jerry P., 1-time traveler from Oregon, WI
We were motorcycling from Germany into the Czech Republic along an old mud/dirt path. We were getting really hungry when we came upon an old agricultural commune—a six-story concrete building that must have been housing in the communist era. Broken windows, graffiti, kind of nasty. Nearby was a one-story concrete building with one window and one picnic table … no other identification. We decided to stop and see what we could find. Well, it was a deli of sorts. A few things on the shelves and a lovely array of open faced sandwiches and best of all, desserts! Our eyes lit up!
Being silly Americans, we were not too in tune with where the Euro is used, and since we had just crossed the border, we were just now in the Czech Republic. I happily opened my wallet and plead with my eyes when showing the Euro, hoping that this close to the border the Euro would be taken. But this was no tourist place—only workers from the farms. The lovely woman at the counter visibly sagged and shook her head "no," and shrugged her shoulders. Ouch, so close to such lovely treats, and yet so far.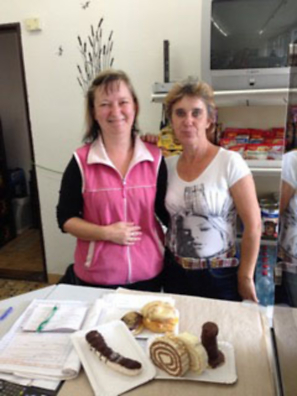 Sitting off to the side there was only one other person in the place. He was a relatively old gentleman, not in the best of grooming, visible health, or situation. He kindly walked up to us, and held out a large denomination koruna and moved his arms back and forth saying "you hand me yours and I will hand you mine" in a most obvious way. Wonderful.
We had no idea of exchange rate, but the lady at the counter seemed to have some idea, so she did a quick calculation and told the man. He took our 20 Euro and gave a lot of koruna, which we used to buy six sandwiches, drinks, chips, and six of the mostly lovely sweets! It was a spectacular lunch and we got change for our 20 Euro. The ladies behind the counter were charming and it was all so much fun, though none of us shared a shred of language. We persuaded them to let us take their picture (they insisted on dropping the aprons and primping a bit!).
It may have been the best meal of the trip! And it is what makes traveling so special. There are wonderful people wherever you go. Warm, helpful, and open. Just a terrific experience.
Make your own European adventure, and be sure to check the local currencies, when you join Grand Circle Cruise Line for Romantic Blue Danube: Budapest to Prague.