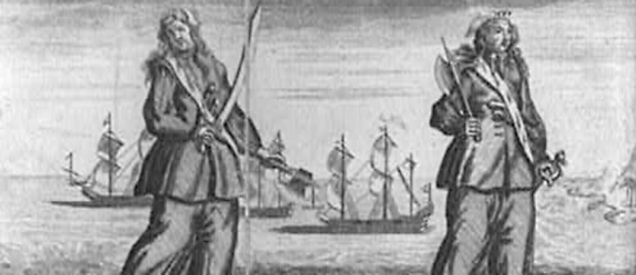 Female pirates Anne Bonny and Mary Read donned men's clothing when they encountered other vessels, but lived openly as women aboard their own ship.
Question: What contraband did two of Calico Jack's fiercest pirates smuggle into court to get out of being sentenced to death?
Answer: Their unborn children.
"Calico Jack" Rackham was famed in the early 18th century for marauding through the Caribbean aboard the pirate ship Revenge. But he's best remembered in history for being upstaged by two members of his crew: Anne Bonny and Mary Read, English women who (independent of each other) signed up for the pirate's life aboard the same ship.
Anne Bonny had been born in Ireland and moved to the U.S. as a girl, where she got in trouble for stabbing a servant girl with a dinner knife. She married a small-time pirate, but left him once she met the charismatic Calico Jack in Barbados. The lovers stole the Revenge and became terrors of the seas, which is how Read came into the picture.
Read was born outside London, the illegitimate child of a married woman. To convince her husband's relatives that he had a male heir, Read's mother dressed her in boy's attire from an early age. Read liked the ruse and kept it as a teenager, when she joined a military vessel and married a fellow soldier. After he died young, she took to piracy, eventually going aboard the Revenge in male drag—only to discover she was not alone.
The presence of Bonny and Read was an open secret aboard ship; they only dressed as men when they encountered other vessels. The women were thoroughly integrated into the crew and both were known as fearless in battle. In fact, when the Revenge was cornered by the British, most of the crew hid below deck, leaving the two women topside, guns blazing, to fight for them all. Outnumbered as a result, however, their ship was easily captured.
At trial, when brought before the judge, the duo revealed that not only were they women, both were pregnant, a claim soon confirmed by doctors. It saved them; unlike their peers, they were spared the noose. Bonny was not especially sympathetic to her doomed husband, yelling at him in court: "If you'd stayed on deck like a man, you'd not be hanged like a dog."
More Women of the British Isles Who Made Waves
Unconfirmed Scottish history says that an all-female pirate crew attacked a coastal monastery during mass in 617. They politely agreed to let the minister finish leading services—before beheading him and his 52 monks.


The first officially recorded female pirate of the British Isle was Aethelflaed, The Lady of the Mercia. The daughter of the Alfred the Great, she made it her mission in the late 10th century to destabilize the Vikings by attacking their vessels with a fleet of pirate ships.


In the 1540's, Lady Elizabeth Killigrew and her husband routinely raided cargo ships that approached Cornwall. When her husband passed away, she led the pirates by herself, looting ships from around the world and burying the booty in her back yard.


Her step-daughter, Lady Mary Killigrew, surprisingly married the man Queen Elizabeth put in charge of stopping pirates. But whenever her husband was off to sea, Lady Mary gathered some of her castle staff and went on pirate adventures. She inadvertently took the Queen's friends hostage, and was sentenced to death—a fate she escaped when the Queen pardoned her instead of someone else, entirely by accident.


Going by the name Christian Davies, Kit Cavanaugh spent years in the early 18th century dressed as a man infiltrating British dragoons while hunting for her missing husband. She rigged up a prosthetic that allowed her to urinate standing up next to her fellow soldiers and was so convincing that one woman even claimed "Christian" had fathered her child; rather than reveal her secret, Cavanaugh paid child support.


Never put pirates together—this may be the lesson taught by Mary Critchett, the only woman of four pirates deported from England in late 1728. The quartet bound for Virginia overpowered their two escorts en route and threw them into the hold. Critchett personally sat on the hatch, trapping them. Eventually, the British caught up, captured the four pirates, and hung them.


Referred to at the time as a "notorious virago," Ann Mills was famed as a fearsome mariner, her blend of savagery and calm immortalized in a book illustration depicting her holding aloft the head of a French sailor she decapitated in combat in 1740.


Hannah Snell took to the seas in 1747, after her husband abandoned her. She donned his old clothes and joined sailing missions to Portugal and India. Once, when badly wounded in a gun battle, she had a local woman remove the bullet by hand, rather than risk being seen undressed by the ship's doctor. Snell later settled down on land and opened a pub: The Female Warrior.
Sail the (pirate-free) high seas as you follow in the wake of Bonny, Read, and more on our Maritime Jewels of the British Isles & Ireland Small Ship Adventure.