Where in the World?
Posted on 7/18/2017 12:32:00 PM in Travel Trivia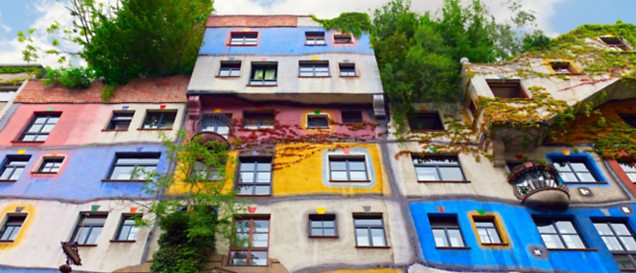 The whimsical Hundertwasserhaus stands in colorful contrast to Vienna's traditional architecture.
Question: Where in the world did two architects have to duke it out over who created a house with trees growing out its windows?

Answer: Hundertwasserhaus in Vienna, Austria
In Vienna, a city known for elegance and tasteful refinement, Hundertwasser House (Hundertwasserhaus) stands out like a sore thumb—intentionally so. The Austrian artist who called himself Hundertwasser began advocating for new approaches to architecture in the 1960s, arguing that the natural world should inform human living spaces. Ditching cold, modern lines for the irregular shapes of nature, he even embraced the organic cycle of decay and rebirth.
He began promoting models like "eye-slit" house, a single-family home built into and peering out of a grassy knoll, and then translating his ideas into whimsical creations like Bad Blumau, a spa "village" with a forested meadows rising up and over the buildings. He argued for "window rights" (the right of individual building units to make their window frames as creative as they wished) and "tree tenants" (indoor-outdoor trees). The fact that he was a fan of planting gardens on rooftops was a given.
In 1977, Vienna was so taken with Hundertwasser that he was invited by the mayor to create an apartment building in Landstraße (the third district) that would showcase his vision of a "house for humans and trees." But he had to admit that he was not much of an architect when it came to practicalities like engineering. He couldn't himself meet building codes for his ideas. In 1979, award-winning designer and architect Josef Krawina was invited to join the artist and to help him to put his ideas into practice. That's where things get sticky.
Hundertwasser found Krawina's drawings too boring, too square, too un-Hundertwasser. The fact that Krawina's model was predominantly of the interior and contained all the structural safety elements did not keep Hundertwasser from publicly carping about his lack of imagination, and in 1981, Krawina left the project.
When Hundertwasserhaus opened in 1986, it quickly became one of Austria's top attractions for visitors. With the illusion of undulating floors, a vibrant pastiche of colors and shapes, and trees growing not only on the rooftop but out of some of the windows, it was as embellished as a Baroque palace but as modern as a Gaudi creation. The word "House" dramatically understates what the building is: a complex containing 53 apartments (home to 200 residents), 19 terraces, 4 offices, and 250 trees and bushes.
Visually, it's so Hundertwasser that it has staked a place in Austria's public imagination as a one-man show. But Krawina—whose designs are still the core of the complex—disagreed. Eventually, so did the courts. Though it took 29 years, in 2010 Austria's Supreme Court ruled that Hundertwasser House had to officially credit Krawina as co-creator. The complex may bear only one name, but Austria finally recognized that a dream can only take flight if it has a firm foundation to launch from.
Beyond Hundertwasser House: 5 More Singular Discoveries in Landstraße
Franz Ferdinand's Last Ride: When you visit the Museum of Military History (Arsenal Objekt 1, 1030 Wien), you can wander through collections of weaponry and strategic maps that outline Austria's role in various conflicts. Or you can go right to the most famous attraction: the Sarajevo Room, which contains the convertible in which the Archduke was assassinated (setting World War I in motion), as well as his bloodstained uniform, and the guns carried by his executioners.
The Maybe Mozart Grave: Despite being one of the most famous composers of all time, Mozart's life ended unglamorously in 1791 and his body was buried in a pauper's grave. In the 19th century, scholars determined that St. Marx Cemetery (Leberstrasse 6-8) was the most likely site of his burial. A decidedly maudlin monument was erected on the spot, with a cherub peering down into the earth (perhaps wondering whether anyone is down there).
Not Your Habsburg's Theatre: While Vienna's high society still flocks to the Opera House and the Imperial Palace fills for the New Year's Ball, the cutting edge crowd get their entertainment from Rabenhof Theatre (Rabengasse 3, 1030 Wien), an Art Deco-era movie theatre converted at the end of the 20th century into a live performance venue. Fringe theatre, cabaret artists, and writers from all over Europe take the stage for the events everyone who is anyone is buzzing about.
A Heartless Church: When Empress Amalia Wilhemina survived a terrifying battle with smallpox, she ordered the building of a convent in gratitude. The Salesianerinnenkirche (Rennweg 10, 1030 Wien) is a grand church that too often is overlooked due to its proximity to Belvedere and Palais Schwarzenberg. The cupola-crowned church was finished in 1726 but the frescoes inside (now world famous) weren't finished for another year because the Empress refused to let anyone paint them but Italian artist Antonio Pellegrini, who had clients ahead of her. When the Empress died, her will ordered that her body be buried beneath the altar as proof of her devotion to god. But there were limits: her heart was removed and buried elsewhere next to her one true love, her husband.
A Love-Hate Monument to Russia: Because of Russia's role in reclaiming Austria from the Nazis in World War II, Vienna erected a permanent Heroes' Monument of the Red Army (on Schwarzenberg Platz). With its triumphal arch and the statue of a flag-wielding, machine-gun-toting soldier, it resembles a bit of Soviet propaganda. The city carefully maintains it and no less than Putin himself has come to pay respects there, but the statue has become a lightning rod for controversy. Protesters have splashed it in red paint more than once, repainted it in Ukraine's colors, and covered its text in black. The latest defacement was just this year, and the city has again polished it up: both the monument and attacks on it have become tradition.
Explore Vienna's Third District during free time on The Great Rivers of Europe.