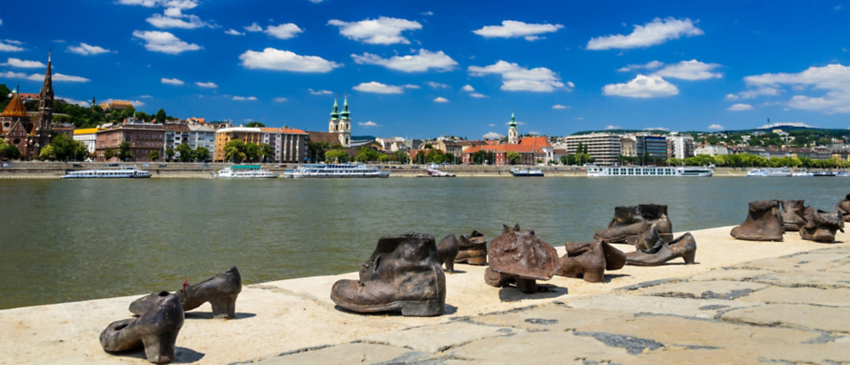 Question: Where in the world do 60 shoes represent thousands of lives mercilessly lost?
Answer: Shoes on the Danube River Promenade Memorial, Budapest, Hungary
In front of the Hungarian Parliament Building along the Danube River in Budapest, 60 pairs of iron shoes stand scattered and pointing towards the river. The story behind this simple memorial is tragic—it represents thousands who lost their lives at the hands of Hungary's nationalist and anti-Semitic Arrow Cross Party during World War II.
In October of 1944, Hitler overthrew the Hungarian leader, Miklos Horthy, and replaced him with Ferenc Szalasi, a man whose ideology closely aligned with Hitler's. Once in power, Szalasi quickly established the far-right Arrow Cross Party which ruled the country in cooperation with the Nazis. The party immediately began brutalizing, killing, and deporting Hungary's Jewish population. About half a million Hungarian Jews perished in the Holocaust—one of the highest rates for any country. In Budapest, 80,000 people were deported and sent on a death march to work camps in Austria.
The Arrow Cross militiamen terrorized the streets of Budapest for only five months but were responsible for tens of thousands of deaths. In a brutal and horrifying fashion, they would remove Jews from the newly established Budapest ghetto and line them along the Danube River to be mercilessly executed. The men, women, and children were forced to remove their shoes at gunpoint (as shoes were a valuable commodity during the war) before being shot and washed away in the freezing Danube water. Here, approximately 20,000 civilians were killed.
To remember those whose lives ended along the river, 60 iron shoes are now scattered. This poignant tribute was created by film director Can Togay and sculptor Gyula Pauer who dispersed the shoes casually along the banks as if those who once occupied them just took them off. Men's, women's, and children's in a variety of styles all line the river. Some are tattered and some appear as nicer to represent how no one was safe from this atrocity regardless of age, gender, or class.
The simple design of this memorial has a profound affect—it captures the moments just after the callous execution, when only the person's shoes remained. Here, just 60 small shoes evoke the heartless terror that gripped Budapest during World War II.
6 More World War II Memorials to See in Budapest:
Holocaust Memorial Center: This moving exhibit and memorial to the Holocaust in Hungary documents the gradual disenfranchisement of Jews through newsreels, photos, and objects. The center contains a restored synagogue, a memorial garden and wall to the victims, and a tower which lists the communities where Jewish populations no longer exist.


Emanuel Tree: This memorial designed to look like a weeping willow honors Holocaust victims with 30,000 names inscribed on the trees metal leaves. The area where it is located is known as Raoul Wallenberg Memorial Park, named after the Swedish diplomat who saved thousands of lives from concentration camps while he was stationed in Budapest.


Ghetto Memorial Wall: This memorial to Budapest's Jewish ghetto stands not far from where the actual ghetto walls once ran. A map carved into the concrete memorial wall shows the outline of the ghetto and describes where important events took place.


Carl Lutz Memorial: This memorial honors another diplomat, Switzerland's Carl Lutz, who saved an estimated 60,000 Jews during the holocaust. The bronze statue depicts an angel descending from heaven to help a fallen victim with a plaque that reads, "whoever saves a life is considered to have saved an entire world."


Budapest Stolpersteine (stumbling blocks): Much like in other European cities, thousands of these brass plates are scattered across Budapest remembering individual lives lost. The cobblestone-sized plates are engraved with the names of Holocaust victims, their date of birth, year of death, and cause of death. These small memorials located everywhere around the city are subtle but constant reminders to those who died.


House of Terror Museum: Located in what was once the headquarters of the Arrow Cross Party, this museum captures the real-life terrors that occurred under the fascist and communist regimes during World War II and Soviet Union rule. Here, the artifacts on display tell the story of Nazi and communist rule in Hungary in a way that is both emotional and educational.


Experience the moving memorial of the Danube Promenade shoes and learn more about the brutalities endured during World War II in Hungary when you join us for Jewels of Bohemia: Czech Republic, Slovakia, and Hungary.