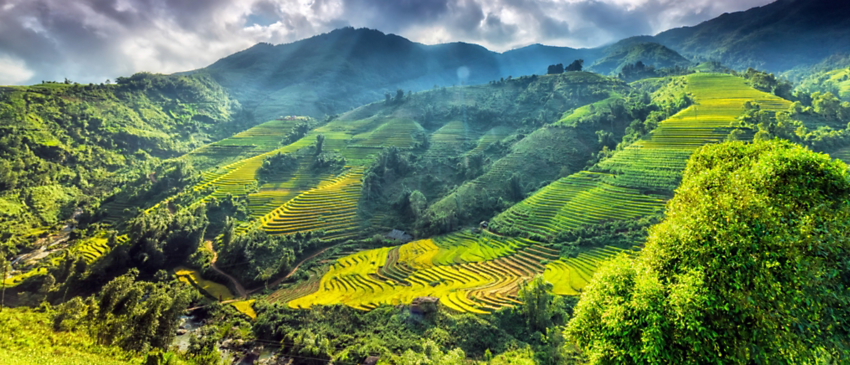 Question: In what lush locale did an ancient people leave behind boulders as surveyor's maps—that no one can read?
Answer: Sapa, Northern Vietnam
Reigning supreme as the highest peak of Vietnam, Fan Si Pan mountain commands a view of sweeping valleys terraced with rice paddies and small hill tribe villages outside Sapa. Dwarfed by the majesty of 5,200-foot Fan Si Pan, the old boulders studding the earth around Sapa might seemingly merit little notice. But these humble rocks are actually at the heart of a mystery.
During the time when the region was part of French Indochina, a French archeologist was the first to discover that one of these boulders was marked with petroglyphs. Soon, he discovered dozens and then hundreds more. The etchings were often humanoid in shape, things you could easily discern as people dancing or making love. Not all the markings made sense to their finders and some symbols have remained uninterpreted to this day. As a result, no one can say who carved them.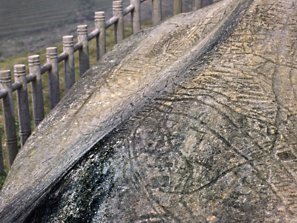 Scientists have since dated the petroglyphs to the time of Magellan, which would offer a big clue—except there is no record of any settlement in that era. The best guess (and the claim put forward by Vietnam, which is seeking UNESCO World Heritage recognition for the boulders) is that this is the handiwork of the Dong Son people, but some experts disagree, noting that the Dong Son had passed through the area well earlier. The many hill tribes who now call the slopes of Fan Si Pan home (see below) had not yet arrived.
While the who is still in doubt, historians believe they know what the boulders are meant for: they are surveyor's markings of where property borders began and ended. This suggests that the people who lived in this valley were organized and deliberate in their community-building—a community we can only imagine today.
Meet the Hill Tribes of Sapa
Black H'mong women are recognizable for indigo blue turbans and scarves that they make from hemp and dye by hand.



A green tree branch on the front door of a Black H'mong house means you are forbidden from entering.



In a Black H'mong home, there are separate holy sites: one for the ancestors, one for the kitchen spirits, one for the house spirit, and a fourth for the door spirit.



Men and women are considered equal in this community, and will work in the fields and shop in the markets together.



Red Zhao came to Vietnam after fleeing China when they failed at overthrowing the Ming Dynasty, earning their name, which was originally written as "Dog Radicals".



Though the Red Zhao have incorporated certain elements of Buddhism into their texts, they remain devout adherents to Taoism, and never converted as a tribe.



Giay people highly value and make meaning from color: Giay women show their tribe by wrapping their hair and holding it in place with red thread; and one's age is revealed by the hue of their daily attire, with brighter colors in youth and only elders allowed to wear dark colors.



The pride of Giay cooking is "five color sticky rice," with leaves and roots providing red, yellow, green, and purple colors to stand out against the white of the rice.



Giay people are superstitious around pregnancy: wood fires near pregnant women must be lit from the bottom, not from the top, and pregnant women may never attend funerals or worship services, where their spirit might be lost.


The Tay people (the second largest ethnic group in the nation after Viets) practice their own religion, with gods found in nature, mixing Taoism and elements of ancient Chinese folktales.



Tay ancestors are honored at an altar at the heart of the home; neither pregnant women or non-family members are allowed to sit in front of it.



Black Tai (Tai Dam) people take their name from the black clothing definitive of the women, whose skirts and headdresses are somber.



Unlike with the Black H'mong, Black Tai women are not considered equal, with the culture focused on the men first, as well as favoring elders.



The Phu La people are knowing for singing folk songs and playing traditional instruments, including the bamboo mouth organ and the nose flute.



The Phu La share one name but are actually six different ethnic minorities who speak a variant of an ancient Chinese Loloish language.



Though most of their income is based on farming and raising livestock, the Phu La love to barter, and have made trading commodities with other hill tribes a part of not only their commerce, but their community life.


Discover Sapa and all that Northern Vietnam has to offer during a NEW optional post-trip extension on your Ancient Kingdoms: Laos, Vietnam & Cambodia adventure.