Where in the World?
Posted on 12/12/2017 12:00:00 AM in Travel Trivia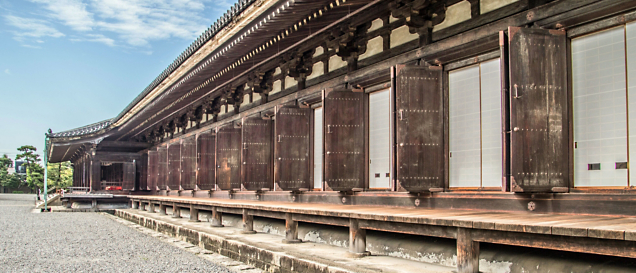 Japan's Sanjusangendo Temple is the country's longest wooden structure and is also quite ancient.
Question: Where in the world will you find yourself surrounded by goddesses who have so many arms, you'll hardly notice all their extra heads?
Answer: Sanjusangendo Temple, Kyoto
At nearly 400 feet in length, Sanjusangendo Temple in Kyoto is already distinct enough for being the longest wooden structure in all of Japan. But its impressive size and age (nearly 800 years) gets eclipsed by its eye-boggling contents: 1001 statues of Kannon, the Goddess of Mercy.
A seated 11-foot version of the goddess is the centerpiece here, admirable not only for its height but its detail: it boasts all 1,000 arms that Kannon is said to have needed to embrace the suffering of the faithful. With so many limbs, it is easy to be distracted from the fact she has 11 heads, one full-sized and the rest adorning her crown like jewels. (She needs so many to witness more of that human suffering.)
One goddess never being enough, Kannon is guarded by 1,000 more of herself in miniature—miniature in this case meaning life-sized. It is a powerful thing to walk through a hall flanked on each side by 500 statues as big as you are, and it can even be a little unsettling at first, as no two faces are alike and all eyes are you, not the bigger Kannon.
A closer look reveals none that of the human-scale goddesses have 1,000 arms. Each has its two human arms and 40 magical arms. Multiply those 40 arms times the 25 planes of Buddhist existence and you get 1,000 arms total per statue. Multiply that times a thousand, and you are walking through the representation of a million comforting touches.
Kyoto offers as many delights as the Kannons have arms. Here are just a few…
Gems of Kyoto You Might Not Know to Look For
Not actually a museum, Miyawaki Baisenan (Nakagyo-ku, Rokkaku-dori, Tomino-koji Nishi-iru) is often treated like one by visitors seeking out its unmatched collection of elegant folding fans. The store has outfitted everyone from emperors to kabuki stars with the perfect fan for their personalities, and the wares on display (literally ceiling to floor) are breathtaking, especially in the upper room dedicated to Edo period tousenkyo tossing fans.


A walk from the Silver Pavilion on The Philosopher's Path (Sakyo-ku, between Ginkaku-ji and Nyakuoji-jinja) lets you follow in the footsteps of one of Japan's greatest thinkers, Nishida Kitaro, but it also immerses you in the beauty of Kyoto as you pass beneath hundreds of cherry trees alongside a lazy canal. It offers a glimpse of neighborhood life as you end in Nanzenji, where Kitaro used to walk on his way to work.


As one of 1,600 temples in Japan, it might be hard for any particular one to stand out, but Kanga-An (278 Karasuma Dori, Kuramaguchi Higashi Iru, Kita-ku) has a distinction. A long-secret room in the 17th-century temple, once used only by temple priestesses, is now an elegant hidden bar, serving up cocktails made with subtle sakes, Japan's finest craft brews, and even Guinness. Especially in the evening, when the temple is lit up with lanterns, it is a magical experience to sip a delicious drink, knowing that very few people inside or outside of Japan will ever even hear about this delight (which is not advertised on the temple website).


Best known as Yokai Street, Ichijo-Dori Street is a local favorite that most Americans don't know to look for. It's a narrow lane crowded with neighborhood business which have posted little yokai—monster statues—in front of their stores, calling to mind the fables Kyoto children grow up hearing about the creatures that come to teach them lessons. Stroll down the lane and you pass homey-looking yokai cobbled together from old clothes and masks, as well as more elaborate creations worthy of Jim Henson. Keep your eyes peeled for 30 in all.


In the eighth century, Lord Kiyomaro tried to keep a loathed local priest from assuming the throne and failed—and then was chased out of town, badly injuring his leg in the process. When it looked like his pursuers would capture him, 300 wild boars appeared from the woods and scared them away. In the miracle of their appearance, his injury disappeared too. Today, the Go'o Shrine (385 Okakuencho, Karasuma-dori Shimochojacho Sagaru, Kamigyo-ku) honors the tale with hundreds of images of pigs and a pair of guard pigs flanking the door. But many visitors come to seek the magical power of exposure to the healing stone here that is said to be able to repair injuries and guarantee safe travel.


There's nothing exciting to see inside Yasui Konpira-gu Shrine (70 Shimobenten-cho, Higashiyama-ku)—the good part is out front. A rock the size of a VW Beetle sits on the courtyard covered in thousands of pieces of paper bearing handwritten messages. (It ends up looking something like a massive sheepdog.) There is a hole carved all the way through the rock that is big enough for you to crawl through—and you're supposed to. That's because this is the relationship stone. Write what you wish for a relationship on your slip of paper and then, if the wish to make a relationship work, crawl through the rock front to back; crawl back to front if you want to end things. (You could just show your sweetie the paper, but why miss out on a truly memorable experience?)
Revel in five days of discovery in Kyoto during O.A.T.'s Japan's Cultural Treasures adventure.