Where in the World?
Posted on 12/19/2017 12:00:00 AM in Travel Trivia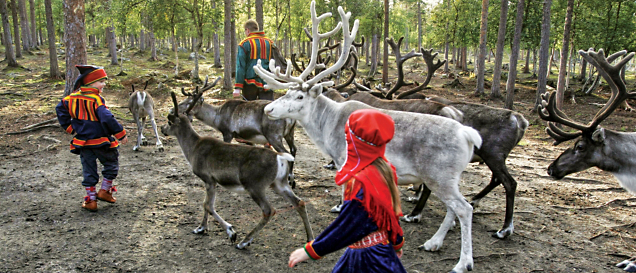 While the Sami people have embraced some modern conveniences, they still wear traditional costumes while herding reindeer.
Question: Where on earth was Rudolph not the only reindeer that glowed?
Answer: The Sami territories of Norway and Sweden.
When the Chernobyl nuclear reactor in the Ukraine melted down in 1986, no one imagined at the time that its effects would play a role in life 2,000 miles away in Norway. But in fact, it did, and has for three decades, manifesting itself in a most unusual way: radioactive reindeer.
Radioactive dust carried into the atmosphere from Chernobyl returned to the earth in rain and snow, and Norway was having an especially wet, snowy spring that year. Lichen, which covers the landscape, is especially well-known for absorbing radioactivity, and it thirstily drank up the toxic material. While this mattered little to human health in the region, it was an issue for reindeer, for whom lichen is almost 90% of their diet.
This was devastating news for the Sami, the indigenous people who occupy vast swaths of Norway (as well as parts of Sweden, Finland, and an outlying territory of Russia). Sami boazovázzi, or "reindeer walkers," have herded the animals for millennia, and reindeer husbandry has long been the industry for which the Sami are best known. Though today only 10% of the Sami make their primary living from reindeer, it is crucial for those who do: farmers who sell reindeer meat can make $400 per animal.
For 30 years, any reindeer that was being sold for its meat had to pass a radioactivity test first. If it had higher than Norway's acceptable threshold for contamination, it was released to the wild, which was a loss to the farmers, which made each annual round-up a roulette wheel of lucky and unlucky outcomes.
Happily, the half-life for this kind of radioactivity is 30 years, a milestone passed last year, which means radioactivity levels are dramatically decreased in both soil and herds. That's good news for the Sami who no longer "walk" their herds, but round them up by snowmobile and even helicopter. With such modern tools available to them to tend the animals, they need only to know that herd will continue getting healthier and healthier each year that Chernobyl is further behind them.
Beyond Reindeer: 8,000 Years of Sami Culture
The existence of the Sami people has been documented since at least 8,000 B.C., making them Northern Europe's oldest continuously existing culture.


The Sami are older than the Vikings, and Roman historians wrote about them two thousand years ago.


The Sami had their own currency, separate from Norway and Finland alike, which ended up appearing in circulation as far away as Greece.


There were nine original dialects, six of which remain, but they vary so much from north to south, that Sami in one region might well require translators to understand Sami in another.


The region they occupy is now called Sápmi, not Lapland. Because "Lap" meant "patch," calling the Sami "Laps" derided them for their poverty (as seen in patched clothing), and "Lapland" roughly translated to "land of people who wear patches."


Though best known for trade in animal furs, hides, and meat, their main industries today are fishing and forestry.



Sami people create songs, known as joik, the melodies and harmonies of which are meant to mimic the attributes of a person, place, or thing. Today's youth often rap their joik or set them to hip-hop beats.


Sami youth have created a pair of social media hashtags to signify their identity: #eallu, which casts them as "the herd," and #eallin, which means "the life."
Discover Sami culture as you enter Sápmi on our Fjord Cruise & Lapland: Norway, Finland & the Arctic Small Ship Adventure.