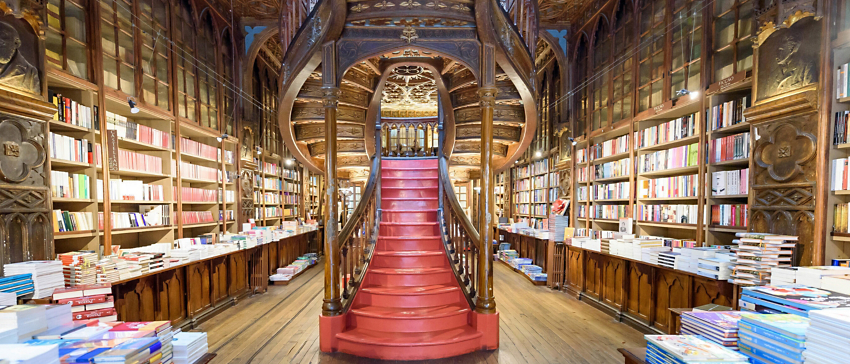 Question: Where did the "most beautiful bookstore in the world" inspire a down-on-her-luck single mother to write the best-selling book series of all time?
Answer: Livraria Lello & Irmão, Porto, Portugal
For twenty years now, readers around the globe have immersed themselves in the world of Harry Potter. The seven-book series has now sold almost a half billion copies, easily nabbing the title of biggest series of all time. The demand for book seven was so intense that it sold 11 million copies on the first day. With the books set in a fictionalized England and the related movies filmed around London, the series is seen by many as quintessentially British.
In fact, it bears the imprint of Porto, Portugal. J. K. Rowling had not yet written a word of the series when she moved to Portugal to teach English as a second language in 1992. The next year was a tumultuous one: she was married, gave birth, and got divorced, becoming a single mother in a foreign country with very little income. But as she has often recounted, she left Porto with more than a child: she carried home the first three chapters of the Harry Potter series.
One of her inspirations was the stunning Livraria Lello & Irmão, a bookstore that can only be described as magical. Like Flourish & Blotts in the book series, this store boasts beautifully carved bookshelves stacked high with volumes and an upstairs accessed by a winding wooden staircase. The fictional version, however, pales in comparison to the real thing; the treads on the central staircase of Livraria Lello are painted vivid red, and they rise to a landing where they spilt, then reunite to continue rising. The visual effect is stunning: some say it looks like water cascading and others suggest it is more serpent-like, while a case could also be made that it looks like a mythical creature opening its red maw. Even the undersides of the steps dazzle, with golden paint gilding the sculpted wood. When you can take your eyes away from the staircase, there's a glass skylight to admire, emblazoned with the slogan "dignity through labor."
Want to Learn More About This Destination?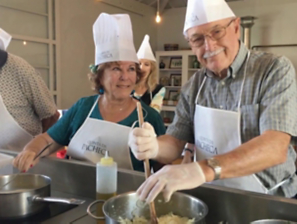 A Northern Iberian Journey
Alongside travelers Mary and Walter C., stroll along the streets of Ponferrada, the last station on the Camino de Santiago pilgrimmage, and take in the verdant hills and terraced vineyards of the Duoro Valley from three perspectives: by foot, boat, and bus.
Livraria Lello is one of the city's great examples of Art Nouveau architecture. The blend of symmetrical patterns with flowing lines was all the rage in Portugal from the end of the 19th century through the 1930s. There were no hard and fast rules, as Art Nouveau architects often incorporated other design forms into their aesthetic. Exuberant elegance was the most unifying theme, displayed in floral motifs and playful figures in wrought iron, stained glass, and carved wood. Remnants of the Art Nouveau era surrounded Rowling during her stay, from the coffee shop in which she wrote to the streets she walked home at the end of each day.
Livraria Lello is just one example of how Porto influenced Rowling's work. The children attending Hogwarts (the school in the novels) wear capes modeled on the student capes of Porto, and the name of the series' historic villain "Salazar Slytherin" is a dig at a Portuguese dictator. It is clear how much Portugal inspired Rowling's imagination, and book lovers everywhere have been grateful for it.
6 More Places to Fall Under the Art Nouveau Spell
Rowling is said to have started handwriting the Harry Potter series in a setting that lives up to its name: Majestic Café (Rua Santa Catarina 112). Garlanded stone work and ten stained glass windows greet you before you set a foot inside, and the razzle dazzle doesn't stop there. Leather, varnished wood, Flemish mirrors, polished marble, metal filigree—it's Paris meets Portugal. Originally named Café Elite for the crowd it was meant to attract, it was renamed for its look, not for its snobbery.



Don't be fooled by the relatively simple façade of Confeitaria Serrana (Rua do Loureiro, 52). This acclaimed pastry shop has been luring in customer with "bom de berlim" donuts for decades. But it's the beauty of the upper level that encourages diners to linger. Wrought iron handrails and window details reflect pure Art Nouveau elegance while cherubs perched atop pillars uphold a ceiling enlivened with cheerful frescos reminiscent of the Belle Époque.



Gently hugging both side sides of a street corner, Guarany (Avenida dos Aliados, 85/89) is a late Art Nouveau gem that still boasts its original curved façade, which now overlooks a busy sidewalk terrace. Inside, the cheery yellow and white café has drawn crowds since 1933, when it quickly became the "musician's coffee shop" for its talented denizens.


Reis & Filhos (corner of Rua de Santa Catarina & Rua 31 de Janeiro) made a smart move in choosing to open a men's boutique in this 1880 space that once housed a jeweler. The twin cast iron frames cover the store front in both directions meeting at an elaborate entryway topped with a bronze goddess. Visitors come from all over to view the shop, the glamour of which continues inside, where jewel-carrying angels and Rococo-style stucco work surround the fine fashions.


Sometimes, soaking up Art Nouveau style is as simple as a stroll down the street. Rua de Cândido dos Reis is full of 20th-century façades. Check out #75-77, with its balcony and floral metalwork, and the yellow-and-green garlands at #123-129. The nearby Rue Galeria de Paris, whose cobblestones are trod by the hordes late at night, is an Art Nouveau goldmine by day; slip into its namesake café (at #67) and enjoy a meal surrounded by a century's worth of bric-a-brac.


Perhaps the most surprising example of Art Nouveau elegance is a beloved parking garage. (Yes, a parking garage.) Built in 1939, Garagem Passo Manuel (top of Rua Passos Manuel, just in front of Coliseu) there are three levels of parking enrobed in a combination of Art Nouveau and Art Deco styles, with striking pink features on pale stucco, plus a mix of hard lines and soft curves. The top floor is the home of Maus Habitos, which is just as singular as the structure: part restaurant, part art gallery, part cultural center, and one of the places to enjoy a panoramic view city.
Experience the magic—and the beauty—of Porto during our Northern Spain & Portugal: Pilgrimage into the Past adventure.