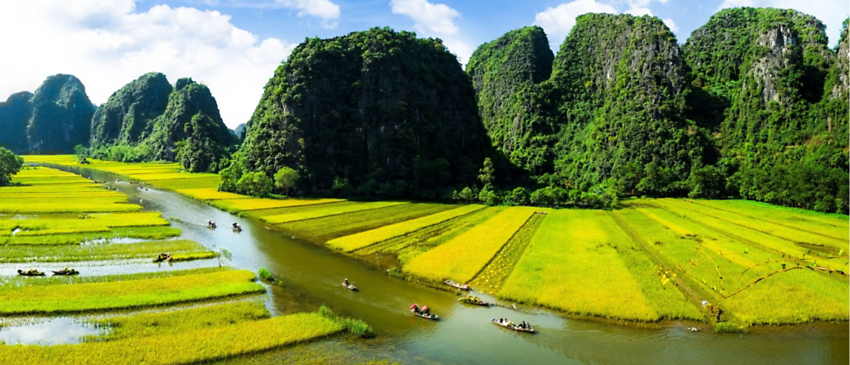 Question: Where in the world do craggy karst caves meet chartreuse fields in a land inhabited for 30,000 years?
Answer: Ninh Binh, Vietnam
About 60 miles southeast of Hanoi lies a land filled with hundreds of craggy karst formations covered in velvety vegetation and bright green rice paddies. The overflowing Ngo Dong River runs through the center of the vibrant fields where locals row their boats to and fro. This camera-ready destination is the Ninh Binh province of Vietnam, and it's one of the most majestic natural landscapes in all of Southeast Asia.
Once upon a time, Ninh Binh was filled with seawater which eroded the cliffs into the dramatic karst landscapes as seen today. The province offers similar karst formations to Vietnam's other picturesque destination, Halong Bay. Ninh Binh is even nicknamed "Halong on Land" because of the similar scenery, but it's a lot lesser-known than the popular counterpart to the northeast.
Want to Learn More About This Destination?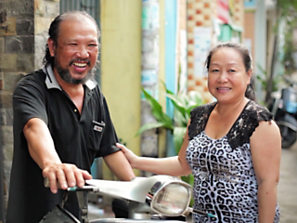 My City: Ho Chi Minh City
Learn how locals plan to ease this ancient city into modern times—all while maintaining its traditional roots.
One beautiful village within the Ninh Binh province is Tam Coc, whose name translates to three caves. Here, within the karst formations, there are tons of caverns and caves covered in natural stalactites. You'll find the ethereal Thien Ha Cave, or "Galaxy Cave" filled with stalagmites and stalactites of shimmering colors. Locals offer rides on their sampans (boats) through the serpentine waterways and the UNESCO-designated cave complex. According to archeological evidence, humans have lived in and around the caves for 30,000 years.
Between the towering mountains with roaming goats and the narrow cave passages, the region is an extraordinarily tranquil landscape. It's also served as the film set for Hollywood movies such as Indochine, The Quiet American, and Kong: Skull Island. A visit to this province allows you to soak up cinematic views in every direction, and see what has kept visitors coming across the millennia.
Karst and Caves in Vietnam:
When thinking about Vietnam's landscapes, the first things that come to mind may be beaches and rice paddies, but it also has some of the most famous natural karst terrains in the world.


Karst is not a kind of rock but the result of existing soluble rock (limestone, gypsum, dolomite) being dissolved by acid-rich water.


The acidic water breaks down the surface of bedrock, yielding cracks, pits, and channels in a process known as karstification.


Karstification has created hundreds of caves, tunnels, grottoes, rivers, lakes, and aquafers hidden beneath the surface of Vietnam.


Three of the world's four biggest caves are found in Vietnam—some are large enough to fit a 40-story building.


One of those large caves is Son Doong cave which gained instant fame in 2010 when a team of British explorers reported that it was the largest cave in the world by volume.


Another massive cave complex is Phong Nha-Ke Bang National Park, also known as the Kingdom of Caves. At this UNESCO World Heritage Site, limestone karsts jut out of the water like humps of a dragon and unseen rivers flow through underground caves.


Only about 30% of the subterranean system in Vietnam has been uncovered. That means new caves, tunnels, and formations are continuing to be discovered every day with more and more opening to visitors.
Visit some of the most stunning karst terrain on earth during the Northern Vietnam: Hanoi & Sapa post-trip extension of our Ancient Kingdoms: Thailand, Laos, Cambodia & Vietnam adventure.