Where in the World?
Posted on 9/19/2017 12:01:00 PM in Travel Trivia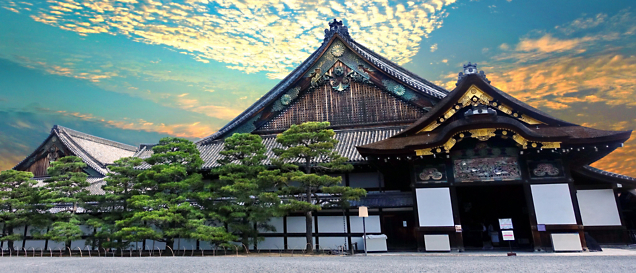 Within the grounds of the Nijo Castle complex, Ninomaru Palace was home to the shogun—who sat on a raised platform, so as to always be perched above his guests.
Question: Where do tigers, lions, and dragons frolicking in flowers cheerfully say "Come in!" but only after you've gotten past a 500,000-foot-long wall built to say "Keep out"?
Answer: Karamon Gate at Nijo Castle, Kyoto, Japan
How do you balance out the desire to keep most people away while wowing the few guests you do entertain? At the 17th-century Nijo Castle complex in Japan, the answer was to use physical barriers to discourage entry by anyone who hadn't been invited, and then to decorate the heck out of the rooms awaiting those who actually got inside.
Located in Kyoto, the castle grounds were outlined by a fortified wall the length of more than 4,100 regulation football fields. It only had three gates, but once you found one of these rare openings, they were heavily guarded, so you needed to be able to prove you should be there. Past this obstacle, you still weren't really "in" until you passed by barrier number two: the interior wall. (And did we mention the moat? There was a moat.) Eventually, you entered a royal realm boasting multiple buildings dotting nearly three million square feet.
If you goal was to meet the shogun—and really, why else would you be there?—you were headed for Ninomaru Palace, and if you were a really welcome guest (say, the Emperor) you got to enter through its Karamon Gate. And what a greeting that was!
With colorful carvings and gold filigree trim making a vivid contrast with the dark wood, the Chinese-style gate was and is eye-catching even from a distance. And the closer you get, the more it beguiles. Red and blue lions sniff the flowers, while a tiger dives into a bed of poppies. Cranes peer from beneath their wings and butterflies drift down from the heavens. The vision is so cheerful, so uplifting, ancient visitors could almost forget how hard it was to get there in the first place.
Today, no one's trying to keep you away. The glories of Ninomaru Palace are on full display for visitors. Gifted to the city in 1939, the UNESCO World Heritage Site is an equal opportunity dazzler, with a host of discoveries waiting just beyond the gate:
Ninomaru is constructed as a series of linked buildings with 33 rooms together totaling 35,000 square feet


Before you enter formal chambers, you still have another gate to pass: the "honorable carriages" entranceway (Kurumayose), which features images of the mythical luan bird, peonies, and pines


The biggest building is the first: the Tozamurai (guardhouse), which has multiple waiting rooms and reception spaces, including a room decorated with tigers and leopards


In the old days, status determined how far into the palace you could go: the lower your status, the fewer rooms and buildings were open to you


Each consecutive building had a higher floor level than the previous one, to show that the guests of that building were superior to those of the one before it


No matter how "high" a building you were in, there was a raised platform for the shogun to sit upon, so that he was always above you


There were entrances designed just for bodyguards, and instead of hiding these doors (as was common at the time), the palace made them more prominent to intimidate guests


The wooden corridors connecting the shogun's rooms were so-called "nightingale floors" designed to make bird-like chirping sounds when walked on, so no one could sneak up on the occupants


Behind sliding doors adorned with a hawk sitting guard atop a pine tree, the shogun had room just for stashing his personal weapons


The shiroshoin (shogun's chambers) were the very most interior rooms and comparatively the simplest, with painted sparrows gracing otherwise monochromatic decorations, revealing that (despite ostentation elsewhere) the shogun himself preferred a minimalist approach
Revel in the rich architectural and artistic history when you join O.A.T. for Japan's Cultural Treasures.