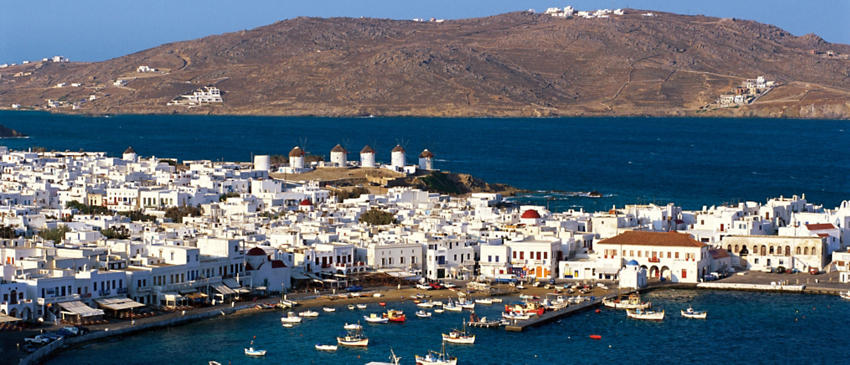 Question: Where in the world did people harness the power of the wind to intentionally make bread you could break a tooth on?
Answer: Mykonos, Greece
The first thing you see approaching the harbor of Chora, the local name for the main village of Mykonos, is a row of windmills, whitewashed sentinels crowning the hillside. After centuries as the visual icons of Mykonos, they are mostly dormant now, yet their original purpose was anything but decorative. All over the Aegean, sailors were dependent on their output.
At one point, 28 mills were positioned to take advantage of the wind coming off the sea in order to grind wheat into flour. The flour was in turn baked into bread—twice-baked, actually. This was an important detail: the loaves, called rusks, were baked a first time, then sliced into hunks, and baked once more until dehydrated. The result was a bread that would never go moldy, even after months. But the very quality that made it last also made it a tough chew; it bordered on inedible at first pass, unless you knew to dip it in water quickly. That simple act restored its texture (though if you soaked the bread too long, it was ruined, so timing was everything).
The endurance of rusks soon made this bread a staple of sailing vessels far and wide, where it was often the primary carbohydrate in a crew's diet. Cheap and long-lasting, it also became a fixture there on Mykonos, where it is known as paximadi, after a monk who improved the recipe to make the bread more edible when fresh (even without adding water). Its influence spread to Venice (where it became pasimata), Croatia (as peskimet), and all the way to the Arab world (as baqsimat).
The vast majority of the windmills used for grinding closed with the advent of electricity, but many remaining standing, drawing visitors from around the world, as well as local celebrities like Petros the Pelican (see below). Several do remain open, including Bonis Mill, now part of the Mykonos Folklore Museum. Bonis Mill offers a window into the past; surrounded by its original water well, dovecote, wine press, and threshing floor, its sails continue to spin. But since it has no bakery, you'll have to walk into Chora to sample the paximadi. Still made today, it's the bread that never gets old.
10 Fun Facts About the Other Icon of Mykonos: Petros the Pelican
In 1958, an ill pelican took refuge on Mykonos island, capturing the attention of a fisherman, who fed him until he was better, and let him live indoors during the winter months. Petros took a liking to his new home and settled in, instead of returning to life at sea.


The man-and-bird duo could be seen all over the port city, walking together, eating in restaurants, and posing for pictures. Within a few years, Petros was the island mascot, and everyone took photos with him.


Petros walked or flew wherever he liked on the island (with his favorite haunts being Paraportiani Square and the windmills), but when he ventured over to the island of Timos, the locals caught him and kept him, saying he had chosen "voluntary migration."


This led to the only known court case in Greek history involving avian custody, a case decided in favor of Mykonos; when Petros was released from Timos, he was welcomed back with the ringing of church bells.


By the 1970s, Petros was so famous, he was hired for a movie filmed in New York City, during which he walked off set, causing a massive search; he was found blocks away napping in the shade between cars.


Jackie Onassis always made it a point to look for Petros when she came to the island and eventually donated another rescued pelican, Irene, to Mykonos so that Petros would have a mate.


Though the birds palled around together, Irene and Petros never did mate, and some locals took to calling him Old Gay Petros.


When Petros was hit by a car at 33 and died, leaving only Irene, a zoo in Hamburg made arrangements to repatriate its pelican, christened Petros II, to Mykonos, and the island embraced him.


In 1995, when another wounded pelican came ashore, the city immediately tended to it, and the newly named Nikolas joined Petros II and Irene as island fixtures.


Whenever a Petros dies, a new one is welcomed (currently, Petros IV). Today, you will still see the trio of pelicans around the fishing area, checking out the taverna for treats, or at the windmills uphill—a scene that brings all the city's greatest icons together.
Experience the memorable charms of Mykonos on our Treasures of the Aegean: Greek Island Cruise, Athens, and Istanbul Small Ship Adventure.