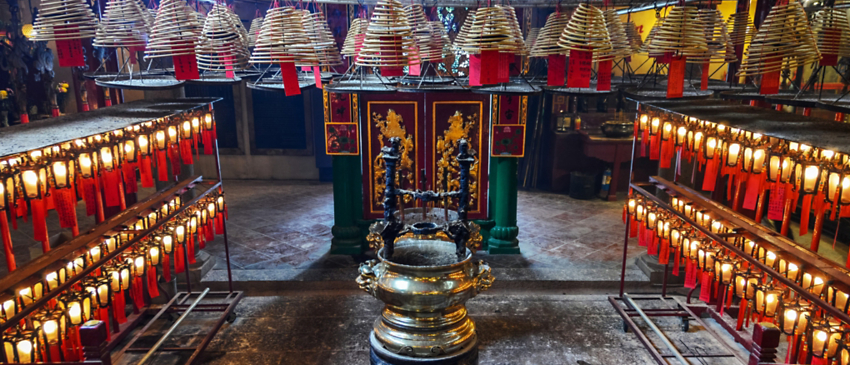 Question: Where in the world do students bring celery to a dead man before they take their tests?
Answer: Man Mo Temple of Hollywood Road, Hong Kong
In ancient Chinese tradition, not all gods were supernatural deities. Two of the principal gods were acknowledged to be humans: second-century warrior Kwan Tai, whose military prowess led a Ming emperor to declare him the Mo god (for martial matters), and Cheung Ah Tse, a third-century civil servant whose influence over nobles led Yuan dynasty rulers to proclaim him Man god (for all civil matters and literature). The duo is honored across Hong Kong in multiple Man Mo temple complexes, typically constructed with three sections: one for both Man and Mo, another for all the heavenly gods to share, and a last for community gatherings.
One of these temples—and one of its gods—outshines the others for locals. The stunning red-and-gold Hollywood Road Man Mo Temple from 1847 is a registered historic building with a steady stream of visitors, but they're not just there for its giant incense sticks, hanging lanterns, and Taoist cone baskets. The crowd size increases dramatically before the start of school sessions and during exams. That's because Chinese parents and caregivers believe that making an offering to Man will increase the success of their young students in school. With a rigorous education system leading to tests that can determine the rest of one's life (see below), any competitive edge will do—including praying for cosmic favors.
Supplicants go to Man Mo Temple at least three weeks before classes begin or just before exam season starts. They bring not the student but an array of goods: paper offerings, joss sticks, scallions, celery, school books, stationary, and the student's pen. Together the adults and student will lay the books and stationary on the altar to Man. The student burns the paper and joss, praying specifically to the civil god for help. When the prayer ends, the student touches Man's writing brush and circles the god's urn three times, with pen in hand, so that the pen will receive a blessing. After tucking a cash offering into a collection box, the family returns home, where they cook the scallion and celery, for the student to eat, hoping it will literally feed their minds.
Why They Pray: The Challenges of Education in Hong Kong
Preschool is not free, but citizens can get a voucher to pay part of the fees; to give you a sense how expensive preschool is, the partial-fee voucher covers nearly $18,000.


Primary school, grades 1-6, is free but there are so many students that some schools do two school "days" each day: half the students taking morning classes under one headmaster, the other half starting at midday under someone else. To make up for lost hours, they go to school on alternate Saturdays.


Good behavior is weighted as importantly as grades. Classroom infractions and schoolyard misbehaviors are formally included on report cards and permanent records.


It is expected that primary school students will average two hours of homework every night. This jumps to an expected four to six hours of work for secondary school.


Hong Kong schools have been criticized for rote learning (including, for instance, the memorization of complete history textbooks) and underemphasizing analysis, decision-making, and communication skills, leading to a push for more project-based learning.


Secondary school encompasses grades 7-12, divided into junior years (7-9), which require the same courses for all students, and senior years (10-12), in which students get to choose more electives that better suit their hopeful career paths.


During secondary school, students are sorted into three "bands" that recognize academic standing, 1 being the highest and 3 the lowest. Graduating in band 3 can limit your future prospects.


At the end of secondary school, a pair of public exams determines not only who graduates but what tier of school they may apply to. One test is for completion of education, the other for demonstrating advanced skills.


Commercially-operated "cram schools" help students prepare for these two exams, charging high prices to steer students toward material sure to be on the test and to teach them test-taking skills.


Parents who want a leg up may skip public school entirely, sending their students to private schools that require "debentures": fees of up to a million dollars (typically promising that this guarantees admission to at least one desirable university).


There are only eight state-funded universities and 12 private universities in Hong Kong, all of which admit international students, so space is limited, and exam scores often determine both admission and funding.


If you complete all the coursework from secondary school successfully, but do not score the minimum grade for passing the exams, you will not qualify for Hong Kong university admission. In 2018, only 41% of students passed.


In an average year, well more than half of the city's students must attend college elsewhere, with the largest contingent (one in five Hong Kong grads) choosing Australia.


Whatever you think of its pros and cons, it cannot be said that Hong Kong undervalues its students: a full 20% of the city budget is dedicated to education.
Discover Hong Kong's ancient culture and modern life on our Imperial China, Tibet & the Yangtze River adventure.