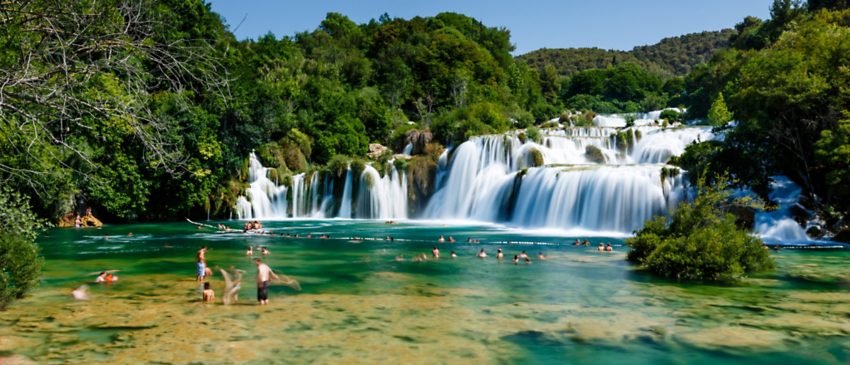 Question: Where in the world did waterfalls gather such a massive social media following that the government had to intervene?
Answer: Krka Falls, Croatia
In Croatia's Krka National Park, when someone says, "Krka Falls," they might mean one specific waterfall or another—or lots all at once. That's because the Dalmatian park is a wonderland of cascades, a series of seven named falls within which are often smaller series of falls. In one visit, you might choose to see a single massive torrent or dozens, depending how you're counting.
The most famous is Skradinski Buk, a grouping of 17 waterfalls (the tallest of which is 150 feet high) together spanning 2,600 feet and surrounding a large natural swimming pool. Nearly as popular, Roski Slap has a dozen falls of its own, one of which is 60 feet high and almost 200 feet wide. Beyond those eye-catchers lie the winsome 25-foot-high waterfall locals call The Alter, and at the opposite end of the spectrum, Manojlovac is the tallest of all at over 180 feet. Yet another waterfall varies in width by season from 90 to 300 feet, while one cascade only appears in peak flow months. (The seventh fuels the hydro plant.)
Though the waterfalls have long been popular with Croatians, the rise of photo-sharing site Instagram transformed them from regional favorites into global sensations. As image after image began to appear online, travelers from around the world started adding the park to their bucket lists. At last count, individual posts tagged #krkawaterfalls had appeared on Instagram 48,000 times—and that doesn't include posts just tagged #krka.
Seemingly all at once, as many as 30,000 visitors began showing up on peak days. While vast Krka can accommodate a lot of people and still protect the flora, that many was too many. The Croatian government intervened and announced last summer that, going forward, the park would not admit more than 10,000 a day, a move that instantly yielded more breathing room for humans and animals alike—without at all slowing the flood of gorgeous images on Instagram.
More than Waterfalls: Flora & Fauna of Krka
Krka National Park is home to over 800 species of plants (several hundred of which are endemic), including chimney bellflower, grassy bells, and scorpion senna.


The Krka River is a hotbed of amphibian and reptile life, with 90 species, more than half of them endemic, including the Balkan whip snake.


The bizarre olm, the only underground-dwelling vertebrate, was first discovered here less than 20 years ago, and is known for its lack of pigment and having eyes that are under its skin.


Bats are a mascot of the park, which is home to 18 different species, including long-fingered bats and short-eared Daubenton's bats.


More than 220 species of birds live in the park, from birds of prey like the short-toed eagle to smaller sleek colorful European bee-eaters.


18 species of fish inhabit the river, 10 of them endemic, including the cave-dwelling Dalmatian barbelgudgeon and Adriatic salmon.


The park is home to three mixed forests and waterside tree stands that include two kinds of oak, flowering ash, two kinds of hornbeams, and two kinds of pine.


Krka is home to horseshoe bats, wolves, otters, and wild cats, all of which are on the European endangered species list—just one more reason for Croatia to protect the park.
Experience the majesty natural wonders of Krka during an optional tour on our Cruising the Adriatic: Croatia, Montenegro, Bosnia & Herzegovina Small Ship Adventure.