Where in the World?
Posted on 12/26/2017 12:00:00 AM in Travel Trivia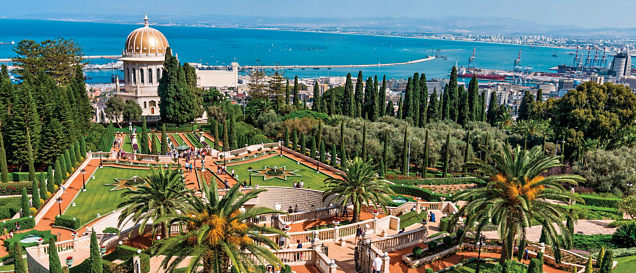 While the remains of the founders of the Baha'i religion are interred on the grounds of these stunning gardens, there is no Baha'i place of worship at the site—or, for that matter, anywhere else in Israel.
Question: Where in the world did a religion build its headquarters in a place its own believers aren't allowed to worship?
Answer: Haifa, Israel
The youngest of the world's major monotheistic religions (just 200 years old), the Baha'i religion is nonetheless a worldwide belief system with an estimated 7 million members spread out across 184 countries in Asia, Africa, Europe, and North America. Such a global institution naturally needs an epicenter, like the Vatican for Roman Catholics or Temple Mount for Muslims and Jews. In the Baha'i faith, that place is Haifa, Israel.
Baha'u'llah, the second leader of the Baha'i, ended up in Haifa after he was exiled by the Shia clergy in the mid-19th century. (He got off easier than the founder, The Bab, who was beheaded.) Forced to leave his native Persia for Ottoman territory then called Sham, Baha'u'llah was first imprisoned in Akko, but was eventually freed and allowed to buy a home of his own. When he died, his son took up the family calling, overseeing the growth of the church, while immortalizing his predecessors with the splendid Baha'i Gardens in Haifa.
The terraced gardens cascade for nearly a mile down the hillside past a tile-domed shrine housing The Bab's and Baha'u'llah's remains, ending at a red-roofed neighborhood known as the German Colony. In addition to the Baha'i World Centre, the faith's headquarters, concentric flower beds, flowing fountains, blossoming trees, and quiet pools adorn 50 acres of property beautiful enough to become Haifa's biggest attraction. Last year alone, 750,000 visitors came to the World Heritage Site.
Surprisingly, there is not only no Baha'i house of worship on the site, but none anywhere in Israel. This seems counterintuitive since Haifa and Akko are considered sacred cities, and Baha'i people face Israel when they pray, no matter where they live. But Baha'u'llah—angry about his initial banishment—had once declared that Baha'i teachings could never be offered in Sham (which covered all of what became Israel). Though Sham is no more and the Ottoman Empire is long past, the rule has never been softened, and is now treated as scripture.
So, who runs the center? The complex is staffed by a rotating crew of more than 600 Baha'i who get special permits to come work there temporarily. But they don't stay, because they also aren't supposed to live in Israel. New converts from Israel are instructed to move and even the nine members of the Baha'i ruling council live elsewhere, making trips to the World Centre for formal sessions and leaving afterward. Ironically, this means that founders themselves are just about the only Baha'i who remain in their holiest city.
7 More Unique Sites in Haifa
Haifa's subway system is the only one on earth to contain only six stops, all within the boundaries of Mt. Carmel.


Haifa boasts the only Japanese art museum in Israel, the Tikotin Museum, with thousands of Japanese pieces collected by a local architect.


The unlikely Ha'bokrim (which means cowboys) is one of the most well-known restaurants: a replica of a U.S. gold-rush era saloon, complete with period stained glass lamps and wood plank ceilings tucked inside a former gas station.


From almost anywhere in Haifa, if you look upward, you can see three orange balls dangling from wires on Mt. Carmel, resembling a cluster of clementines. These are actually the city's cable cars.


The German Colony neighborhood looks less Middle Eastern and more European because it was founded by German Templars. Now home to upscale Israelis, it is full of boutiques and cafes.


The world's first public sculpture park dedicated to only one artist, the Mitzpor Shalom (Peace Park) contains 29 bronze pieces by Ursula Malbin, who fled Nazi Germany in 1939, and filled her park with statues of playful children to symbolize hope for the future.


The Doll Museum sounds like child's play but its 1,000 occupants include facets of Jewish history from the Biblical era through the present. Displays include the dolls depicting Holocaust and the Egypt accords, balanced out by more whimsical figures such as Snow White and Sleeping Beauty.
Experience Haifa—from Baha'i, Jewish, and secular perspectives—on our Israel: The Holy Land & Timeless Cultures adventure.