Where in the World?
Posted on 4/18/2017 12:32:00 PM in Travel Trivia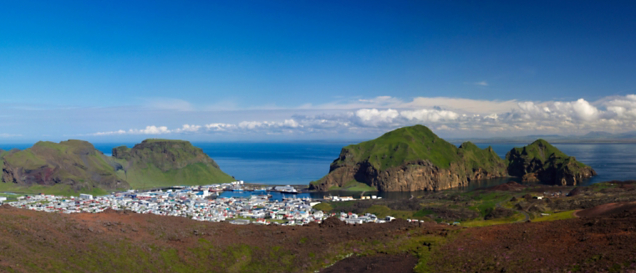 Question: Where in the world did a five-month-long volcanic eruption destroy a village—and leave it safer than ever?
Answer: Heimaey, Iceland's Westman Islands.
In January of 1973, a volcano dormant for 5,000 years suddenly erupted, with lava descending onto the seaside village of Heimaey. The majority of residents, awoken by fire engine horns, fled to the harbor where fishing boats were tied up for the night. They escaped to safety, returning months later to find most of their homes destroyed by lava or ash.
Those who remained worked constantly to save their harbor from encroaching lava by blasting it with huge jets of water, continually cooling it into rock. The rock turned into a barrier holding back more lava, and by the time the event ceased in July, that barrier had become a seawall that actually protected the village from the harsh weather coming off the ocean as well. It is now considered one of the safest harbors in Iceland.
Today, the Eldheimar Museum offers a window into the so-called "Icelandic Pompeii," where excavated houses show how time in Heimaey stood still. But even more dramatic is the island's geography itself, an ever-present reminder of the events of 1973: you can see how close the foreboding mass of lava came to cutting off the harbor entirely; and Eldfell Volcano, formed in the eruption, looms in the distance. It's a hauntingly beautiful testament to the power of nature—and to a village's will to survive.
Fascinating Facts about Volcanic Iceland
Iceland has hundreds of dormant volcanoes, but just 30 active volcanoes, of which only a baker's dozen have erupted in recorded history.
Iceland is so seismic, it is divided into four volcanic zones, plus three more "belts" that connect volcanoes of two or more zones.
It has so many volcanos because it sits atop the meeting of tectonic plates (the Mid-Atlantic Ridge) and above a geological hot spot, a combination that dramatically increases the likelihood of seismic activity.
The most massive eruption of Icelandic history was in 1783, which set off a row of craters and wiped out a quarter of the population, mostly due to illnesses from gas in the atmosphere and famine cause by poisoned livestock.
The 2010 Eyjafjallajökull eruption shot ash so far into the sky it affected European air travel for several weeks.
Icelandic people have two names for lava fields to help distinguish what a hiker can expect: helluhraun is what they call lava that has cooled smoothly and can be walked on easily; but if it has hardened into a spiny, jagged surface bad for hiking, they call it apalhraun.
The Mid-Atlantic ridge that yields so much activity is a 24,000-mile crack in the ocean floor separating Europe and North America. The ripping open of this massive seam 25 million years ago is said to have set off the first eruption in Iceland.
A third of all lava that has been expelled onto the surface of the earth in the past 1,500 years has been in Iceland.
All this seismic activity yields terrific amounts of geothermal energy. As a result, clean and inexpensive geothermal energy provides home heating for 90% of all housing in Iceland, a true gift from the land.
Experience Helmaey and the Eldheimar Museum during the Westman Islands pre-trip extension of our Untamed Iceland adventure. See some of Iceland's most famous geologic treasures in this film:
Courtesy CNN